Friends! Today is Sunday. Last day of the weekend plus World Cup Cricket's BIG match day. You all would have spent a fair amount of time watching that great WIN, snacking on some crunchy goodies.   Holiday+World CUP Cricket match accompanied by a multi course lunch followed by a super delicious dessert, How does it feel?  It is REALLY REALLY a most awaited and super wonderful day to cherish with family I know.
Well, I enjoyed pretty simple South Indian Rice + Curry meal which ended with this drool-worthy sweet potato kheer.  It's the SWEET POTATO season and these light purple colored tubers can be part of your healthy dessert which I didn't even know till recently. Yes I never knew that it could be such a delicious kheer without SUGAR and Dairy milk.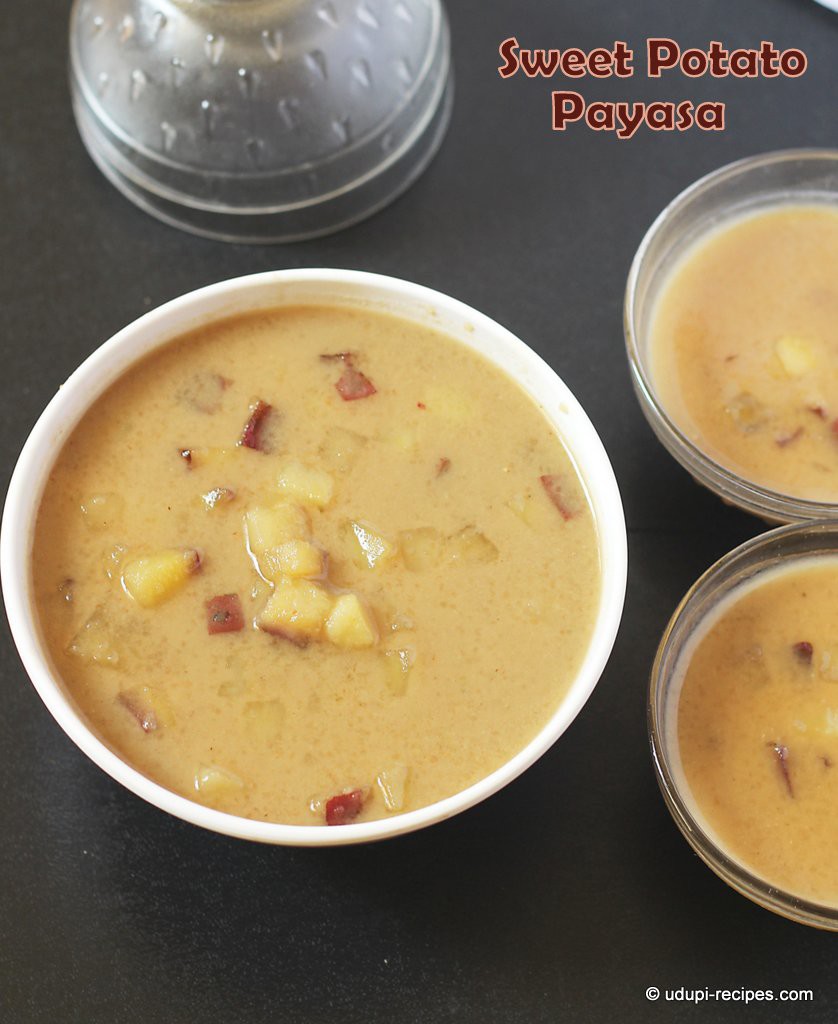 Home made coconut milk and jaggery based sweet potato kheer is way too healthy with a veggie included in it. The sweet potato cubes drenched in jaggery syrup and coconut milk will melt in your mouth justifying itself as a glorious WINTER dessert.
Note: Sweet potato cubes don't inherit the property of thickening like Aval or Sagu does in case of Aval payasm and Sago kheer respectively. So ensure you add just enough water to cook the cubes of sweet potato. As you cook them in coconut milk it may seem running but once it combines with medium rava the kheer gets it's regular spooning consistency.
With bowlful of sweet potato payasam on hand, watching that big match was heavenly and I didn't miss it.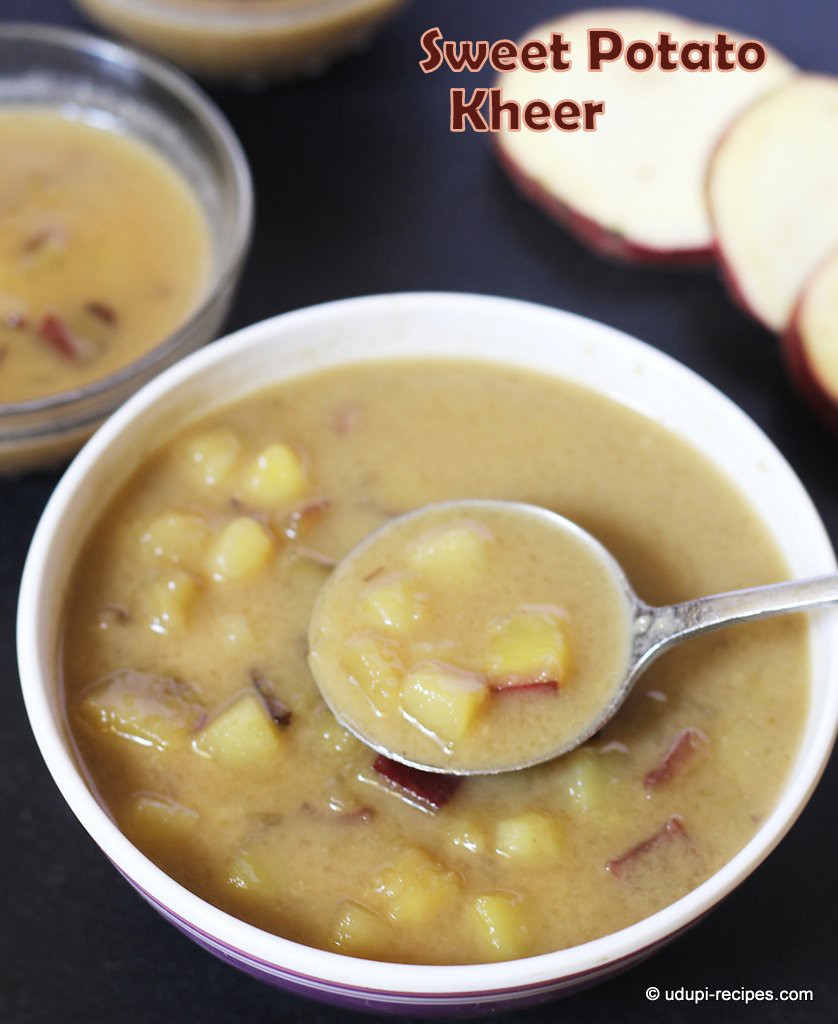 Sweet Potato Kheer | Sweet Potato Payasam Recipe
Ingredients
Sweet potato- 1 big sized
Fresh grated coconut- 1 cup
Powdered jaggery- 3/4 cup
Medium rava (sooji) - 3 tsp
Cardamom- 3 nos.
Salt- A pinch
Instructions
Preparation

Take fresh coconut along with 1/2 cup of water and cardamom in a mixer jar and grind it to fine paste. Strain this paste using a fine strainer and squeeze the coconut mixture so that milk is strained completely. It gives you 3/4 cup to 1 cup of thick coconut milk(first extract).
Again put back the squeezed coconut in to mixer jar with a cup of water and grind again for few minutes. Strain it back using same strainer that gives you a cup of thin coconut milk(second extract). Keep both extracts separated.

Method

Wash sweet potato under running water scraping mud sticking on it's skin if any. Then make circular slices out of sweet potato and in turn chop each slice in to small cubes. Keep the cubes immersed in water to avoid getting them brown.
Drain the water and on medium flame cook these sweet potato cubes adding fresh water just up to the level of cubes.
When sweet potato is cooking, in a separate vessel add jaggery and 1/4 cup of water. Cook this jaggery till it dissolves.
when the jaggery syrup starts to rolling boil, include cooked sweet potatoes. Let the sweet potato absorb jaggery syrup for few minutes. Then include second extract(thin) coconut milk and bring it to boil. Then add thick(second extract) coconut milk and stir.
At the final stage dry roast medium rava till it becomes warm and aromatic and add it to boiling sweet potato kheer. Add salt, mix well and cook for 3 minutes more. Switch off the flame.
Sweet potato kheer / payasa is ready to relish as dessert after meal.

Notes

Do not add too much water while cooking sweet potato cubes as the kheer becomes too runny.
Medium rava is used to thicken the sweet potato kheer, if you skip it, the consistency of the kheer remains watery.
You can add rava(sooji) without roasting too.
After adding rava, make sure it is not forming lumps and it is integrating well with kheer.
If your sweet potato is very sweet, then reduce jaggery to 1/2 cup.
https://udupi-recipes.com/2015/02/sweet-potato-kheer-sweet-potato-payasam-recipe.html
All the content in this website are © Copyrighted to – Udupi-Recipes