Potato sagu is like all wonderful things that I love in one bowl waiting to add extra happiness in every bite of my breakfast.  Intense golden yellow skinned potato is my favorite vegetable because of it's versatility. Be it main course, starter, side dish, soup, curry or pancake,  there this wonderful tuber makes it presence transforming the dish to more condense and more tasty.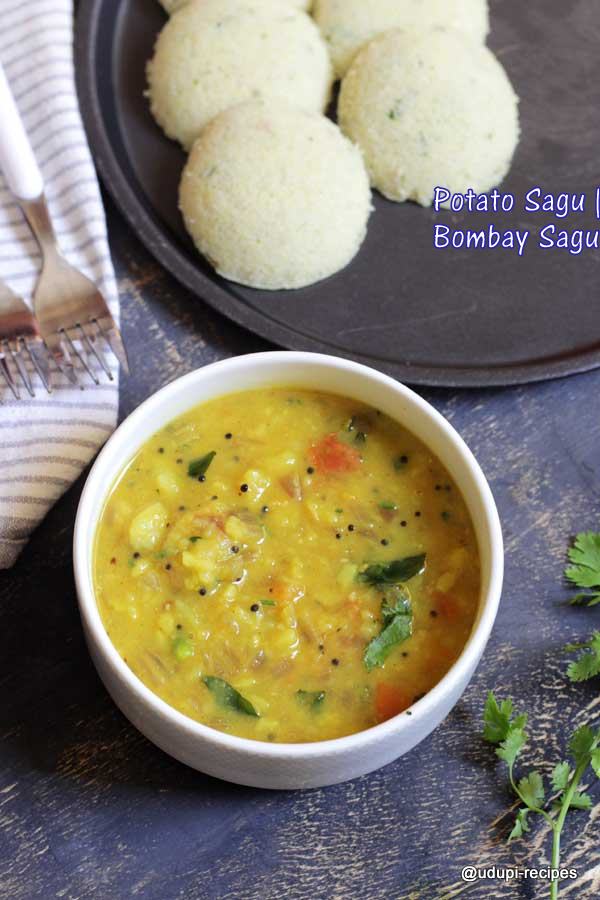 Is it your routine to devour rava idli with a simple solo chutney? It was mine actually. Now I have switched over to this potato sagu to pair with rava idli and made my family's morning breakfast a delightful affair. And it always always tastes so good that I never even think of altering the practice.  Potato sagu has also won the best side dish with chapati award from my kids. Thank you sagu 🙂  Let me tell you one more fact about this sagu, it is more popular as Bombay sagu but I really don't have any idea about how it is been named.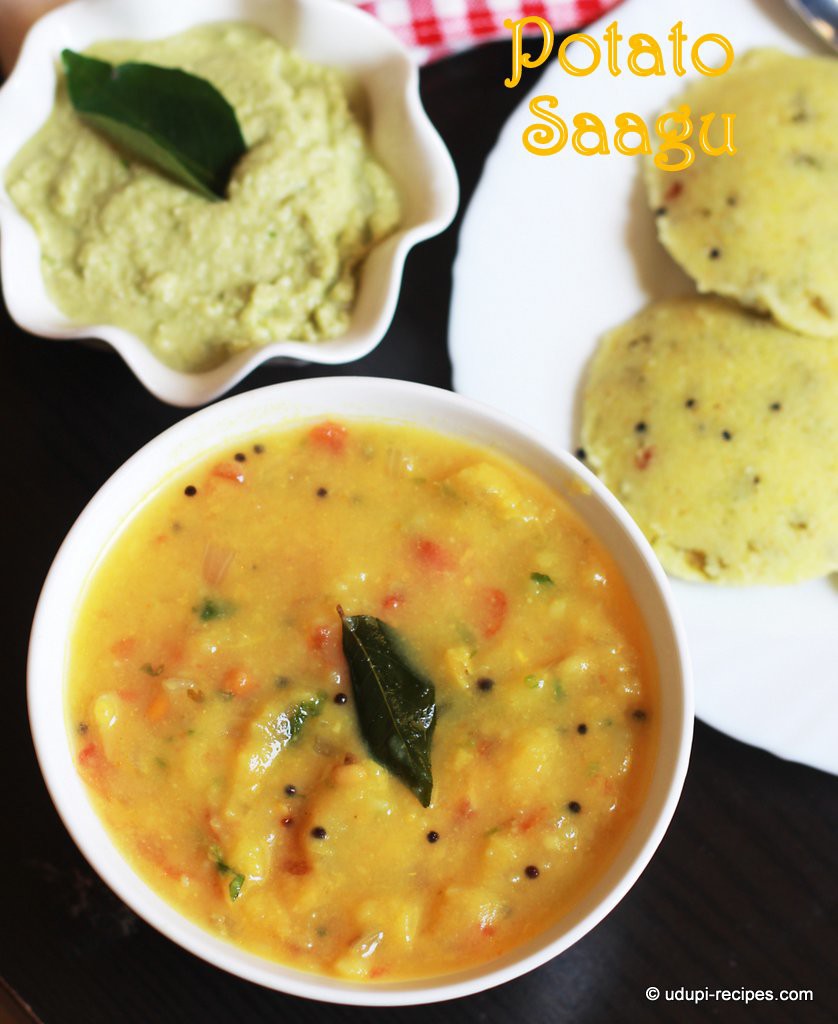 The making of Bombay sagu is a cake walk and you don't have to take a trip to grocery. The available pantry items are enough to whip this up.  It is soupy version of  potato bhaji with two exceptions.  One is besan (chickpea flour) being added in paste form to potato sagu and other is sagu is more thinner and soupy not like dry bhaji. Read on the recipe narration for clear picture.
Watch Video:
Potato Sagu | Bombay Sagu | Rava Idli, Chapati Side dish
Ingredients
Potatoes(medium sized) - 2 nos.
Onion- 1 no.
Tomato- 1 no.
Green chillies- 2 nos.
Turmeric powder- 1/4 tsp
Salt- 1 to 1.5 tsp (or to taste)
Chickpea flour (Besan)- 1 tsp
Coriander leaves- Handful
Garam masala - 1/2 tsp (optional)

To temper

Cooking oil- 4 tsp
Mustard seeds- 1 tsp
Split black gram lentils- 1 tsp
Split chickpea lentil(chana)- 1 tsp
Curry leaves- few
Instructions
Preparation

Chop onions, tomatoes and coriander leaves finely and keep them aside till use. Slit green chillies and mix chickpea flour with 3 tsp of water and make the paste such that there are no lumps and keep it ready.
Wash potatoes under running water and pressure cook them till mushy. Peel the skin of cooked potatoes and crumble them once pressure subsides.

Method

In a wide cooking pan heat cooking oil, then add mustard seeds and lentils. As the mustard seeds pop up and lentils turn brown add curry leaves and chopped onions. Saute till the onion turn translucent. Then include chopped tomatoes, turmeric powder and slit green chillies.
When the tomatoes are cooked, include mashed potatoes and half cup of water. Stir and let it boil.
Finally include salt and chickpea flour paste. Add water if you find it thick. Let it cook in simmer for about 3 minutes. Include garam masla and stir in(if you are adding) Switch off the flame. Garnish with chopped coriander leaves.
Delicious, soupy rava idli, chapati side dish is ready to serve.

Notes

The potato sagu has to be little thinner in consistency when you are pairing it with rava idli. As a side dish with chapati thicker version of sagu is fine. So adjust water addition accordingly.
Do not skip adding chickpea flour mixture, as it renders unique taste to the sagu.
https://udupi-recipes.com/2015/02/potato-sagu-bombay-sagu-rava-idli-chapati-side-dish.html
All the content in this website are © Copyrighted to – Udupi-Recipes