Ragi (finger millet), a tiny looking cereal is making its presence in this beautiful space in the form of sweet balls. Over 200+ posts of recipes in these 2.5 years of food blogging I have published only one recipe that uses finger millet. Guess which one? It's baby porridge recipe. Yes finger millet is not a common cereal that I cook on regular basis but lately it's being used in dosa, idli and even laddu.
The bland, unappealing color that finger millet yields in the dish that is in, makes kids to dislike them.  I figured this out when I cooked finger millet dosa the other day.  While packing the lunch I had to bribe my daughter with her favourite side dish. But she was impressed by the taste of these ragi laddus.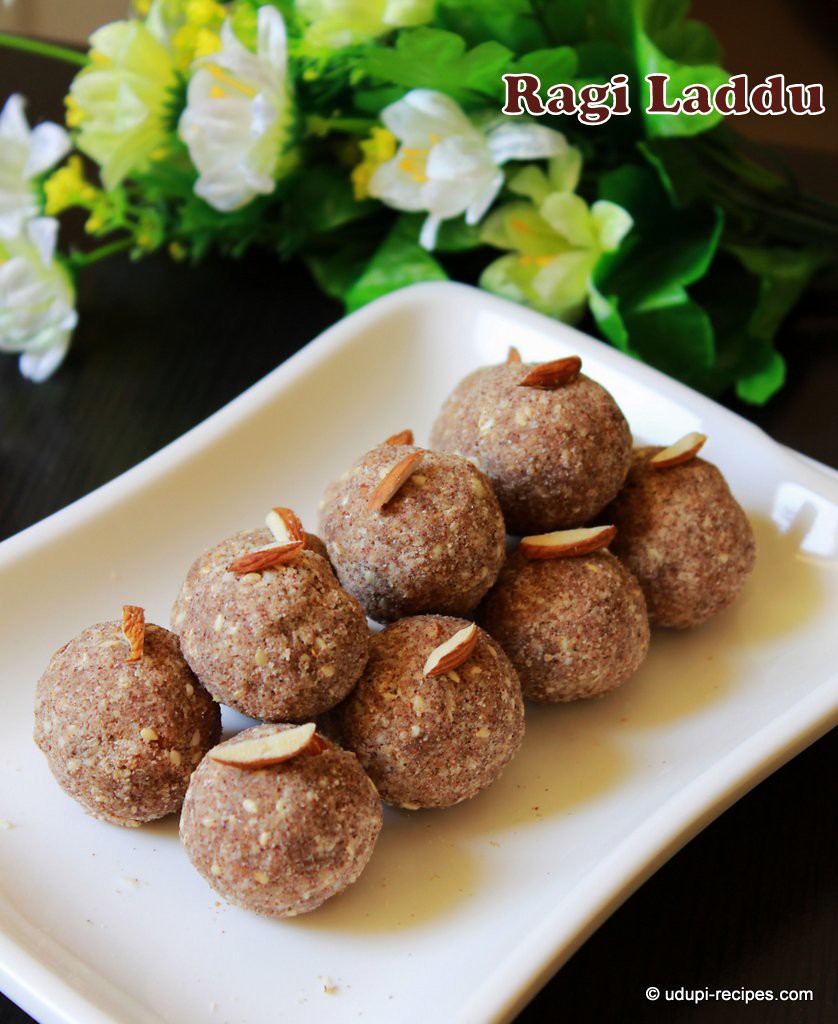 Ragi laddu can be declared as healthy, nutritious sweet to snack on after school. It has NO SUGAR. No hurdles of making jaggery syrup and checking it's consistency and it lasts for longer too. I used peanuts and  sesame seeds in roasted form to mix with finger millet flour.  It's an extra delicious crunch when your mouth detects peanuts and sesame seeds as you bite ragi laddu.  As you shape crumbly laddu mix in to laddu, they seem very delicate but then do not panic. Ragi laddu gets normal laddu – hardness after some time.
Why are you waiting? Why don't you get in to the kitchen to make these awesome finger millet balls?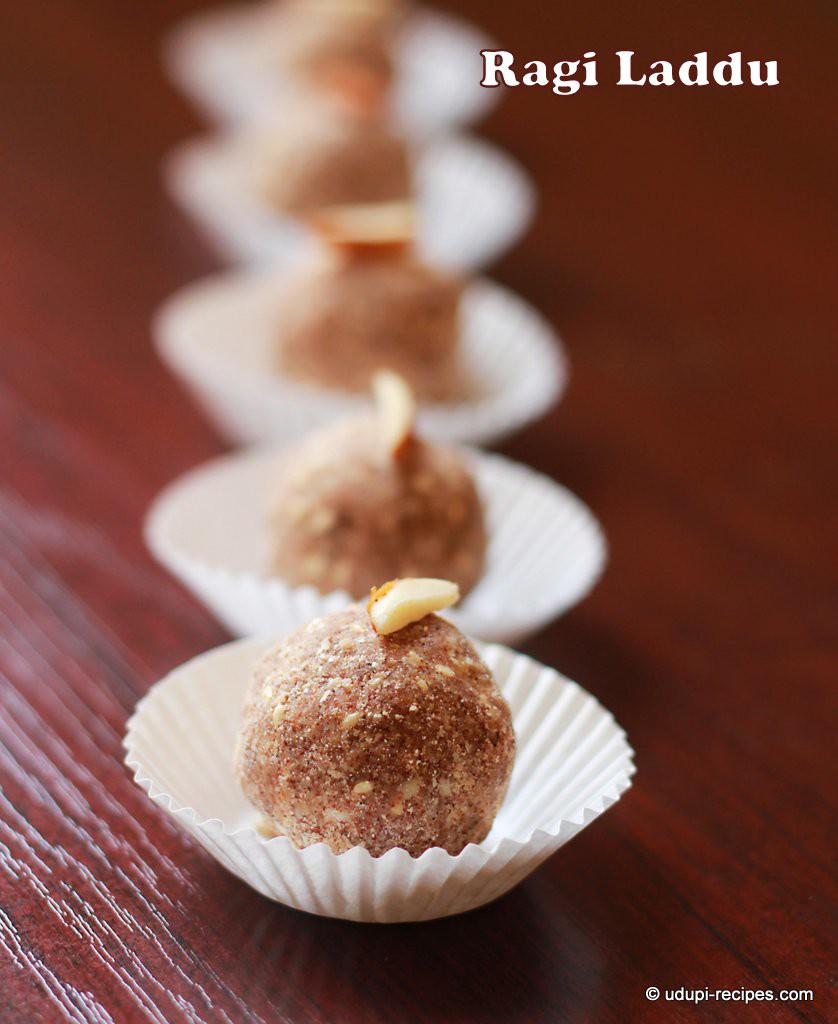 Ragi Laddu | Finger Millet Balls Recipe
Ingredients
Ragi flour ( finger millet flour)- 1 cup
Peanuts- 1/2 - cup
White sesame seeds- 1/2 cup
Jaggery powder- 3/4 cup
Ghee- 8 tsp
Almonds- Few to garnish
Instructions
Preparation

Heat a wide pan with peanuts and dry roast the same till the skin comes off. Transfer it to a container. When the peanuts are still warm rub them between your palms and remove the skin. Set aside till use.

Method

In wide wok/cooking pan add white sesame seeds and roast them till they turn light brown and aromatic. Transfer and heat 4 tsp of ghee in the same pan and include finger millet flour in to it. Roast the flour with constant stirring in medium flame. The flour becomes aromatic without any raw smell. Switch off right then. It may take around 5 minutes.
Now in a mixer jar add roasted peanuts and pulse it for while, so that peanuts break. Include roasted sesame seeds to the same jar and pulse it again for few seconds.
Again add jaggery powder to the same jar and grind for few seconds. Finally include finger millet flour too and grind for few more seconds. Transfer the mixture to a wide bowl.
Now the laddu mixture is almost ready. In a small pan warm up the remaining ghee and add to laddu mix. Combine everything well. Take handful of mix in your hand and roll it in to laddu.
Chop almonds lengthwise and garnish ragi laddu with them. Healthy and nutritious ragi laddu is ready to snack on.

Notes

Peanuts should not be ground to fine powder. The small bites of peanuts and sesame seeds should be detectable in your mouth as you bite the laddu.
You can include other dry fruits like cashews and pistachios in the laddu mix. Break them in to pieces before using.
These laddus can last more than fortnight at room temperature.
When you run all ingredients with jaggery, it should come together to form laddu shape. If the mix is too crumbly add some warm milk. But shelf life reduces once you add milk.
https://udupi-recipes.com/2015/02/ragi-laddu-finger-millet-balls-recipe.html
All the content in this website are © Copyrighted to – Udupi-Recipes