Indian crepe (Dosa) or Idli for breakfast every day is my rock solid permanent habit and I always welcome the things that make these breakfast interesting, equally healthy, equally filling and pretty YUM.  When I made these Rava Idli, there was a deep satisfaction feeling in me because the outcome was a visual delight of golden yellow, slightly puffed and perfectly steamed Idli.
You have two variations to attempt when you cook  Rava Idli that is you can exclude baking soda or include. If you opt out baking soda, then batter is prepared with fresh yoghurt or curds alone. 1.5 cups of fresh yoghurt is needed with respect to 1 cup rava for the fluffy  soft Idlis otherwise they turn hard or solid.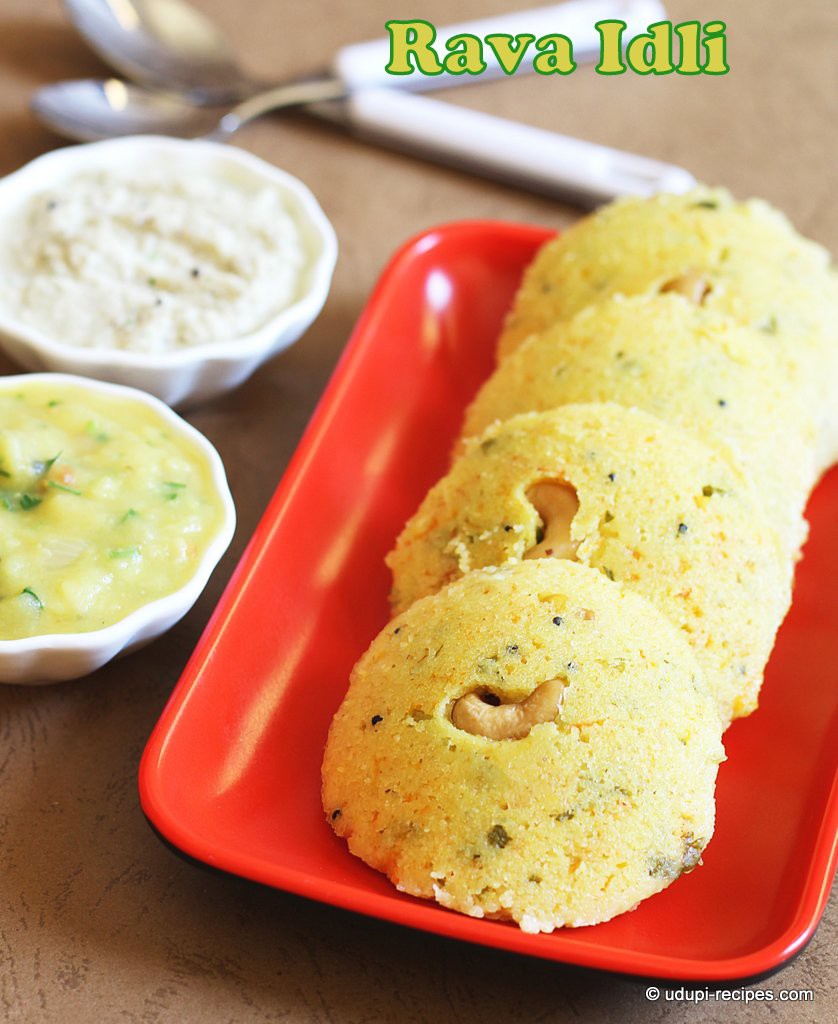 RAVA IDLI ! FYI every time I type that I am saying it in a desperately happy voice. Yesss they taste that good with Potato sagu and coconut chutney. Potato sagu is a best possible side dish to devour these yummy Idlis, as you dip a big chunk of Idli in to sagu and bite, you are actually biting cashews, shredded carrot, cilantro and chick pea lentil that are packed well with rava.
When you plan making Rava Idli for breakfast, ensure the following scenario is met  a) You have enough yoghurt   b) You have enough time to roast the rava well in low flame till it is aromatic. c) You have time to bring back the roasted rava to normal temperature before being used in batter.  That is when you can enjoy the really really yummy, fluffy and healthy Idli.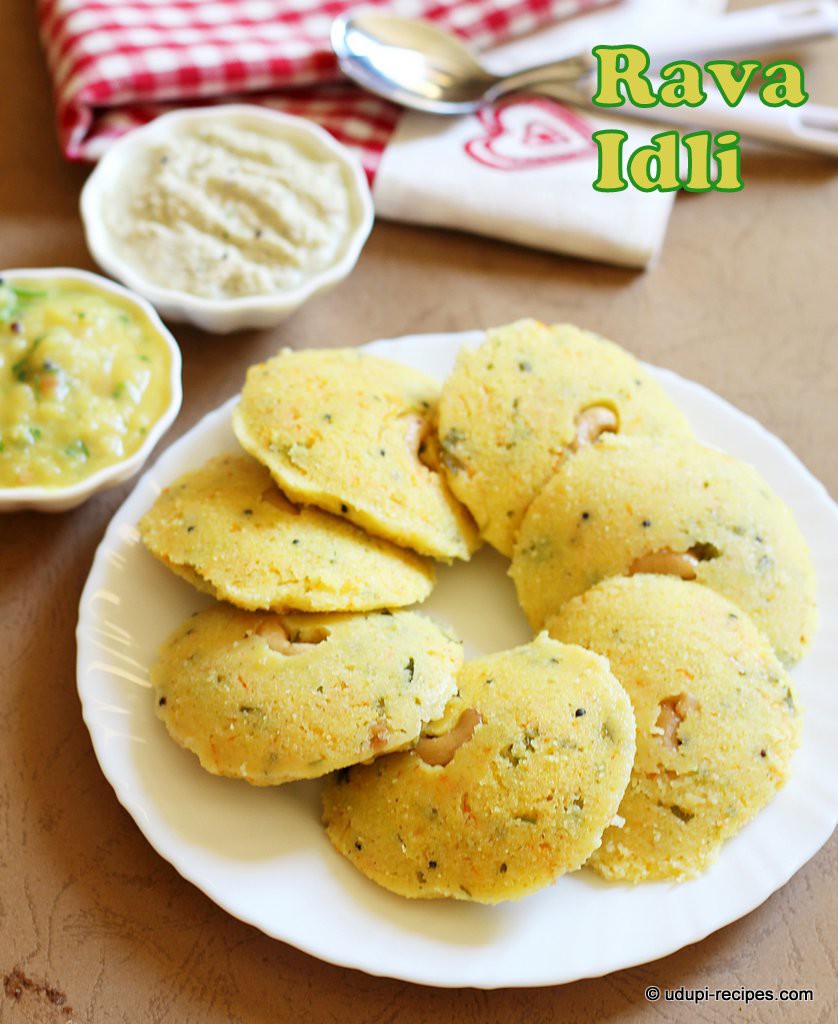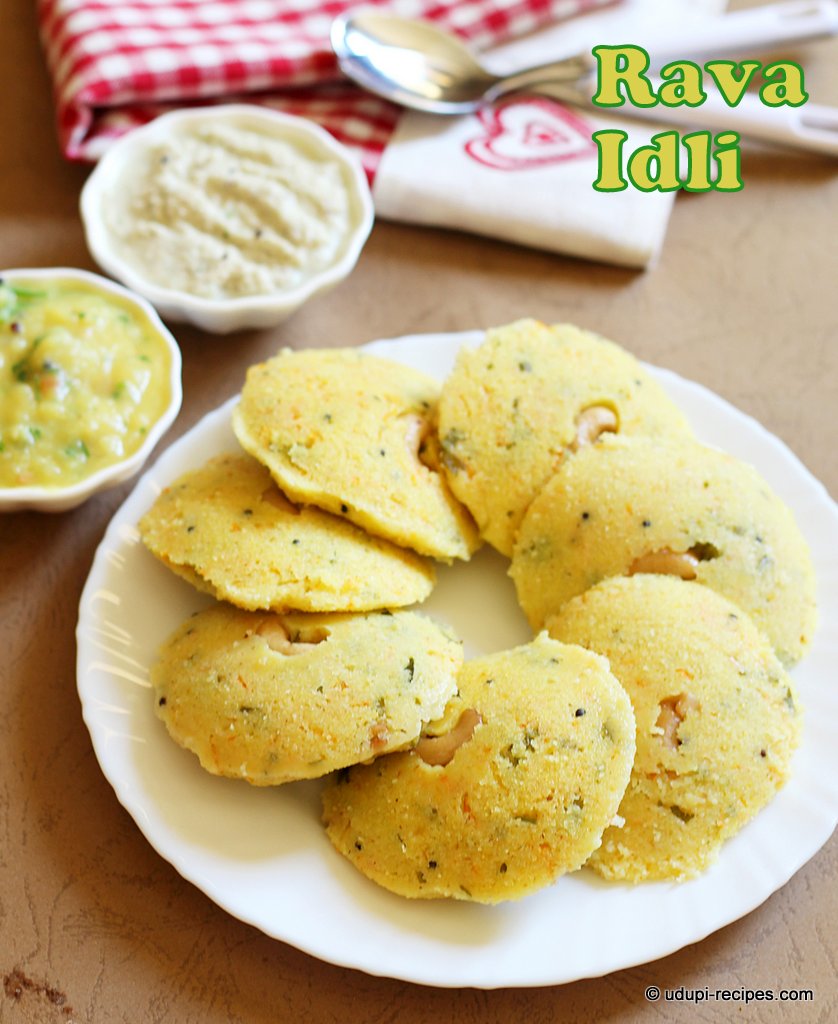 Check the video:
Rava Idli Recipe | Instant Breakfast Recipe
Ingredients
Medium rava / Chiroti rava- 1 cup
Yoghurt / Curds- 3/4 cup
Grated carrot- Fistful(optional)
Salt- 1 tsp
Baking soda-3/4 tsp
Cilantro/coriander leaves- 2 Fistful

Seasoning Ingredients

Cooking oil- 2 tsp
Mustard seeds- 1/2 tsp
Split black gram lentil (Urad dal)- 1/2 tsp
Split chickpea lentil (Chana dal)-2 tsp
Curry leaves- Few
Cashews- Handful
Turmeric powder- A pinch
Instructions
Preparation

Soak chickpea lentil in water for about 20 minutes. Finely chop coriander leaves and keep it aside.

Method

Heat a pan adding cooking oil and cashew nuts. Saute till the cashews turn slightly brown and transfer it to a bowl.
Add mustard seeds, lentils and curry leaves to the same pan, keep stirring till the mustard seeds pop up, then include grated carrot and turmeric powder, continue sauteing till the carrot shrinks a bit losing it's raw smell. Include rava to this seasoning and roast it till rava turns aromatic. Do not leave the pan unattended and ensure it's not burnt. Let the rava cool down to room temperature..
Take a wide bowl, add yoghurt, finely chopped cilantro, salt and roasted rava. Combine all these together in to idli batter consistency. Add some water if needed to obtain the desired consistency.
Grease the idli moulds and place a roasted cashew in each mould. Keep cooker with water on stove and let it start boiling.
When everything is ready, include baking soda to the prepared rava idli batter, give a quick mix. Pour idli batter in to greased idli mould and steam it in already set cooker for about 10 to 15 minutes.
Once done, loosen the idlis using a knife and remove from moulds. Serve them hot with potato sagu and chutney.

Note

Never let the idli batter to rest after adding baking soda. It is always best to keep the cooker ready and then include baking soda to the batter. Once done, immediately steam the idlis.
You can omit baking soda, in that case use 1.5 cups of curds to prepare the batter. Keep the cooker ready and then start mixing roasted rava with curds, steam immediately. Do not let the batter to rest.
You can skip carrot but don't compromise with cilantro which should be added in generous quantity.
You can include finely chopped green chillies and ginger too in the seasoning.
https://udupi-recipes.com/2015/01/rava-idli-recipe-instant-breakfast-recipe.html
All the content in this website are © Copyrighted to – Udupi-Recipes