Easy payasa that any one can relish even after lunch is "Avalakki payasa/Aval Payasam". Today I am posting this easy  aval payasam recipe. The aval used in this recipe is thick variety. This particular recipe doesn't require tons of ingredients, just with minimum you can satisfy your family with delicious dessert like this.  Aval payasam makes a complete meal fulfills your appetite too.. So enjoy!!!!!!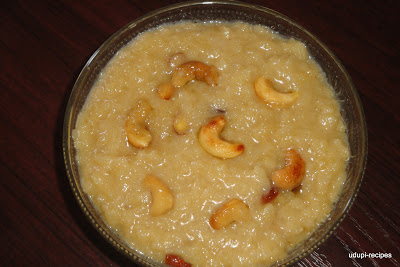 Avalakki Payasa/Aval Payasam/Beaten Rice Pudding Recipe
Ingredients
Thick flakes/Beatn rice- 1 cup
Jaggery- 3/4 cup
Grated coconut- 1 cup
Cardamom- 2 to 3
Almond- 8 to 10 no.
Cashew nuts- 8 to 10 no.
Raisins- 8 to 10 no.
Ghee- 2 tsp
Instructions
Preparation

Cut the almonds and cashews in to pieces. Keep them aside.

Method

Grate the coconut and grind it along with 3 cardamoms adding half cup of water. Once it is ground finely, pour it on to a strainer and squeeze it. This is first extract coconut milk. We need one cup of this milk.
Transfer the squeezed coconut again to mixer and grind finely adding 1 cup of water. Pour this on to strainer and squeeze it. This is second extract milk and we need one cup of this milk as well.
Wash the thick flakes with enough water and squeeze it with your hands. Keep it aside.
Heat a heavy bottom vessel adding jaggery and one cup water. Once the jaggery dissolves and starts boiling add squeezed thick flakes from above step. Let it cook for just 2 minutes in simmer. Keep stirring at regular intervals.
Now add second extract coconut milk and bring it to boil. Then add the first extract coconut milk and as it boils switch off the flame.
Mean while heat a seasoning pan, add 2 tea spoon of ghee and fry cashew nuts, almonds and raisins. Cashew and almond get slightly brown color and raisins puff up when fried.
Add fried dry fruits to the Aval payasam and mix well.
Mouth watering Avalakki payasa is ready to serve......

Note:

This Avalakki payasa thickens with time, so let it be of thin consistency initially.
https://udupi-recipes.com/2012/11/avalakki-payasaaval-payasambeaten-rice-pudding-recipe.html
All the content in this website are © Copyrighted to – Udupi-Recipes
Meet you all with one more interesting Udupi recipe. Till then bye.