In a true sense, simple food is my way of life. Post-diwali, this truth has been more prominent in every meal. Vegetables, legumes and fruits have become more common as random hour snacks. Otherwise I find no appropriate time to eat fruits in my daily routine. So I buy all varieties of fruits that I see in Super Market and ensure that everyday me and my family consume them. Like for kids, it would be part of their lunch box. And we adults satisfy food cravings between meals through such fruits. Besides, once in every fortnight I made it a practice to live on fruits. Sounds interesting right? For me, it's too good feeling as digestion system gets some rest. As part of my simple food routine, today it was delicious chayote stirfry with rasam.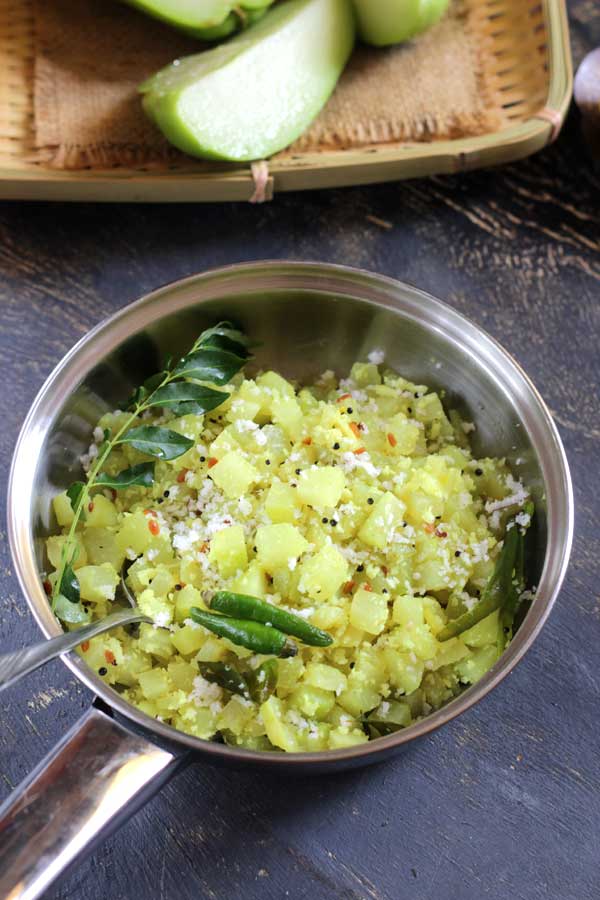 Chayote which is better known as "SEEME BADANE" in Kannada is quite bland in taste. And I love this veggie for it's adaptability. Like, it can transform in to a delicious yogurt curry or chutney or kootu or stirfry. In all of these, biting the bland veggie which has absorbed the flavors is real heaven. My little son who has recently in to the habit of eating veggies from curry has asked for many servings. Chayote stirfry or palya is easy and straight forward. Because all you need to do is chopping the veggie in to cubes and cooking in normal tempering. Of course with some basic spices. That's it. So here we go=>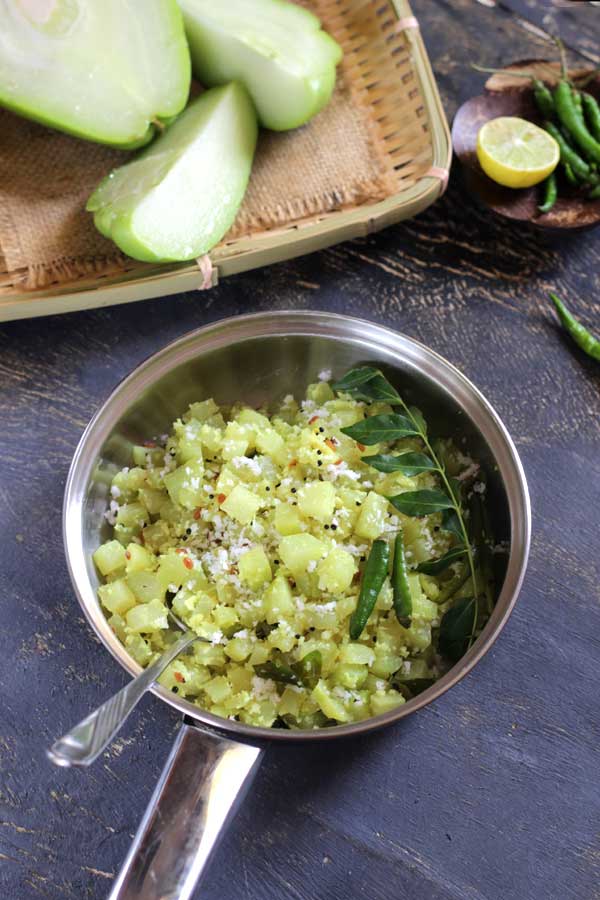 Chayote Stirfry | Seeme Badane Palya
Ingredients
Seeme badanekayi (Chayote)- 2 nos.
Green chillies- 2 nos.
Jaggery powder- 1 tsp
Salt- 1 tsp
Turmeric powder- 1/2 tsp
Fresh grated coconut- 1/4 cup
Lemon - 1/2

To temper

Cooking oil- 2 tsp
Mustard seeds- 1 tsp
Split blackgram lentils- 1 tsp
Curry leaves- Few
Instructions
Preparation

Peel off the chayote and cut in to half vertically. Remove the seeds and chop it in to fine cubes.

Method

Heat a pan with oil, lentils, mustard seeds followed by curry leaves. Saute till the mustard seeds sizzle.Next include the chopped chayote, slit green chillies, jaggery, salt and turmeric powder. Mix well and add little water and cook till the cubes are soft.
When the veggie is soft to chew, include grated coconut and cook for few more seconds. Next switch off and squeeze lemon.
Simple and easy chayote stirfry is ready to serve with rice rasam.

Notes

Chayote is bland in taste, so use enough green chilly for good taste.
Fresh grated coconut should be used generously. And don't skip it.
For a twist, you can grind coconut with cumin and green chillies together and add.
https://udupi-recipes.com/2017/10/chayote-stirfry-seeme-badane-palya.html
All the content in this website are © Copyrighted to – Udupi-Recipes