It's Sunday today and my week as a blogger has started like ever. Usually I take off from this virtual world during weekends which is Friday and Saturday here in this part of the world(Hello UAE!!). Though I show up in social medias just to ensure all is well with the blog on weekends, mostly I spend time with the family. And I made this colorful and healthy methi dal (Fenugreek leaves with lentils) and Jeera rice for the lunch yesterday. Because the fresh, green wonder fenugreek leaves are already showing up. Meaning, though winter hasn't officially begun, the greens are stepping in to vegetable market. The green veggie lovers and healthy food making moms are happy like me. Isn't it?
This methi dal can accompany both chapati as well as jeera rice. Which is dual combo offer.  Hence my weekend lunch went little overboard with 3 main course menu. But believe me, I some how forgot the elaborated meal prep hardness when we all assembled together at the table and ate the food with lots of chit-chat and laughter. Which is what I look for during weekends, the family time, the fun time.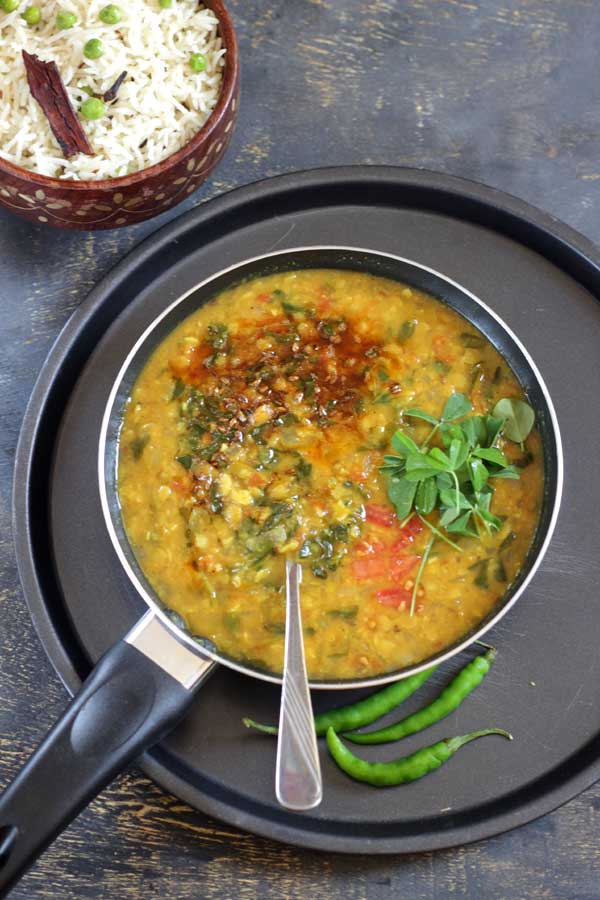 Methi dal is a flavor wonder I must say because fenugreek leaves is absolutely magical. Though the fenugreek leaves basically taste bitter, you cannot even notice the feel of bitterness in dal. It's just appropriately balanced with tamarind, salt, red chilly powder and garam masala. I have chosen tamarind here but you can even use dash of lemon juice or more of tomatoes. The simply cooked lentils dressed up with sauteed onion, tomato, ginger and topped with healthy greens plus spices is a game changer during weekends. But I ascertain the fact that when you begin cooking something healthy for your loved ones, time doesn't matter. So happy cooking week ahead.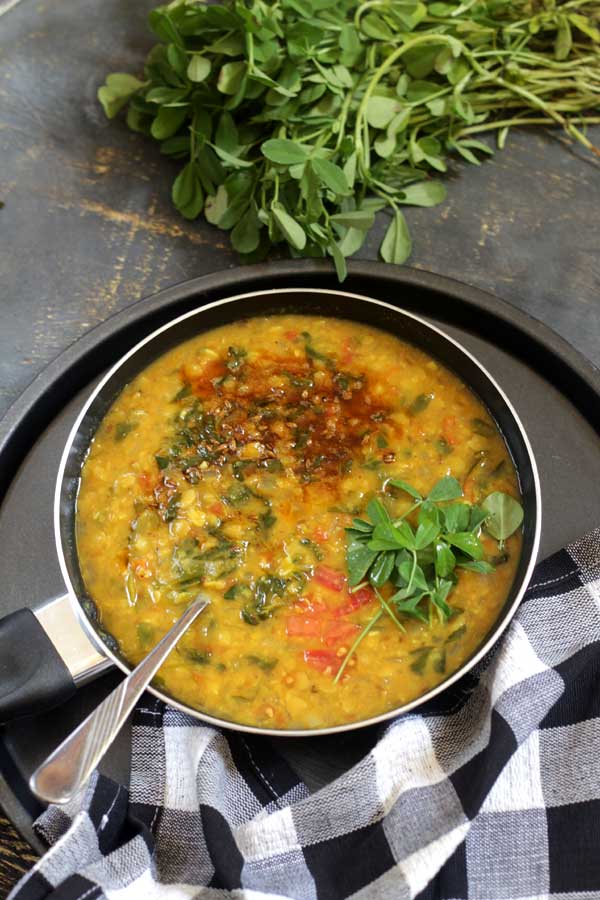 Methi Dal Recipe | Healthy Chapati Side dish
Ingredients
Pigeon pea lentils(toor dal)- 1/2 cup
Methi (Fenugreek leaves)- 1 bunch
Onion- 1 no.
Tomato- 1 no.
Green chillies- 2 nos.
Chopped ginger- 2 tsp
Turmeric powder- 1/2 tsp
Salt- 1.5 tsp
Red chilly powder- 1 tsp
Garam Masala- 1/2 tsp
Tamarind water- 2 tsp

To temper

Oil- 3 tsp
Cumin seeds- 1 tsp
Curry leaves- Few
Instructions
Preparation

Rinse the fenugreek leaves with enough water and separate the leaves from its stem. Discard the stems. Next peel off the onion and chop it finely followed by tomato. Slit the green chillies. Keep everything ready.

Method

Wash and rinse the lentils with enough water. Then include a cup of water and pressure cook for 3 whistles or till soft.
Next heat a pan adding oil, cumin and curry leaves. when the cumin sizzles, include onion and saute till it turns translucent. Next throw in chopped ginger and green chillies too. Continue sauteing.
After few minutes add chopped tomato and stir till the tomatoes turn mushy. Followed by tomato, include fenugreek leaves. The leaves will wilt and turn soft in few seconds.
Next it's the spices. Throw in salt, turmeric, red chilly powder and garam masala. Let all the spices combine well with greens and veggies. Include cooked pigeon pea lentils and some water.
Mix everything well and continue cooking. Add tamarind water and bring it to boil for few seconds. Switch off.
Very delicious and healthy methi dal is ready to serve along with jeera rice or chapati/roti.

Notes

The fenugreek leaves should be sauteed well till it gets cooked.
In order to balance the bitterness, appropriate amount of sourness is needed. Hence I have added the tamarind water towards the end.
You can replace tamarind water by lemon juice too.
Since the lentils happen to be bland, make it bit spicy using green chillies and red chilly powder.
https://udupi-recipes.com/2017/10/methi-dal-recipe-chapati-side-dish.html
All the content in this website are © Copyrighted to – Udupi-Recipes