This one is the best soup ever. Creamy, cheesy like without cheese, rich and all around delicious. This ragi soup is kind of salad in DISGUISE. I mean it because in addition to being creamy and absolutely gorgeous, it is super nutritious. Just pause to think of the rainbow of vegetables in here: carrot, beans, peas, cauliflower and lots of greens. So didn't I tell you, it's truly SALAD in disguise.
When we are sitting right at the edge of soup season (hi WINTER), I am almost ready with this ragi (finger millet) soup wonder. And just waiting for the official winter season to start. But to be honest, I don't need any reason or season to relish such a goodness of nutrients.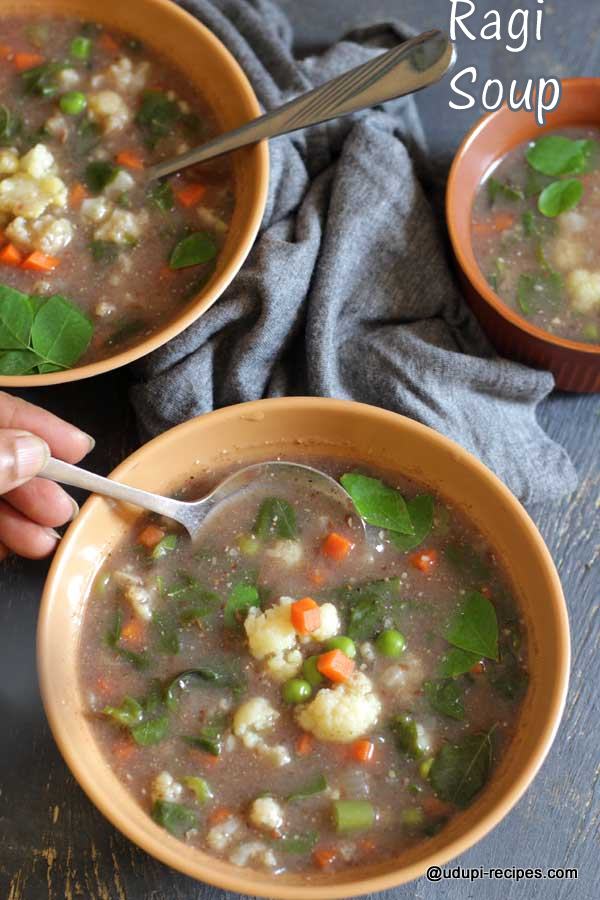 My son who stays away from most of the veggies that I put in any curry, loved this veggie loaded ragi soup and cleared the soup in no time.  The veggies in this soup aren't mushy and they have retained the crunch. The protein rich greens and vegetables easily got in to his tummy this way which is hard otherwise. So I have to be thankful enough for this creamy goodness.
Besides being good-for-all food, the soup can help you to lose weight too. It is because of flax seeds powder. Yes, these glossy seeds are good in OMEGA fatty acids and help towards losing weight(You can google to know more about flax seeds).  Let me say few words about finger millet flour too. It is the star ingredient in giving the creamy, glossy look to the soup. But please be mindful about the lump formation, if you just throw in this flour in soup, it doesn't combine well. So mix it with some water and make it like thin paste beforehand.
A big bowl of finger millet soup is enough to replace my dinner for sure. Let's embrace the soup season!!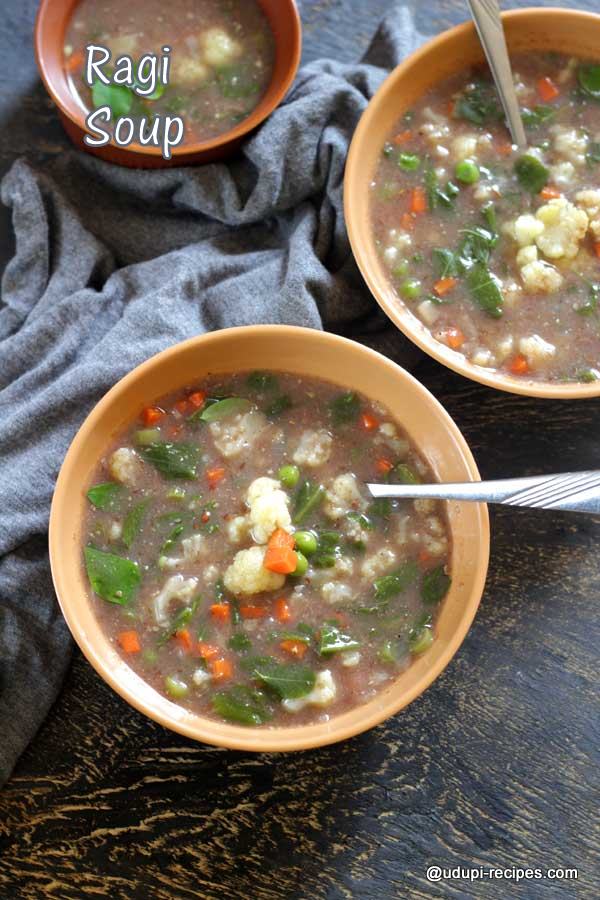 Ragi Soup | Finger Millet Soup for Weight Loss
Ingredients
Ragi (finger millet flour)- 2 tbsp
Cauliflower florets- 1/4 cup
Beans- 6 nos.
Carrot- Half
Onion(small)- 1 no.
Fresh peas- 2 tbsp
Palak leaves- Handful
Drumstick leaves- Handful(optional)
Flaxseeds powder- 1 tbsp
Salt- 1.5 tsp
Black pepper powder- 3/4 tsp
Amchur(dry mango) powder- 1 tsp
Water - As needed

To temper

Oil or butter- 1 tsp
Cumin seeds- 1/2 tsp
Instructions
Preparation

Chop all the veggies beans, carrot, cauliflower and onion finely and keep them ready. Similarly chop the greens as well. Next make a thin paste of finger millet flour mixing with enough water. Keep it ready.

Method

Heat oil or butter in a pan and throw in cumin. As it sizzles add finely chopped onion. Saute the onions constantly till they turn translucent. Next add in all the chopped veggies.
Add enough water to the veggies. Throw in required salt and cook covered till the veggies are little soft. It may take few minutes, after which add in all the greens.
Greens require few seconds to get cooked. Next proceed to include the thin ragi flour paste and stir immediately. Next throw in all the spices like pepper powder, flaxseeds powder and amchur powder. Finally combine everything well and add in required water to get the soup to right consistency.
Very healthy and filling ragi soup(finger millet soup) is ready to serve.

Notes

There is no hard and fast rule on type of vegetables, greens and their quantity. You can use as per your choice.
You can add or remove the veggies/greens according to your preference. Cabbage, turnip, spring onion would taste good too.
Ensure finger millet flour paste is mixed in soup immediately and evenly otherwise it will form lump.
The amount of water required depends upon the soup consistency you prefer. I have kept it bit thick.
The veggies shouldn't be cooked till mushy. They should have some crunch in them.
https://udupi-recipes.com/2017/11/ragi-soup-finger-millet-soup-weight-loss.html
All the content in this website are © Copyrighted to – Udupi-Recipes