When you don't like a vegetable so much and if the said veggie has lots of goodness in it, then it's time to resurface it in a new way. Meaning there are many innovative ways to cook the vegetable to make it more tastier than it actually is. Like, bitter gourd. It always happens that bitter taste makes the veggie good friend of none. I can see most people making weird faces at this gourd. After this wonderful bitter gourd raita which happened probably a month ago, my quest to use the veggie creatively has doubled up. So I could come up with bitter gourd fry today which is crispy and tend to turn towards soft as it cools down.
I had never tried a deep fried snack earlier using this gourd and the mere idea didn't even happen at least once in my mind. Sometimes my mind never thinks beyond a veggie's common way of cooking. Like, my usual stir fry or curry is what I can think of when I buy a bitter gourd. But now the things have  elevated from curry to deep fried snack that has super spicy taste and crispiness together.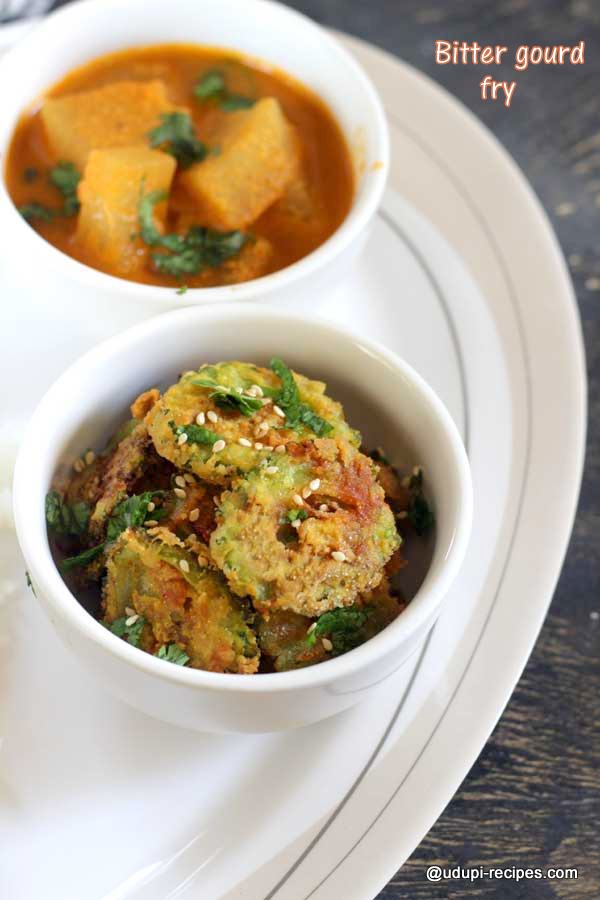 Initial step with bitter gourd is to some how subside it's bitterness to some tolerant level. And it applies to this recipe as well. Marination of bitter gourd slices in enough salt and turmeric powder for some good minutes does the magic. When you get your batch of bitter gourd slices where bitterness reduced significantly, then the recipe is straight forward. Toss them with all the spices and gram flour which get in to oil for deep frying.
I paired this bitter gourd fry with rice-rasam combo and loved it's taste so so very much. If you are like me, you would definitely relish it as a snack too.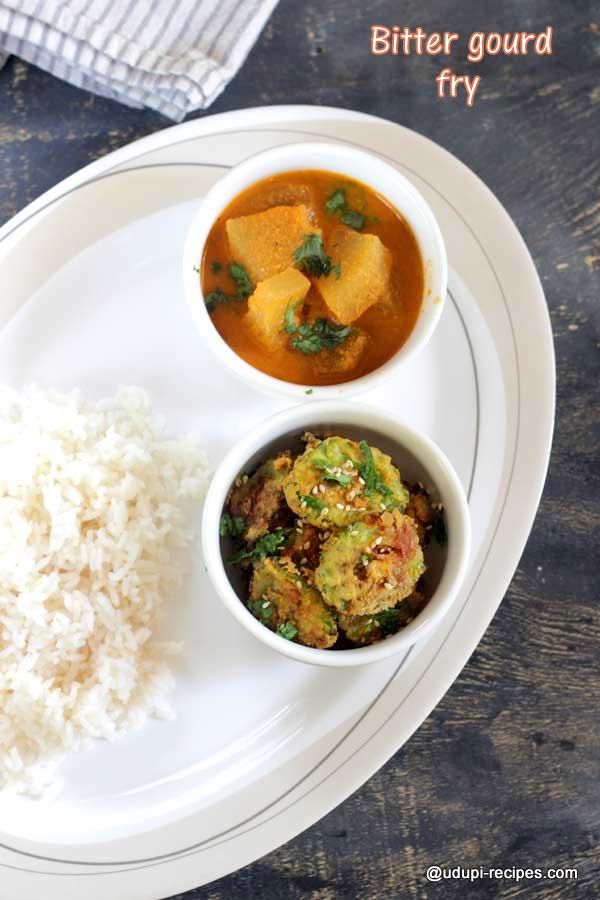 Bitter Gourd fry | Easy Side Dish
Ingredients
Bitter gourd(medium sized)- 1 no.
Turmeric powder- 1/2 tsp + 1/2 tsp
Salt- 1 tsp+1 tsp
Red chilly powder- 1 tsp
Amchur powder- 1/2 tsp
Gram flour- 1.5 tsbp
Rice flour- 1.5 tbsp
Cooking Oil- Enough to deep fry
Instructions
Preparation

Rinse off the bitter gourd under running water and wipe it. Chop it in to thin slices. Add a tsp of salt and turmeric powder and let it marinate for 20 minutes. After that wash it off with water. This step helps to reduce the bitterness.

Method

Drain the bitter gourd slices till dry and take them in a bowl. Sprinkle red chilly powder, salt, amchur powder. Toss it so that the spices coat over the bittergourd slices.
Next add gram flour, rice flour and toss once again. Meanwhile heat a wok with enough oil, when it heats up drop the spice coated slices carefully in to oil.
In medium flame, fry them till they turn crisp and brown. Using a slotted ladle, remove from oil and drain over kitchen tissue.
Crispy side dish bitter gourd fry is ready to serve with rice-rasam combo.

Notes

Marinating the bitter gourd slices in salt and turmeric powder helps to reduce the bitterness. So don't skip it.
You can increase the quantity of gram flour and rice flour, if you want a thick coating over the slices.
After deep frying, you can garnish with coriander leaves and sesame seeds like me.
https://udupi-recipes.com/2017/11/bitter-gourd-fry-easy-side-dish.html
All the content in this website are © Copyrighted to – Udupi-Recipes