Wish you all a very HAPPY DIWALI 2014…  I wish this festival of lights illuminate your lives with happiness and prosperity.  From the bottom of my heart I send the wishes to all readers of udupi-recipes.com which exists just BECAUSE OF YOU.
Dark colored, soft, glossy looking Nendran banana halwa recipe is the last post that I had planned for this DIWALI which had to be published yesterday.  But in my previous version of halwa, though the taste and texture was super fantastic, the color was not so dark,  vibrant and inviting. This pulled me back from posting the recipe.
Having learnt lessons from my previous mistakes, I decided to choose over- ripe Nendran bananas for the recipe which really worked!!!! You can visualize the dark chocolate colored, shining smooth Nendran banana halwas  right here….
The success of this Nendran banana halwa recipe  mainly depends on kind of bananas chosen, ghee and your stamina to constantly  stir for almost 40 to 45 minutes. Yes,  I am very frank to say this…You need to be continuously stirring the halwa mixture with ghee till it reaches exact consistency.  If your bananas are not over-ripe, then keep them covered in polythene or plastic bag for a day or so. The  skin would have been turned completely black and the banana inside is still  solid, that is when you can get ready to cook this overwhelmingly awesome treat. Word of caution is do not end up using rotten bananas in the process of making it overripe…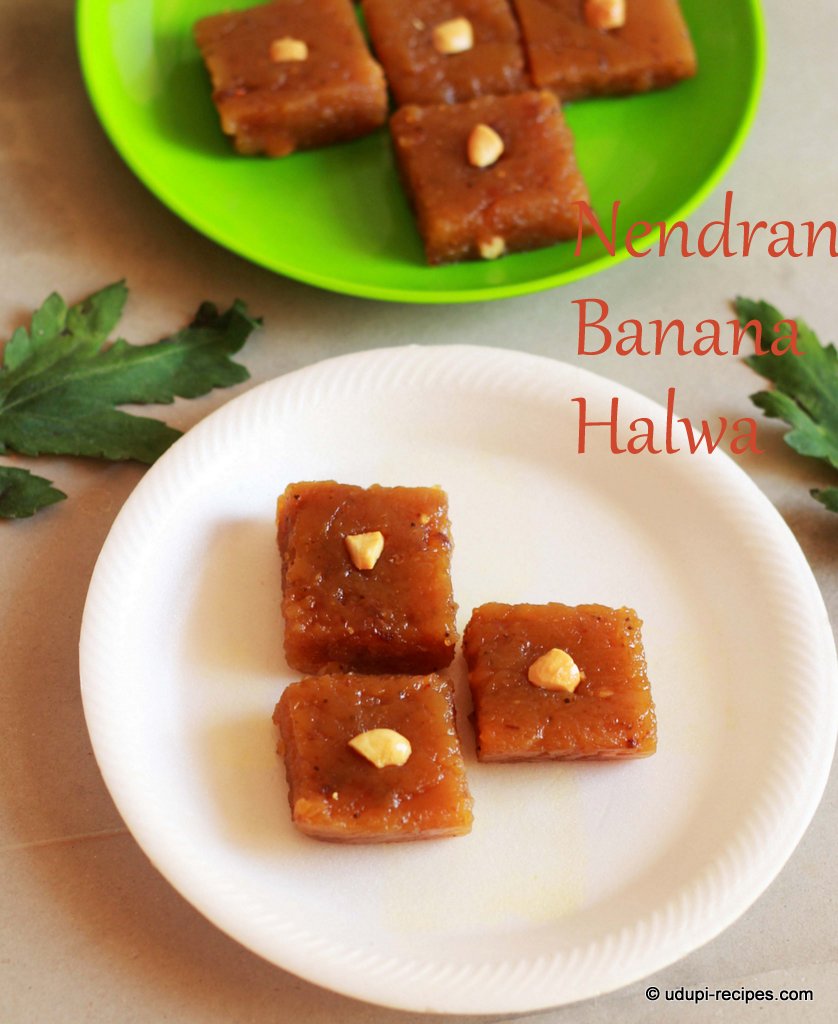 Nendran Banana Halwa | Nendra Balehannina Halwa Recipe
Ingredients
Nendran banana (big)- 3 no.s
Sugar- 1 cup
Ghee- 1/2 cup
Cashews- Few
Cardamoms- 3 to 4 no.s
Instructions
Preparation

De-seed cardamoms and make fine powder out of them. Keep it aside till use.
Break cashews in to small pieces and keep it ready.

Method

Peel the nendran bananas, slice them and grind to fine paste using mixer grinder. Do not add any water. For ease of grinding I have sliced them, you can grind whole banana directly too.
Heat a heavy bottom wok/pan adding two tea spoon of ghee and roast the broken cashews till they turn little brown. Transfer them and reserve few for garnishing.
Pour the ground banana paste in to same wok along with some ghee and keep stirring in low flame.
When the paste starts thickening, combine sugar, cardamom powder and cashews with it. Add ghee every now and then and continue stirring. The halwa absorbs ghee and halwa texture changes little glossy.
At one stage the halwa leaves ghee that it has absorbed but you have to continue with stirring for about 10 more minutes. By now the color of the halwa would have changed to dark maroon. Switch off the flame.
Transfer the ready halwa on to greased tray and use flat ladle to level the surface. Let it cool.
Using sharp knife mark square halwa pieces and separate them carefully.
Nendran banana halwa is ready and relish it with your family on Diwali.

Notes

The whole process of stirring the ground banana took around 40 minutes in low flame. Nendran banana halwa preparation took almost 1 hour all together.
Over-ripe nendran bananas are well suited for this recipe. If the bananas are just ripe, then the color of the halwa will be in lighter shade.
Let the halwa mix on tray cool completely before making the mark.
Keep little extra ghee, some times halwa needs more ghee depending on the quality of banana. But at the end of halwa making process, it leaves back almost half of the ghee that we added.
The halwa will stay good for a week.
https://udupi-recipes.com/2014/10/nendran-banana-halwa-nendra-balehannina-halwa-recipe.html
All the content in this website are © Copyrighted to – Udupi-Recipes