Butter murukku, a soft yet crunchy, melt in mouth textured with beautiful spikes is sitting nice and pretty on my plate this evening, and with that I am very very excited to celebrate Diwali next week.
October month was a crazy one for Udupi recipes kitchen in making day to day cooking along with some elaborate sweets and savories on account of Diwali, festival of lights.  It doesn't end there. Hmm…Every now and then shooting, photographing these condiments with my newly gifted Cannon DSLR is perhaps the daily routine of this crazy month.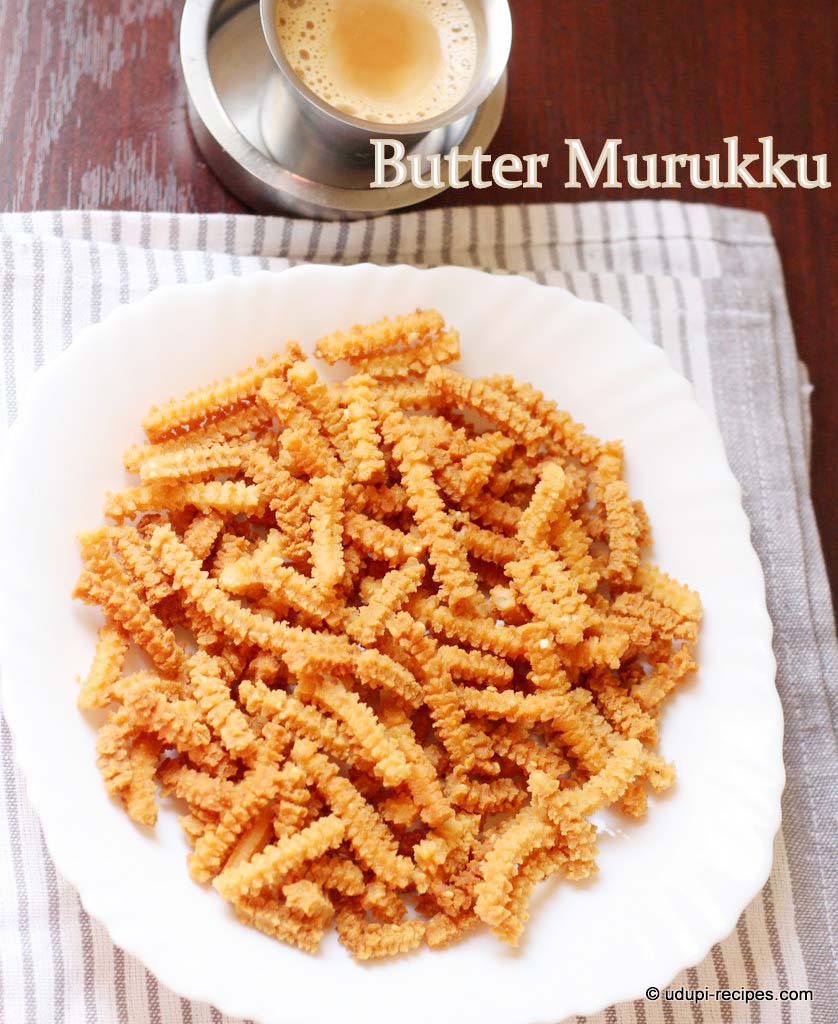 I have always been fond of murukku/ chaklis that are made in traditional way,  called traditional murukku in an elaborated process with making the flour right at HOME.  They are infused with the flavor of coconut as the dough is prepared using coconut milk instead of regular water. They are crispy, crunchy but not SOFT. I love them to the core. Having said that, as a foodie and food blogger I insist myself in trying all variations. That is why BUTTER MURUKKU for you on this Diwali.
Butter murukku, the name itself signify the main ingredient as BUTTER. This butter makes the murukku soft but they remain crunchy yet which is how murukku have to be.  Butter and roasted gram flour play an important role in making the murukku soft. Shaping them in to usual chakkuli form is not possible as the murukku tend to break.  So no hassle of shaping murukku, just press in hot oil and these deep fried crunchies will never disappoint you…I promise.
Butter Murukku | Benne Chakkuli Recipe | Diwali Snacks
Ingredients
Rice flour- 1 cup
Roasted gram lentil (Hurigadale) - 1/2 cup
Butter- 4 tsp
White Sesame seeds- 1 tsp
Salt- 1 tsp
Cooking oil- Enough for frying
Instructions
Preparation

Add roasted gram lentils in to dry mixer jar and powder it finely. Sieve and keep it ready.
In a seasoning pan add sesame seeds and roast them till they turn slightly brown. Keep it aside till use.

Method

In a wide bowl combine rice flour, powdered roasted gram, butter, salt and roasted sesame seeds. With your hands give a quick stir and combine everything well.
Pour water little by little in to the bowl and mix the flours to form stiff dough.
Take the murukku press with star holed murukku mould and fill the dough up to 3/4th level.
Meanwhile heat a heavy bottom wok/pan adding enough cooking oil for deep frying the murukku. When the oil gets heated up (drop a pinch of dough in to hot oil, if it raises up to the surface immediately, then oil is ready for frying.) Press the murukku directly in to hot oil in circular manner. Butter murukku is not shaped in any form. It breaks in to pieces in oil.
Fry them both the sides till they are slightly brown. When the sizzling sound ceases remove them from oil and drain on kitchen tissue paper. Continue the process with rest of the dough.
When they cool down to room temperature store them in airtight container. Soft, yet crunchy butter murukku is ready. Enjoy them this Diwali as tea time snack.

Note

The butter and roasted gram powder make these murukku very soft, yet crunchy. That is the reason, it is not possible to shape them in murukku form.
You can add black sesame seeds instead of white ones.
The dough consistency is vital, if you add more water than needed then dough becomes thin and murukku drinks lot of water. At the same time they will not retain crunchiness.
If you are a beginner, be careful while pressing murukku directly in to hot oil.
Always fry this murukku in medium flame itself. They remain uncooked in high flame and drink oil in low flame.
https://udupi-recipes.com/2014/10/butter-murukku-benne-chakkuli-recipe-diwali-snacks.html
All the content in this website are © Copyrighted to – Udupi-Recipes