July-August are those two months of the year when I have pleasant gala time with my family in India. This year as well we had wonderful, crazy and fun filled moments in motherland which left my blog unattended for more than a week.  Dear readers please forgive me for that…I know you all  were looking forward for a number of Sri Krishna Janmashtami posts which I couldn't do except this til ke laddu recipe.
I had quite a few recipes with photographs, but with frequent traveling, kids, power failure and slow internet connectivity couldn't afford me sitting in front of system for hours. This year Udupi Sri Krishna Matt is celebrating Janmashtami on September 16th as per solar calender, so I thought of sharing traditional murukku recipe with you all. Though it's a time taking process and needs some preparation beforehand, I bet its worth the effort. Murukku preparation in traditional way involves making raw rice powder and black lentil powder at home. And the dough is prepared using coconut milk instead of water which adds up wonderful aroma to the murukku. The murukku dough should be of right consistency and if you fall short of coconut milk, then you can go ahead with some water also. Remember if the dough is very crumbly then shaping murukku would be difficult as it breaks. On the other hand if the dough is running, then murukku may turn soggy and soft.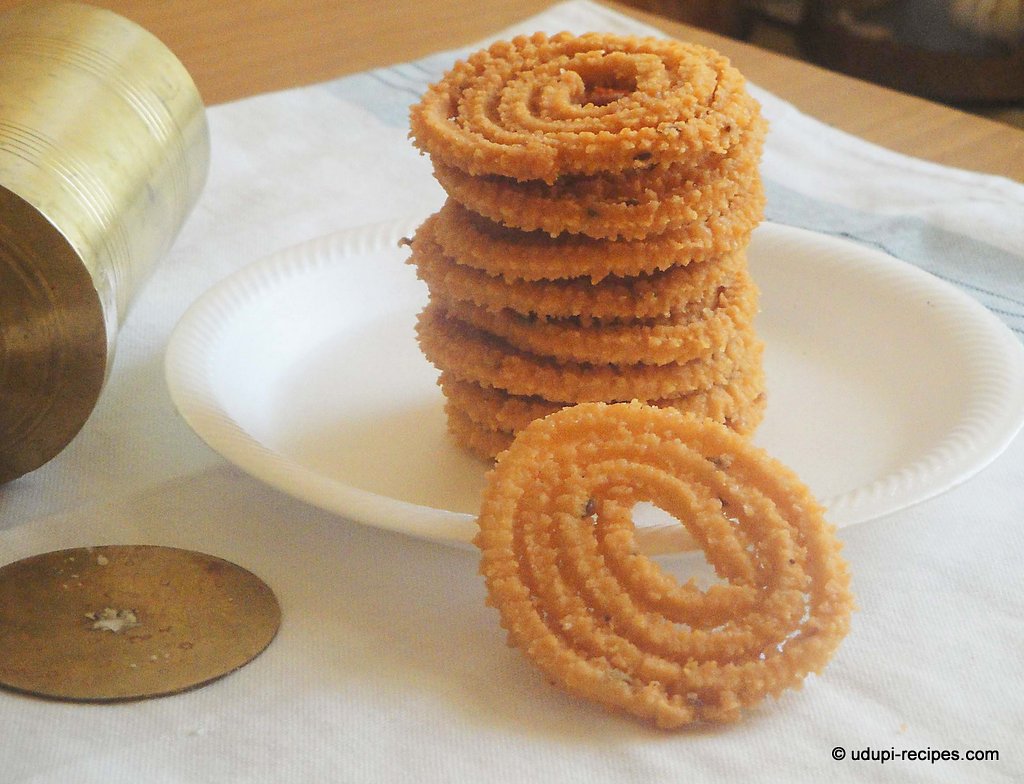 Crispy traditional murukku with perfect texture and taste can be the best offering to Lord Krishna on the eve of festival. Hope you enjoyed the post explaining traditional murukku recipe,  Let me know your views in comments.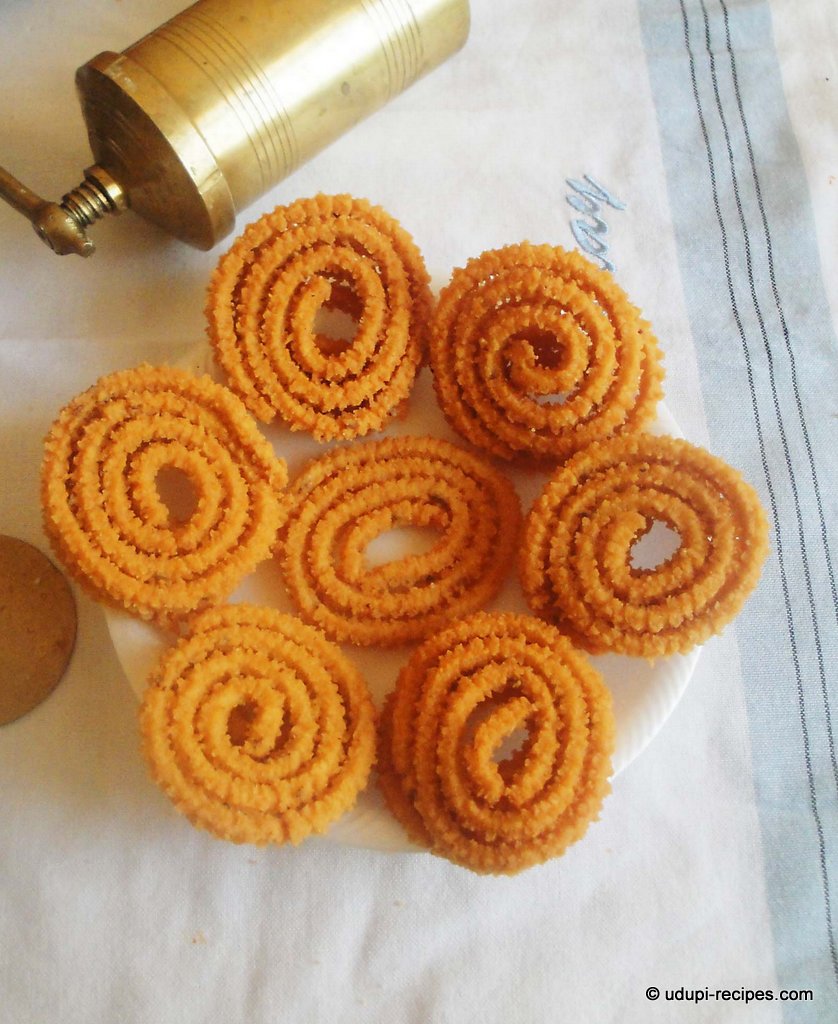 Traditional Murukku Recipe | Sri Krishna Janmashtami Recipes
Ingredients
Raw rice- 2 cups
(Urad dal)Split black gram lentil)- 1/2 cup
Fresh grated coconut- 1 cup
Salt- 1 to 1.5 tsp
Cumin seeds- 1 tsp
Cooking oil for deep frying
Instructions
Preparation

Wash raw rice thoroughly with enough water and drain it completely. Let it dry on cloth or plastic sheet under shade. Once raw rice is completely dry or moisture free, grind it to fine powder. You can use your mixer grinder or get it done in flour mill.
Sieve this home made rice powder and keep it away till use.

Method

Heat a wok or kadai adding urad dal(split black gram lentil) and roast them in low flame till the lentil changes color to brown and aroma wafts all around. Switch off the flame. Let it cool.
Once the lentils are cool, add in to mixer grinder and grind to fine powder. Sieve it to get fine textured powder. Transfer this roasted lentil flour and home made rice flour to a wide mixing bowl. Add cumin seeds and salt as well. Give a quick mix.
Meanwhile add fresh grated coconut in to mixer grinder adding enough water and grind to fine paste. Transfer this paste on to strainer and squeeze to extract fresh coconut milk. You can repeat grinding squeezed coconut with water and extract milk once again.
Now add this fresh coconut milk little by little to the rice and lentil flour mix in the bowl to make soft pliable dough. Knead the dough well. If the dough is thick the murukku breaks while pressing and if it is thin, then murukku may turn very soft instead of being crisp.
Make medium sized balls from the dough and insert in to murukku press. Press equal sized murukkus on small square sized paper or cloth.
Meanwhile heat a wok adding cooking oil, once oil gets heated up drop each pressed murukku in to oil and fry them till murukku turns slightly brown in color.
Using slotted ladle remove them from oil and drain on tissue. Repeat pressing and frying process with rest of the dough.
Crispy, crunchy murukku is ready with the aroma of coconut, it tastes wonderfully awesome.

Note

I recommend making rice flour at home to get the traditional taste. You can get it done in flour mill but avoid using store bought rice flour.
Roasting split black gram lentil is an important step, it needs your constant attention, so do not rush. Roast them in low flame till they change color. Make sure they are not burnt.
While making the dough if coconut milk prepared is not enough, then you can include water too but make sure the dough is of right consistency.
Press 4 or 5 murukku at a time and keep the next batch ready when they are in oil.
You can replace cumin seeds by sesame seeds as well.
Store murukku in air tight container to retain their crispiness for longer.
Before storing in container let the murukku attain room temperature or else it will be soggy.
https://udupi-recipes.com/2014/08/traditional-murukku-recipe-sri-krishna-janmashtami-recipes.html
All the content in this website are © Copyrighted to – Udupi-Recipes
Meet you all with one more interesting recipe. Till then bye.