Leftover chapati kheer(payasam)….I was not aware of such a kheer recipe till August 2014. I never knew I would be posting a recipe with leftover chapatis on this beautiful food sharing space.. Many a times leftover chapatis were thrown in to dustbin straight away..finding nobody or failing to convince any one to consume them. I was the only one to ingest them pairing some side dish with no KICK out of it though… 🙁
The idea of kheer recipe didn't strike me just like that…When I visited my parents home last vacation…a pile of left over chapatis were magically turned in to super yummy kheer by mom who lovingly cooked 5 course meal for her daughter and grand children. I was fascinated by the awesome taste and decided to post the recipe at the very moment.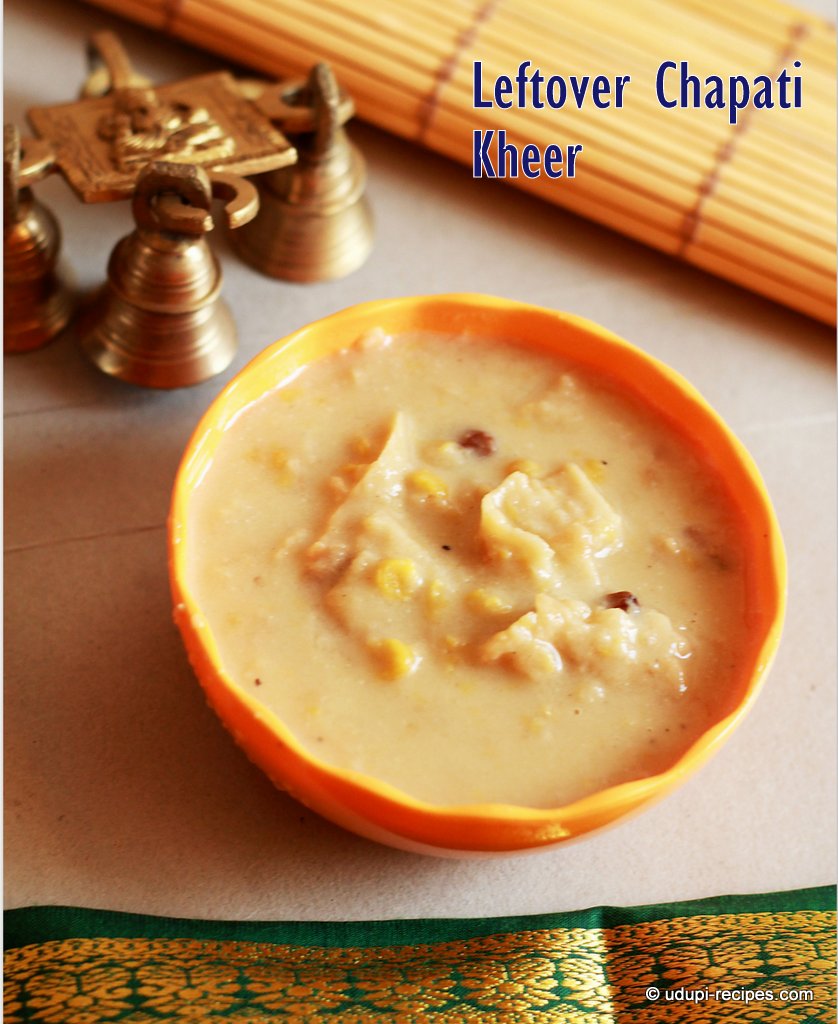 The building blocks of leftover chapati payasam is obviously leftover chapati itself and split chickpea lentils(chana dal). These two fuse together or bind together seamlessly. The lentils are pressure cooked to soft yet separate grains,  then simmered in coconut milk – jaggery syrup along with broken leftover chapati pieces. Finally it is flavored with cardamom powder, garnished with ghee fried dry fruits. This leftover chapati payasam is going to make you extremely satisfied and deeply nourished…And most of all it never feels LEFTOVER…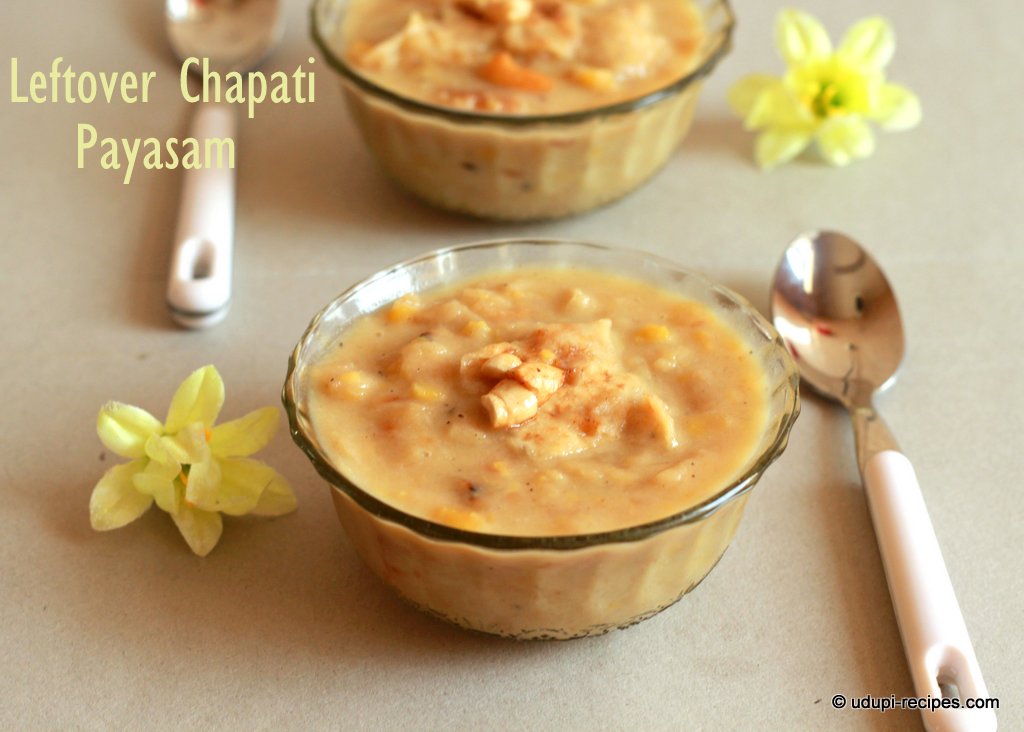 Leftover Chapati Payasam | Leftover Chapati Kheer Recipe
Ingredients
Chapati(Indian flat bread)- 3 no.
Fresh grated coconut- 1 cup
Jaggery- 1/2 cup
Split chickpea lentil(chana dal)- 2 fistful
Cashews+Raisins- Handful
Cardamom powder- 1/2 tsp
Ghee- 1 tsp
Instructions
Preparation

Heat skillet(tawa) and put the leftover chapatis on it. Let the chapatis become crisp. Flip over the chapatis in between. Once done, using knife or kitchen scissors cut each chapati vertically in to 1" strips. Then cut each strip in to squares. Keep them aside till use.
Pressure cook chana lentils in half cup water for 3 whistles. Once pressure is released completely, remove the lid and set aside the cooked lentils.
In seasoning pan add ghee and fry cashews, raisins one after the other. Keep them aside till use.

Method

Add fresh grated coconut in to mixer with 1/2 cup water and grind it in to fine paste. Pour this paste on to strainer and squeeze to extract thick coconut milk(first extracted coconut milk). Add squeezed coconut paste in to mixer with half cup water and again grind to fine paste. Transfer on to strainer and extract this coconut milk on to different container.
Now take the cooking pan/vessel, add second extracted coconut milk and jaggery in to it. Cook it in medium flame till the jaggery dissolves and the syrup becomes little thick.
Include cooked chana dal and left over chapati pieces. Cook for 3 minutes so that lentil and chapati pieces absorb jaggery well.
At the end add first extracted coconut milk, cardamom powder and ghee fried cashew and raisins. Bring it to boil and switch off.
Leftover chapati payasam/kheer is ready.

Notes

After including chapati pieces, do not cook for long. The pieces will become mushy.
Add water as per your preferred consistency of payasam. For me two cups of coconut milk was sufficient.
You can replace chana dal by moong dal(green gram lentil) too. If you are using moong dal, pressure cook only for 2 whistles.
Cooking leftover chapatis on tawa to make it crisp is mandatory. Do not skip that step.
https://udupi-recipes.com/2014/11/leftover-chapati-payasam-leftover-chapati-kheer-recipe.html
All the content in this website are © Copyrighted to – Udupi-Recipes