It's so so so good. So much to love, that it's almost hard to talk about. This mixture is one of those things that makes me feel cozy, reminds me of my recess breaks during schooling. Because currently I am not at all hesitant to say I am a rice flakes mixture obsessive girl. I used to grab this mixture from my classmates in exchange of my own tiffin box. That obsession continues even today. I am serious.
This 15 minute, thin rice flakes mixture or chiwda as it is called in Karnataka is a minimal commitment, low maintenance, ready-super fast treat for all regular days. This super speedy mixture can serve as snack or travel food right away. As I prepared it today morning, I held myself back to gulp this yumminess before proceeding to snap.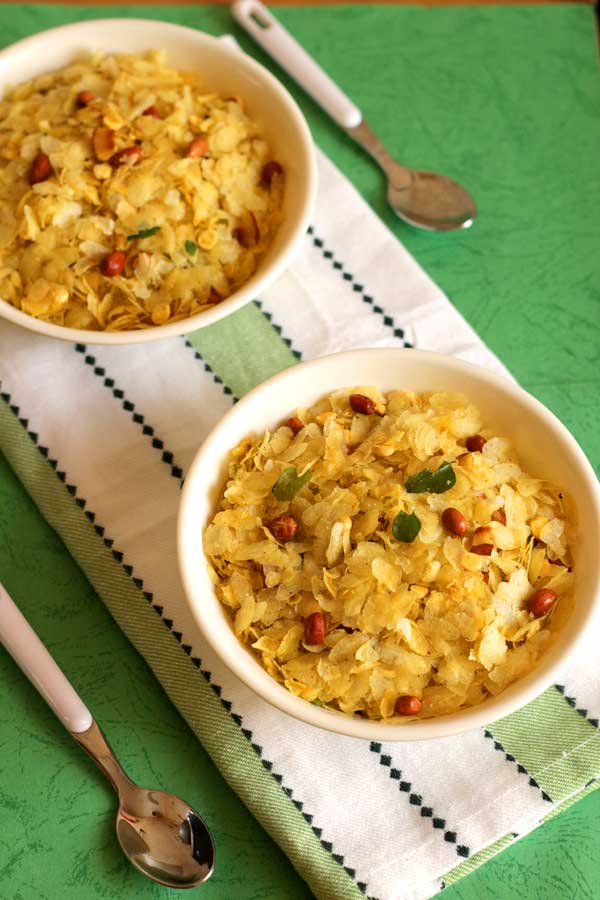 The recipe seems surprisingly simple and it is, provided you keep few things in mind. Like before even you start making the mixture, get the thin rice flakes sun dried or warmed up on griddle. It always, always makes the mixture crispity crisp, brittle and you never feel you are biting the chewy flakes. Second thing I would encourage you to do is let the flakes rest in the warm wok itself for extra crunchiness after putting off the flame.
I currently have a big box full of this thin rice flakes mixture to keep myself snacking happy.  Nicely fried peanuts and roasted gram, awesomely browned copra bites just render the snacking feeling and oh my gosh I want a bowl ful to munch now.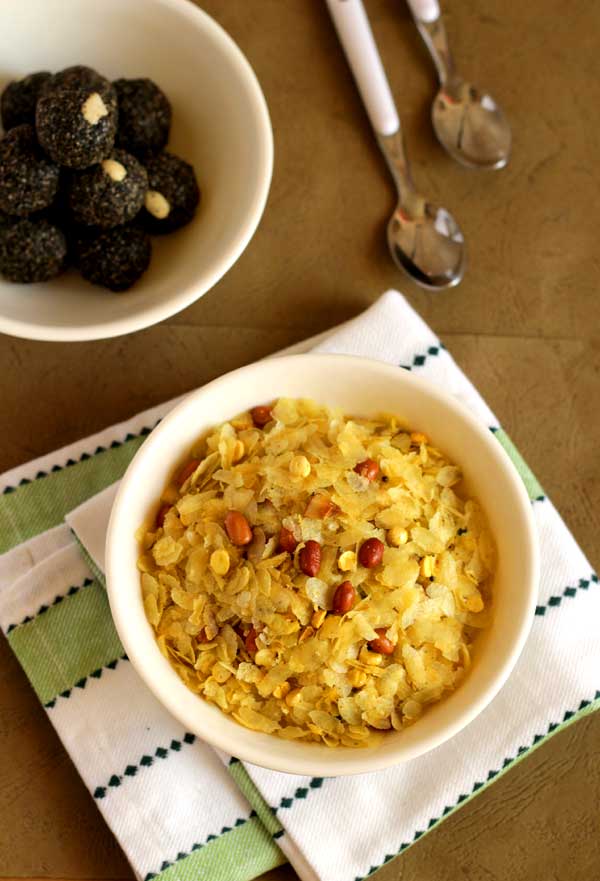 Check this video:
Thin Rice Flakes Mixture |Thin Rice Flakes Chiwda Recipe
Ingredients
Thin rice flakes- 1/2 kg
Peanuts- 1/4 cup
Roasted gram- 1/4 cup
Copra pieces- Handful
Salt- 1 tsp
Red chilly powder- 1 tsp
Turmeric powder- 1/2 tsp
Sugar- 2 tsp
Curry leaves- few
Garlic crushed- 3 to 4 nos.(optional)
Mustard seeds- 1 tsp
Cooking oil- 1/4 cup
Instructions
Preparation

Spread the thin rice flakes on a paper and sun dry it for at least 3 hours till the flakes are crisp. If it's not a sunny day, then you can spread the flakes over a warm griddle for some time.

Method

Heat a wide wok with cooking oil and mustard seeds, as the seeds crackle mix in curryleaves, copra pieces, crushed garlic and peanuts. Saute till the peanuts are roasted well. Next include roasted gram. Saute for 10 seconds.
Next it is time to include all the spices like turmeric powder, red chilly powder and salt. Combine everything well and put off the flame.
With flame turned off, add rice flakes and sugar. Stir and combine the flakes with seasoning till the spices get coated over them.
Let the flakes rest in the warm wok itself for some time which helps the beaten rice to be very crisp and crunch. Then store it in airtight container and relish with tea.

Notes

Sun drying the rice flakes always result in very brittle and crisp mixture. So do not skip it.
I would suggest adding roasted gram to the seasoning only after the peanuts get fried.
Do not over-cook the seasoning after adding roasted gram because roasted gram turns brown immediately and taste bitter.
You can skip adding garlic and can include some cashews too for extra yumminess.
I would suggest adding sugar at the end along with rice flakes because sugar forms lump in the seasoning.
Combining rice flakes with seasoning should be done off the stove to avoid wilting.
https://udupi-recipes.com/2015/06/thin-rice-flakes-mixture-thin-rice-flakes-chiwda-recipe.html
All the content in this website are © Copyrighted to – Udupi-Recipes