It sounds really weird to cook some thing lip-smacking dish out of a flower or blossom. I mean it is not a normal practice to use flowers in cooking which probably could be explained as out of the box or innovative idea of our ancestors.  Banana blossom chutney must have born in our ancestor's kitchen in an attempt to incorporate all the goodness of this blossom to our body. Banana blossom is well known for it's medicinal properties, vitamins, minerals and fiber.
As a nursing mother I had to eat a kind of dry curry made from banana blossom in every day lunch. So banana blossom played a vital role in nursing mother diet and it was exceptionally good too.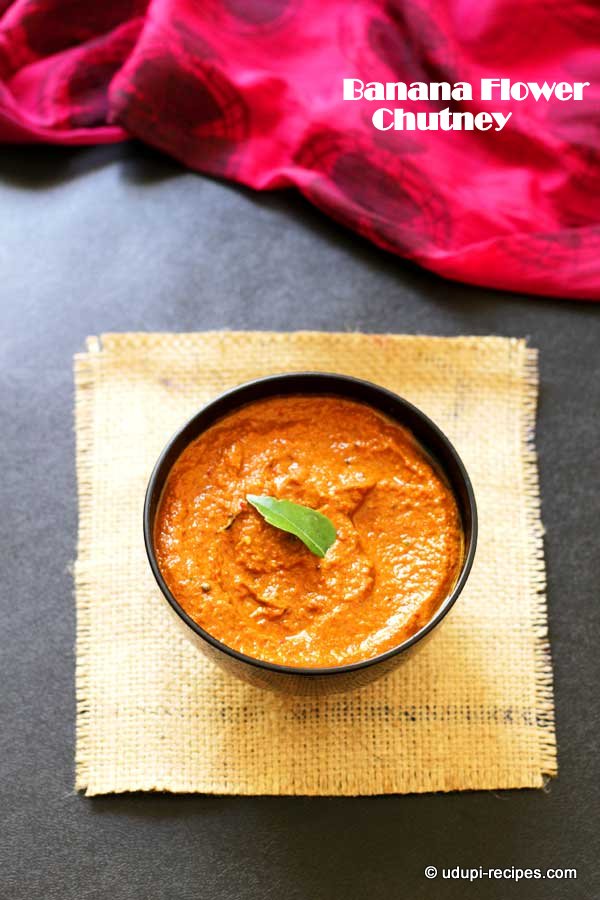 In my recent visit to supermarket, I happened to see a wonderful, firm banana flower with dark purple bracts or petals. And you very well know, the next moment it was in my cart. There itself I was scheming for banana blossom chutney to post in this space. Oh my food blogging life 🙂 . It's always wise to choose banana blossom which is firm, tightly packed and bracts being good purple in color.
When you plan to include banana blossom in your food, it's better to discard the outermost few bracts and select the middle ones. I advise to rinse and clean the bracts thoroughly, then proceed to chop.
Loaded with spices like red chillies, sesame seeds, coriander seeds and lentils, that are roasted to perfection which are then ground with cooked banana bracts plus coconut plus salt. Banana blossom chutney left me licking every drop of it when paired with hot steamed rice. It is adaptable, quick and extremely yummy that you can accompany it with dosa too.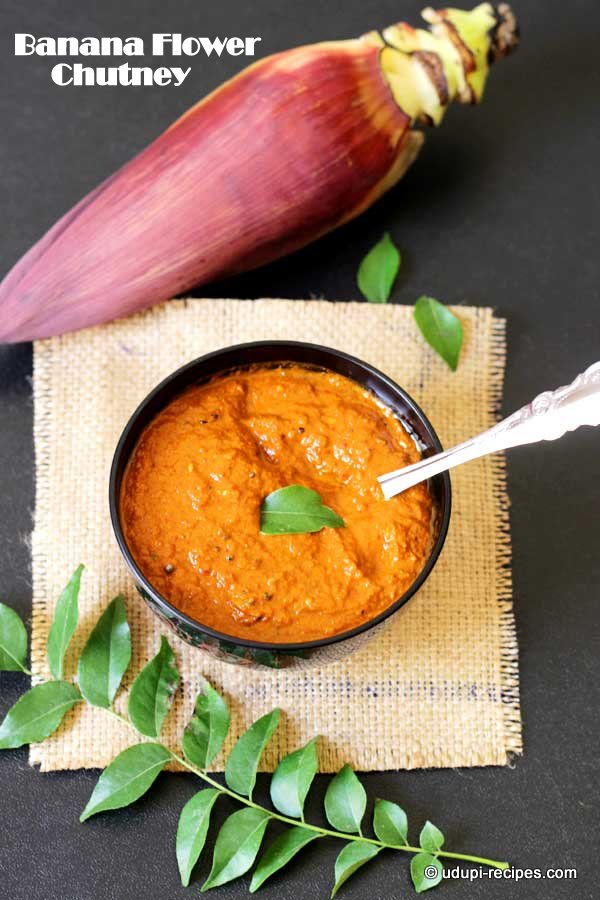 Banana Blossom Chutney Recipe
Ingredients
Banana blossom bracts - 5 to 6 nos. or 1 cup chopped
Tamarind- Small lemon sized
Grated coconut- 1/2 cup
Coriander seeds- 1 tsp
Split black gram lentils- 1 tsp
Salt- 1 to 1.5 tsp
Black sesame seeds- 1 tsp
Red chillies- 4 nos.
Cooking oil- 1 tsp
Instructions
Preparation

Peel the bracts from banana blossom (discard few outermost ones)and wash them thoroughly with enough water. Chop the bracts in to big chunks. Keep them aside till use.

Method

Take the chopped banana blossom bracts in a vessel with tamarind and water to the immersing level. Then cook it in medium flame till the bracts turn soft. Let it cool down to room temperature.
When the bracts are cooking, heat a wok or pan and dry roast the sesame seeds. Transferring the sesame to a container, heat the same wok with a teaspoon of oil followed by black gram lentils, coriander seeds and red chillies. Roast them together till the lentils turn little brown.
In mixer grinder add the cooked bracts, roasted ingredients, grated coconut and salt. Grind them together adding water as needed. Transfer it to a serving bowl.
Banana blossom chutney is ready to serve with steamed rice.

Notes

Always choose the banana blossom that is firm with tightly packed petals and purple in color. Discard outermost few bracts or petals.
Be careful while chopping the bracts as they tend to be very fibrous.
You can season the chutney with mustard seeds and curry leaves which i skipped.
https://udupi-recipes.com/2015/07/banana-blossom-chutney-recipe.html
All the content in this website are © Copyrighted to – Udupi-Recipes