Chitranna (or shall I dare to call it as COLORED RICE literally translating the word to English!!) is probably a food that you must have been eating since years. It can be as simple as rice mixed with salt and lemon juice topped with seasoning or it can be bit complex involving roasting and grinding of spices. However simple or complex it may be, chitranna has the real kick of taste plus tanginess plus sort of spice.
Most importantly chitranna is labelled as travel food since you can prepare it with ease and eat to the full. Today I thought to post an authentic rice recipe from Udupi called masale chitranna which calls for some sort of roasting and grinding.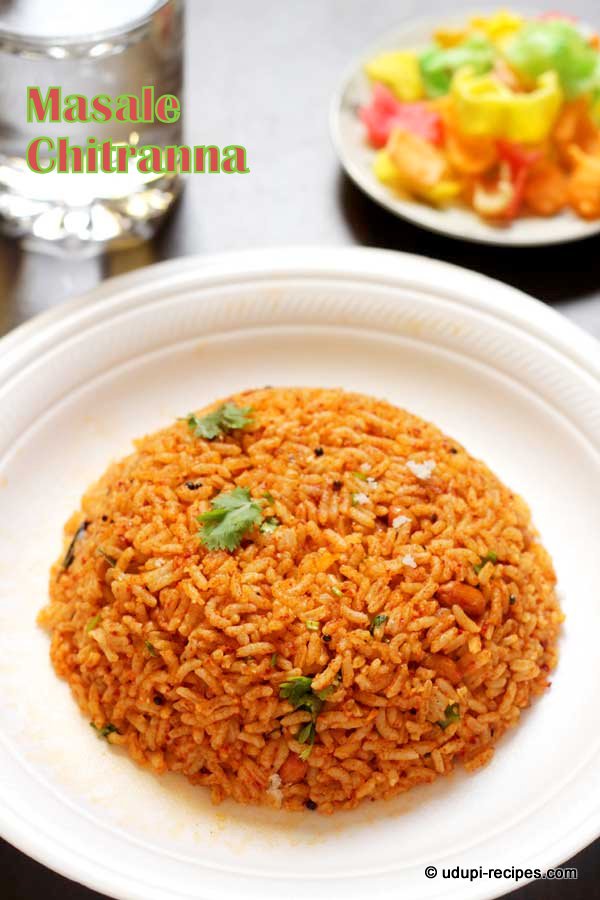 Essentially you can get the spice powder ready beforehand and stock in airtight container which can last for a fortnight. Spices lined up to roast are sesame seeds, red chillies, chickpea lentils, black gram lentils, coriander, cumin and fenugreek seeds. After roasting the spices they get transformed in to fine powder in a blender or mixer. Masale Chitranna spice mix is ready right away.
As you must have noticed chitranna kind of rice recipes should have a tangy substance in them like, we are using tamarind for this version. Tamarind juice, jaggery and salt get cooked in a mustard seeds seasoning with which the spice powder is combined. It forms a thick paste. As you add cooked rice and gently mix with your fingers, a pleasant colored, feel-good, humble masale chitranna would be whipped up.
In my life this version of rice can happen many a times. Like when I have lots of leftover rice then masale chitranna comes in the form of  breakfast. Some times as my vegetables stock gets over amidst of a week and I feel the vegetable shop a long way for the moment, I scheme this colored rice(Can I call like this??!) for lunch too. Finally when all the rice side dish get emptied (on hungry days) in the afternoon itself then masale chitranna arises as a dinner saving my kitchen time. So I say Chitranna => You are versatile.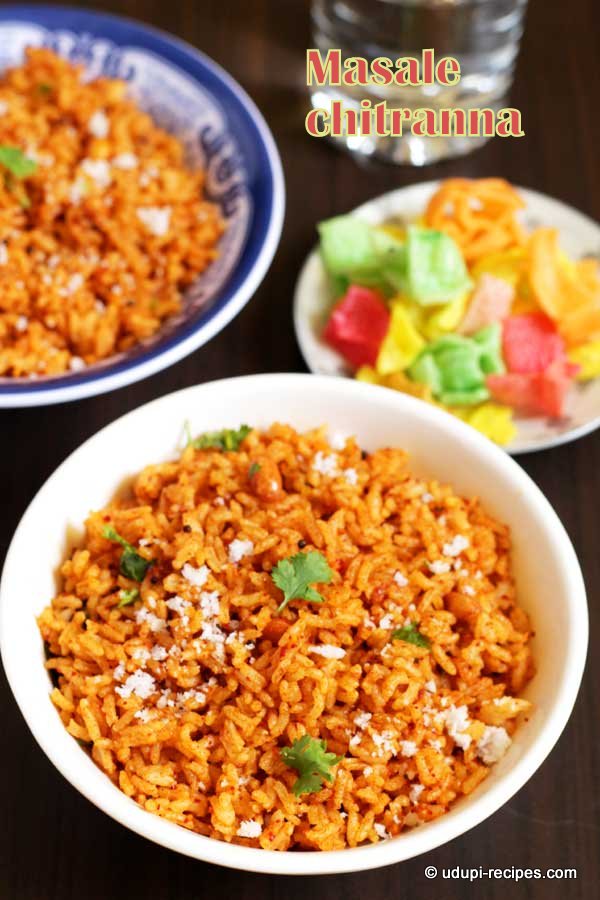 Masale Chitranna in Udupi Style
Ingredients
Raw rice- 1 cup
Peanuts- Handful
Jaggery- Marble sized
Tamarind- Marble sized
Salt- 1 tsp
Turmeric powder- 1/2 tsp

To roast and grind

Split black gram lentils- 2 tsp
Split chickpea lentils- 2 tsp
Coriander seeds- 1 tsp
Fenugreek seeds- 1/4 tsp
Cumin seeds- 1/2 tsp
Black sesame seeds- 3 tsp
Red chillies- 5 to 6 nos.

Seasoning ingredients

Cooking oil- 2 tsp + 3 tsp
Split black gram lentils- 1/2 tsp
Mustard seeds- 1/2 tsp
Instructions
Preparation

Pressure cook the rice as you normally do but ensure that the grains are separate and fluffy. Let the rice cool down to room temperature.
Soak tamarind in 1/2 cup of water for 10 minutes. Squeeze and extract it's juice discarding the residue.

Method

Heat a cooking pan and add black sesame seeds. Dry roast them stirring continuously till the splutter. Transfer it to a plate.
Reheat the same pan adding 2 tsp of oil followed by both lentils, coriander, cumin, fenugreek seeds and red chillies. Roast them till the lentils turn little brown and chillies puff up. Put off the flame and let it cool. Then add all the roasted ingredients in to a mixer jar and powder them together finely.
Next heat the cooking pan with 3 tsp of oil, black gram lentils, mustard seeds and curry leaves. As the mustard seeds crackle include peanuts. Saute for a while and then include tamarind extract, jaggery, turmeric powder and salt. As the jaggery dissolves and tamarind juice starts to boil, add the spice powder prepared in above step.
When the spice powder cooks in tamarind juice it becomes like a paste then switch off the flame. Include cooked rice and mix well with your fingers. Garnish with coriander leaves and grated coconut.
Very delicious and popular masale chitranna is ready to serve.

Notes

Do not over cook the rice which may turn the grains mushy and chitranna will not taste good.
You can prepare the spice powder in advance and store for a fortnight.
When you mix the rice with spice mix, make sure rice has cooled down. Otherwise grains may break as you mix.
https://udupi-recipes.com/2015/07/masale-chitranna-in-udupi-style.html
All the content in this website are © Copyrighted to – Udupi-Recipes