The love for this food thing called chips is ingrained in the roots of all. Because these crispy things are so addictive like that. If you ever happen to randomly put a single chips in your mouth, then obviously you'll never stop just there. It's super evident that one after the other chips would get cleared off. We are prone to fall in love with any and all things that are close to resembling chips. Which is why my little son was after me to prepare the chips at home since a month. He is the source for this recipe of tapioca chips (maragensasina chips) which happened at my kitchen couple of days ago.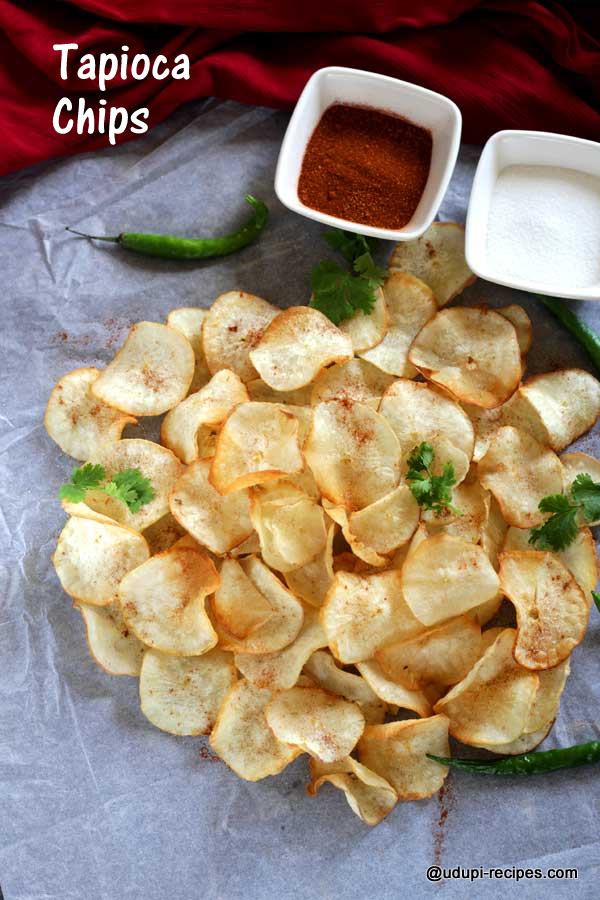 My little kindergartner who accompanies me in all my trips to vegetable market is really keen in what I buy for the week. He ensures that his favorite vegetables have been included in the cart. And last week when I was picking these tapioca, a hard root vegetable from the heap, he questioned me instantly. "What are you making out of these?" mom.  The question was quite obvious because I don't buy them usually.
I answered hesitantly saying "I will make tapioca chips this week".
His eyes widened up with happiness and since then every day he was like "Have you made chips? when are going to make?" It took me few days to actually make them with decent pictures because weather wasn't in favor of photography. So ultimately when the magic of chips created in the kitchen it was he who was in food-heaven.
The spices seasoned tapioca chips were all crispy, flaky and so very delicious. The plateful of chips along with a cup of tea was so good that I wondered whether the tea tasted better or chips!! Both cleared off in just few seconds.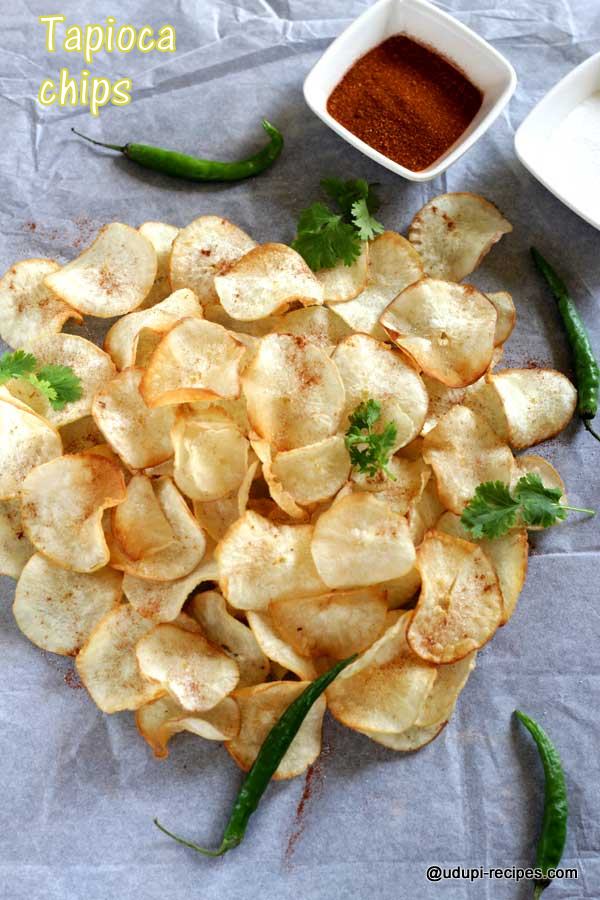 Tapioca Chips | Maragenasina Chips Recipe
Ingredients
Tapioca (Maragenasu)- 2 nos.
Cooking oil- Enough to deep fry
Salt- 1 tsp
Red chilly powder- 1 tsp
Instructions
Method

Peel the skin off from tapioca and wash it under running water. Let it dry. Using a sharp chips grater, slice the tapioca in to thin chips.
Next heat enough oil in a heavy bottom wok, when oil temperature is perfect (Like when you drop a slice, it should immediately raise to the surface), drop a batch of chips in to oil. Reduce flame and fry till the chips turn crisp. Once done, remove from oil using slotted ladle.
Drain the chips on a kitchen tissue paper. Sprinkle salt and chilly powder over it. Yummy home made tapioca chips are ready to munch.

Notes

Choose a grater which is sharp because tapioca is bit hard to grate.
Immersing the grated chips in water isn't necessary.
The oil temperature is very important to get the crispy chips.
While droping the chips, the oil should be hot. And when they are frying, flame should be reduced otherwise the chips become brown immediately.
If you drop the chips in to less hot oil, chips would turn soggy.
https://udupi-recipes.com/2018/01/tapioca-chips-maragenasina-chips-recipe.html
All the content in this website are © Copyrighted to – Udupi-Recipes