Have you ever wondered why your idli turn hard at times? Though you stick on to the age old recipe of your mother or grand mother, sometimes it becomes a disaster. It usually happens with me during winter season. The soft and spongy breakfast would turn in to rock hard food seeming a terrible punishment for the mouth. Do you know the pinpointing reason for such issue? It is "FERMENTATION". Because perfect fermentation happens only in the warm weather when batter is set undisturbed for some good hours. So in colder places either we have to artificially create warmness for the batter or we should extend the resting time to 20 hours.  Today I have come up with an extremely soft and spongy mallige idli recipe which has some key ingredients to make it velvety soft.
Let me put down some key possibilities where idli can become disaster:
Lentils to Rice ratio- Normally this is 1:2. Meaning if you take single cup of split black gram lentils then 2 cups of rice is recommended. Here instead of rice you can even choose rice rava. Using rice-rava for idli batter is explained in my soft idli recipe post. Always choose good quality lentils for perfect idli.
Fermentation- This natural process plays vital role in making the idli soft and spongy. So 8-10 hours of fermentation at warm weather (above 25℃) is necessary in any case. So when temperature falls below the 25℃, I either extend fermentation time or create some warmness artificially.
Grinding and batter consistency: Wet grinder is recommended for grinding the idli batter which results in fluffy, light batter with good volume. The consistency shouldn't be watery instead it should be foamy. But even using mixer, you can carefully grind the batter (though volume is less) and achieve result close to that of wet grinder.
If your batter sits in refrigerator, before steaming the idlis bring it back to the room temperature.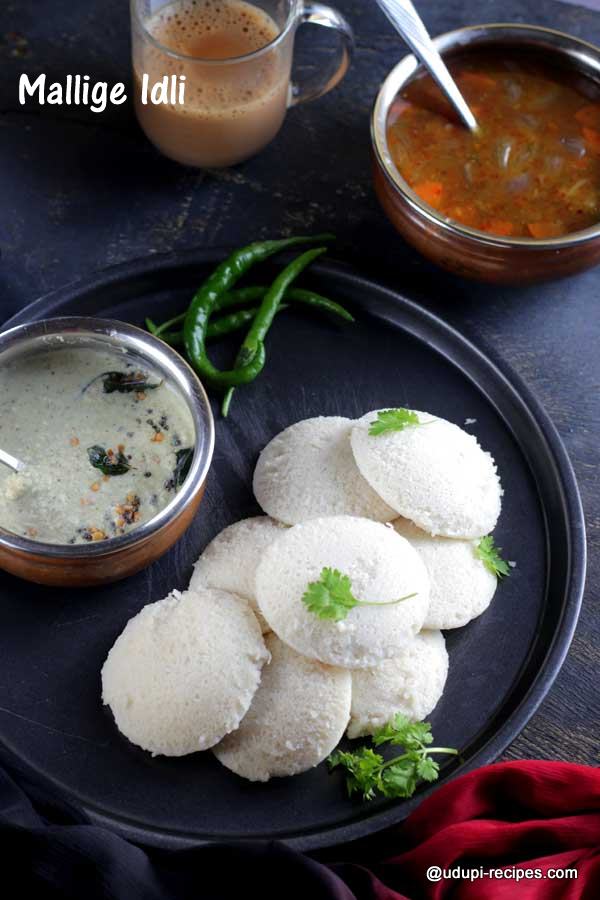 Unlike normal idli, today's post is about mallige idli which has different set of ingredients all together. Along with black gram lentils, it has sago and rice flakes for that extra soft-ness. The other factors like fermentation and batter consistency holds good for this one too. So learn various tricks like this to make your breakfast, a pleasant affair.
Lets together, relish this steamed spongy food of life.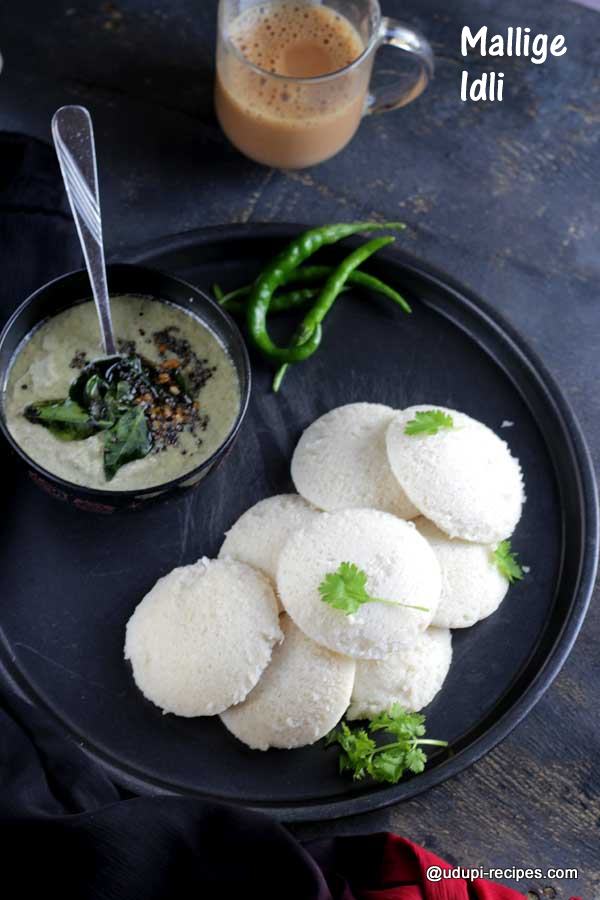 Mallige Idli | Soft and Spongy Idli for Breakfast
Ingredients
Split black gram lentils- 1/2 cup
Rice flakes- 1/2 cup
Raw rice- 2 cups
Sago (sabudana) 1/4 cup
Salt- 1.5 tsp
Instructions
Preparation

Rinse the lentils with enough water and soak it along with rice flakes for at least 4 to 5 hours. Use sufficient water for soaking.
Similarly rinse and soak rice plus sago pearls separately with sufficient water. Let them soak for at least 4 to 5 hours.

Method

After good hours of soaking, take the lentils and rice flakes in a mixer jar. Grind them together to fine, pluffy and light batter. Add water as needed while grinding. Then transfer the batter in to a large vessel.
Next take soaked rice and sago pearls in a mixer. Grind them together in to little coarse paste. Add little water for ease of grinding.
Mix both the batters together in a large vessel and keep it covered in a warm place for about 10-12 hours. This resting time helps the batter to ferment properly.
After fermentation, the batter would have raised up. Next take idli mould and pour a ladle full of batter in to each of the mould. Steam such idli moulds in a steamer for about 10 minutes.
After steaming, the idli would have puffed up. You can check for the done-ness by inserting a toothpick. If it comes out clean the idli would have steamed to the perfection. Using a spoon, carefully remove idli and serve.
Very very soft mallige idli is ready to serve with chutney and sambar of your choice.

Notes

If you have a wet grinder, use the same to grind lentils. Because grinder gives fluffy batter with good volume.
Do not add too much water to grind lentils and rice. Idli batter has to be little thicker than dosa batter.
Do not reduce soaking and fermentation time. If so, the sago wouldn't grind smoothly and idli wouldn't be soft.
In warm place the fermentation time can be reduced to 7 to 8 hours but cold places need more time for the same.
https://udupi-recipes.com/2018/01/mallige-idli-soft-spongy-idli-breakfast.html
All the content in this website are © Copyrighted to – Udupi-Recipes