Idli is my all time favorite breakfast, I will not deny if I get it for lunch and dinner too. Yes, I will never get bored of Idlis. I have grown up watching everyday, grinder with fluffy split black gram lentil, steaming  Idli cooker with idli stand containing 30 idlis and the way the hot idlis getting transferred from muslin cloth to serving plate. My father was running a hotel business and making idlis was responsibility of my mother. I never had to ask queries about making idlis with my mom as it was integrated in me since childhood. In this post I am briefing you on making idlis using idli rava, it can be prepared using raw rice too. Stay tuned for that post as well.
Well, In Udupi households Idli is called as Kadubu(cooking idli batter in steal cups) or Moode (cooking idlis in cups made by rolling mundage leaf). Steaming Idli batter in idli moulds is not regular practice in these households.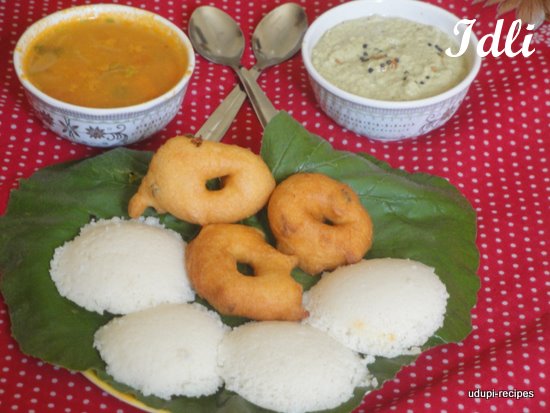 Idli Recipe | Soft Idlis | Easy Breakfast Recipes
Ingredients
Split black gram lentil/Urad dal- 1 cup
Idli rava- 2 cups
Salt- 2 teaspoon
Instructions
Preparation

Wash and soak split black gram lentil for about 2 to 4 hours.
Soak idli rava in 3 cups of water for about 20 minutes.
Preparation
Wash and soak split black gram lentil for about 2 to 4 hours.
Soak idli rava in 3 cups of water for about 20 minutes.

Method

Drain water from black gram lentil and add it to the mixer. Grind it to light, fluffy batter adding water little by little every now and then. It may need 1 to 1.5 cups of water which actually depends upon the quality of black gram lentil.
Collect the ground batter to a container (big enough to hold the fermented batter). Now take a fistful of soaked idli rava, squeeze it fully and then add to the ground urad dal batter. In the same manner add the idli rava completely and blend it well with urad dal batter
Cover it with lid and keep in warm place for fermentation. The batter should be fermented for at least 12 hours or overnight.You can notice that the fermented batter has raised up and increased in volume.Now add salt to the idli batter and mix well.
Now take idli stand apply oil to all moulds and keep it ready. Pour idli batter in to each of the moulds. Idlis are ready for steaming. Heat a pressure cooker adding some water and keep the ready idli stand in it. Cover the lid but do not keep whistle. When the cooker releases steam outside the whistle hole, simmer it. Let it cook in simmer for about 15 minutes.
After 15 minutes, open the cooker lid and check the idlis have cooked or not by piercing a knife or spoon in to it. If it comes out clean, then idlis have been cooked.Let it cool and then you can scoop idlis from the idli stand using a spoon.
Repeat the process with rest of the batter. Easy and healthy breakfast idli is ready. Serve it with chutney and sambar.

Notes:

Split black gram lentil must be soaked for minimum 2 hours. However you can soak it for more than 2 hours too.
I recommend the use of grinder for grinding idli batter than mixer. My grinder is under repair, so I compromised with mixer itself.
Do not add all the water at once while grinding, add minimum initially, when it starts fluffing go on adding additional water. The batter should be light, fluffy, not too thick nor too thin.
The fluffiness of batter highly depends on the quality of black gram lentil. Whenever I buy fresh urad dal every month, I need to check how much water it needs for grinding. So you can judge in the same manner.
Proper fermentation of batter is very very important to get soft idlis. Well raised idli batter will yield soft idlis.
You can use idli cooker replacing pressure cooker for steaming idlis.
Do not rush to scoop idlis from idli stand after steaming. Let it cool for some time, otherwise the idlis become shapeless.
Black gram lentil to idli rava ratio is 1:2. If your lentil fluffs up very well then you can add additional 1/2 cup of Idli rava.
https://udupi-recipes.com/2013/12/idli-recipe-soft-idlis-easy-breakfast-recipes.html
All the content in this website are © Copyrighted to – Udupi-Recipes