Broken wheat sweet pongal is here: it's luscious, drool-worthy and super yummy. We are around that time of the year when everyone including men, women and kids rejoice festive mood. Initiating the new year with a festival like Sankranti is always so joyful. It's now time for some beforehand preparations like making a list of groceries, shopping and assembling things. So all geared up right?
Right at this moment, as I type this post I recall my initial cooking days. Because as a naive cook the festivals used to be scary. Feeding the family with a healthy, scrumptious feast happened to be tedious then. Because there weren't any handy cooking methods and tips available easily, the only source used to be a cook book or asking an expert's advice. And those cook books had written recipe with no pictures where you get no idea of how the end product looks. So with a imaginary picture in mind, my cooking trials used to happen.
But now the scenario has changed dramatically. The digital internet world and smart phones have made it all easy and quick. At the tip of your fingers you'll get the recipes with clear pictures of every step including videos. Apart from that, all the social medias have zillions of food and recipes floating around. Meaning cooking is no scary now, everyday you can twist and tweak your recipes, fine tune them according your health and taste buds. I feel so much grateful to this virtual internet world for being so helpful to the immature cooks.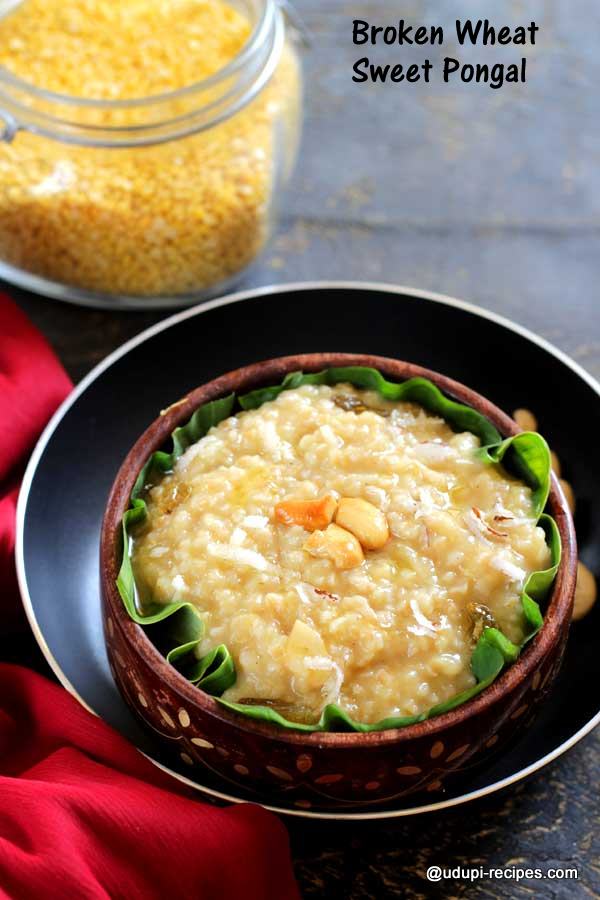 So for this year's festival, I thought about broken wheat sweet pongal which swaps rice by broken wheat and tastes absolutely scrumptious. Though the procedure remains same, the exact measurement of water and other ingredients really helps the naive cooks. So lets have this healthy sweet pongal on the festival day and share the food pictures socially.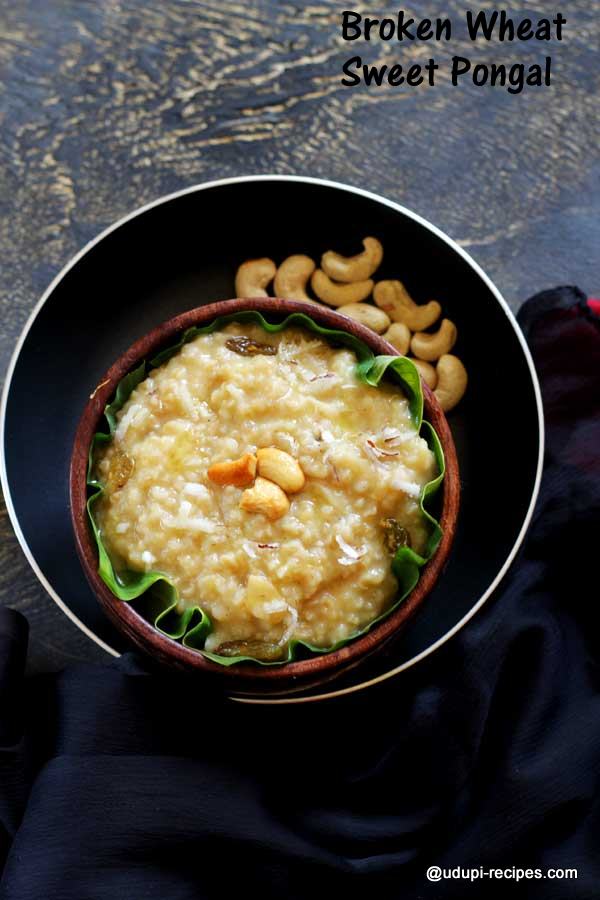 Broken Wheat Sweet Pongal Recipe
Ingredients
Broken wheat- 1/2 cup
Split green gram lentils(yellow lentils)- 1/2 cup
Water-2 cup
Jaggery powder- 3/4 cup
Cardamom powder- 1/2 tsp
Ediple camphor powder- A pinch
Fresh grated coconut- 2 tbsp
Cashews + raisins- Handful
Ghee- 2.5 tbsp
Instructions
Method

In a ppressure cooker take yellow lentils and dry roast them for few seconds or till they become aromatic.
Next rinse the broken wheat with enough water and drain it off. Add broken wheat and 2 cups of water to the cooker. Let them cook with lentils for 3 whistles. Simmer it for 5 minutes.
When the pressure subsides naturally, open the lid and keep it aside. Heat a pan with jaggery and little water. Let the jaggery dissolve in water, filter it to remove impurities. Then take it in same pan and continue cooking.
As the jaggery bubbles up, transfer the cooked broken wheat and lentil mixture to the pan. Adjust consistency by adding water as needed. Let it cook. When it thickens, add a tbsp of ghee.
Next in a small pan roast the cashews and raisins in a tbsp of ghee and pour it over pongal. Finally add cardamom powder, camphor and grated coconut. Mix them thouroughly.
Broken wheat pongal is ready to serve on festival.

Notes

Pressure cook the broken wheat till it is almost mushy. I had to cook in simmer for 5 minutes after 3 whistles for it to be mushy.
You can increase jaggery quantity up to 1 cup, I like mild sweetness, so used up 3/4 cup.
Pongal gets thick with time, so adjust the consistency by adding water as needed.
Do not skip camphor because it really enhances the taste of pongal.
https://udupi-recipes.com/2018/01/broken-wheat-sweet-pongal-recipe.html
All the content in this website are © Copyrighted to – Udupi-Recipes