Greens are here friends. Again!!  In a bowl, as drumstick leaves kootu. The cute little drumstick leaves would fascinate me like none other. Because I  don't even have to make a trip to vegetable shop to buy these greens goodness. It's kind of free, just few footsteps away from my home. I just pause for a minute here in honor of wonderful gift my neighbor has given in the form of a huge greens tree. It's like any day, any time ready to pluck kind of green veggie for me. I deliver my deepest gratitude to the tree everyday as I pass by.  Can I ever be thankful enough to this nature's gift which is pesticide free and organic with no human intervention? It's so priceless. Don't you think so?
Drumstick leaves happened to appear more in my kitchen than the actual drumstick. Because greens are always awesome like that. You can go through all of them here as a collection of drumstick leaves recipes. When you scroll through the above list, you would find that the quantity of drumstick leaves used up is very less in each of the recipe. So today this bowl of drumstick leaves kootu has more and more of drumstick leaves. My primary goal of much greens in every bite of meal has actually happened through this.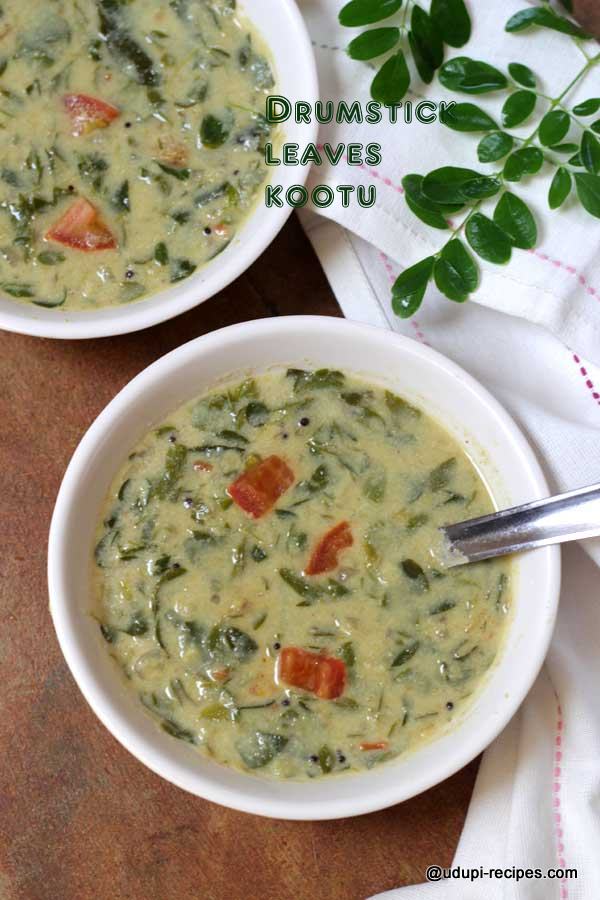 Kootu, being a genuine rice side dish has lentils plus coconut and it blends very well with rice. Besides, it is too quick and easy to put together which meets my goal of creating recipes that are fun and unique, inspiring to blog readers. As greens don't even need much time to cook, I observed my stay in kitchen has been drastically reduced whenever I cooked this rice side dish. Next time, as you get few bunches of drumstick leaves, try out this kootu and enjoy extra leisure.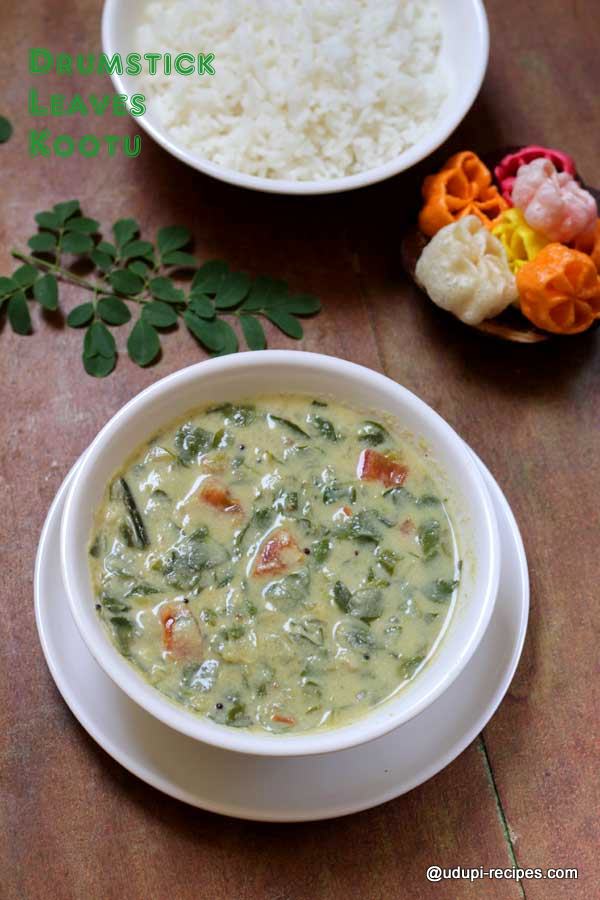 Drumstick Leaves Kootu | Quick and healthy Curry
Ingredients
Drumstick leaves- A small bunch or 1 cup separated leaves
Onion- 1 no.
Tomato- 1 no.
Pigeon pea lentils- 1/4 cup
Grated coconut- 1/2 cup
Cumin seeds- 1 tsp
Salt- 1 tsp
Green chillies- 2 nos.

To temper

Cooking oil- 2 tsp
Mustard seeds- 1/2 tsp
Split black gram lentils- 1/2 tsp
Broken red chillies- few
Curry leaves- Few
Instructions
Preparation

Separate the drumstick leaves from the stem. Measure 1 cup and keep aside. Chop onion and tomato in to small chunks.

Method

Cook the lentils with enough water until mushy. You can pressure cook for 2 whistles and y minutes in simmer. Meanwhile take fresh grated coconut, cumin and green chillies in a mixer and grind to smooth paste. Add water for ease of grinding.
Next heat a pan with all the ingredients under the list "To temper". Saute and let the mustard seeds crackle. Next include onions, continue sauteing till the onions turn translucent. Followed by onions, add tomato and continue sauteing.
Finally include drumstick leaves, stir everything together. Add little water and let it cook for few minutes in medium flame. The drumstick leaves wilt and reduce in volume, then add cooked lentils and ground coconut puree from step 1. Add salt and some water. Combine everything together and bring to a nice boil. Switch off once done.
Healthy and delicious drumstick leaves kootu is ready to serve with hot steaming rice.

Notes

Do not under-cook the drumstick leaves. Saute the leaves well in tempering and let them wilt and shrink. Otherwise you may get slightly bitter taste.
Do not add too much water to the kootu. Let it be little dense and thick like a curry.
You can include little turmeric powder too for nice color. I haven't added though.
https://udupi-recipes.com/2017/08/drumstick-leaves-kootu.html
All the content in this website are © Copyrighted to – Udupi-Recipes