This humble but immensely delicious sweet thing bottlegourd halwa marks my return of vacation this year. Dear foodie friends I am back after the long vacation trip where I was just eating good food with no self cooking. Which also means celebration of freedom from kitchen. It was so good, pleasing and relaxing where I could concentrate on collecting some traditional recipes from some experts. The face to face talks with some renowned cooks of my village would surely help me in my kitchen.
When I came home yesterday, the picture of my kitchen wasn't pleasing at all. The sink tap wasn't functioning, the water flow was very slow. The stove, the floor and kitchen utensils had an inch of accumulated dust on them. It took me few hours to set the kitchen back to normal and partially it's ready now. I had anticipated the scenario prior to my trip and this bottlegourd halwa recipe had been saved as post-vacation draft.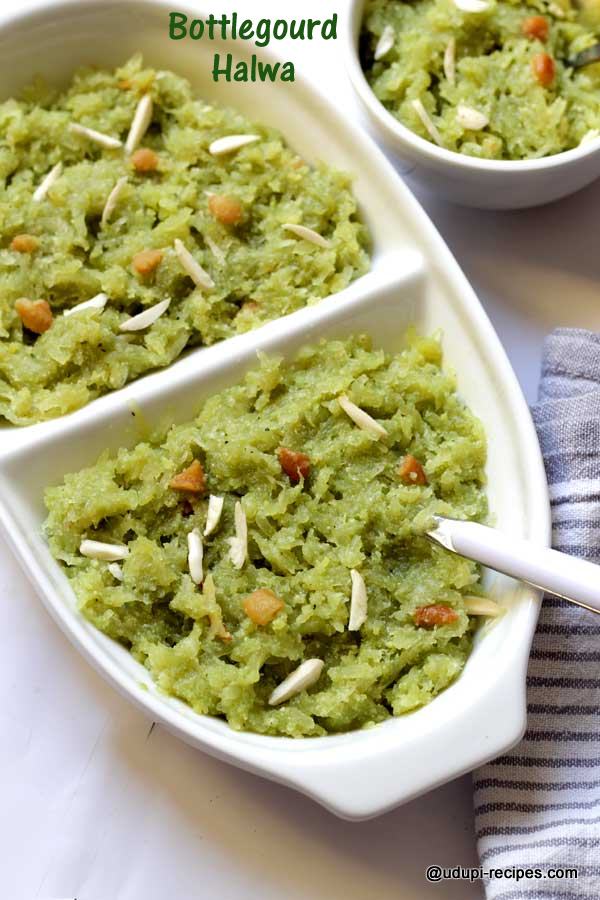 I love to indulge in a dessert which has vegetable as base(Like this ashgourd halwa). This recipe impressed me because it has humble bottlegourd. The milk makes the halwa creamy and dessert-y. You can even cook it in water or steam cook too but milk enriches the flavor. For the appetizing green look of halwa, I used green food color. If you are a person who doesn't like artificial colors in food, then you can skip it or use some veg based color.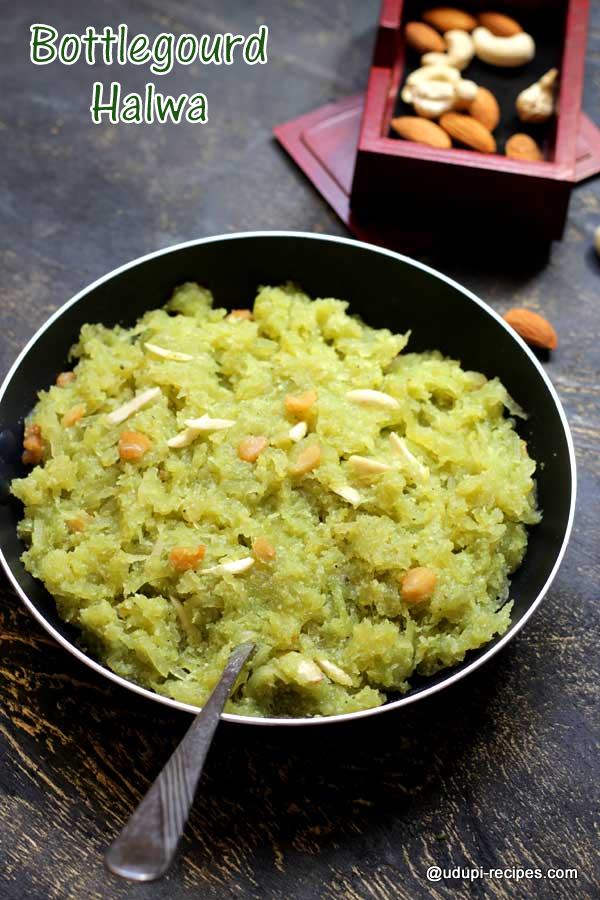 Bottlegourd Halwa | Sorekayi Halwa Recipe
Ingredients
Grated bottle gourd- 3 cups
Sugar- 1 cup
Milk- 1 cup
Cardamom powder- 1/2 tsp
Cashews- Handful
Green food color- 1 tsp
Ghee- 5 tsp
Instructions
Preparation

Peel the bottlegourd and scoop out it's seeds. Next grate it using a fine grater and measure the same. Keep aside.

Method

Heat a heavy bottom pan with 2 tsp of ghee and add grated bottle gourd.
Stir constantly till the moisture evaporates completely and raw smell of the veggie disappears. Then pour milk to pan.
Let the bottlegourd get cooked completely in milk in low flame. Keep stirring often to avoid burning at the bottom. Add food color and mix.
Next add sugar which makes the halwa mixture watery, the veggie abosorbs sweetness and turns glossy.
Add in rest of the ghee and stir until halwa becomes thick. Switch off once done.
Lipsmacking bottle gourd halwa is ready to serve as dessert.

Notes

Ensure the grated veggie doesn't stick to the bottom. Burning at the bottom may induce smoky smell.
Cooking the veggie in milk makes the dessert rich. You can even add khoya or Mawa for extra rich halwa.
If you don't like the use of food color, then you can skip it too. In that case color of the halwa remains pale as bottle gourd.
https://udupi-recipes.com/2017/08/bottlegourd-halwa-sorekayi-halwa-recipe.html
All the content in this website are © Copyrighted to – Udupi-Recipes