Dates modak is currently a game changer in my Genesha chaturthi festival chores. Because it's luxuriously nutty and naturally sweet. You are going to love this because
You can store these cute little modak for longer and serve as after school snack. Meaning, you are free from snack department for few days.
Absolutely healthy recipe having only nuts and dates. So you are mentally comfortable feeding a healthy sweet on the upcoming festival.
Unlike other modak recipes, it only takes 25 minutes of your kitchen time. It means you can give yourself a hug in celebration of thirty minutes to yourself. (Other modak  recipe would have taken 30 minutes more.)
These are the reasons that convinced me to set forth with dates modak. Currently I am running out of time and juggling myself between cooking and re-organizing home. That being said, most of my vacation luggage are wide open waiting to be emptied. Dusting and cleaning the wardrobe and making room for new clothes is in process. Above all, supervising the kids vacation home-work and it's completion is quite essential. This is where my beloved festival food planning leans towards time saver recipe. Dates modak fits in  perfectly well, don't you think so?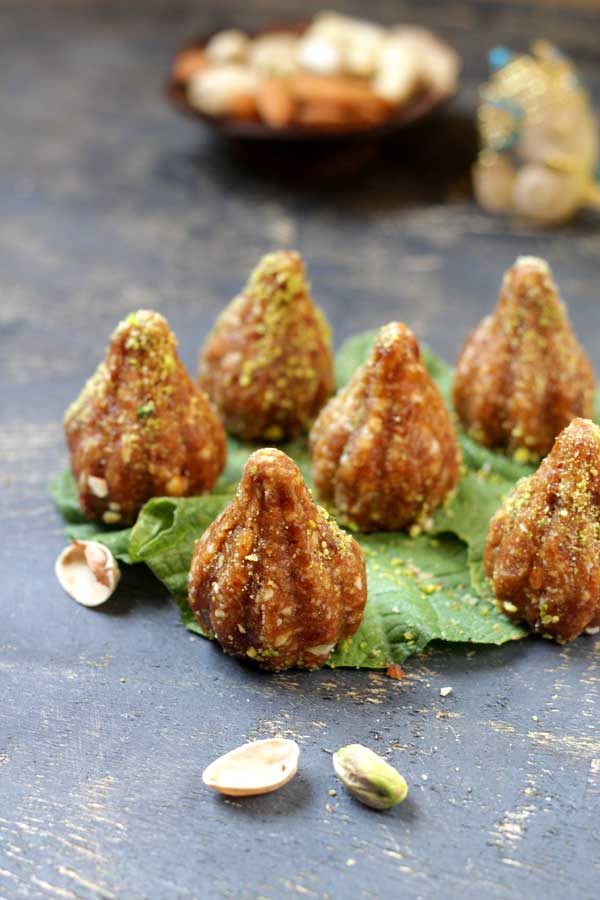 The nuts for this recipe can be anything of your choice, like it can include walnut, raisins too. I have taken dates in little larger quantity than nuts because it binds everything very well. And the best part is you never need an artificial sweetener like jaggery or sugar. If you love to present them decently, go for some toppings. Like poppy seeds or powdered pista. Toppings would definitely enhance the appearance. So if you are like me who is short of time, then probably dates modak would be your choice for this festival. I wish I could be part of celebrations with you!!
Dates Modak Recipe | Karjoorada Modaka
Ingredients
Fresh dates- 20 nos.
Mixed nuts- 1/2 cup
Cardamom powder- 1/4 tsp
Ghee- Very little to grease
Instructions
Method

De-seed the dates and keep them ready. Next toast the nuts in a pan for few minutes. I have taken almonds, cashews and pistachio.
In a mixer/blender take the mixed nuts and whirl it for few minutes so that you get coarse powder. Transfer it to a vessel. Next add the pited dates in to same mixer and grind for 3 minutes.
Combine the dates paste with powdered nuts. Add in cardamom powder and give a nice mix. And the modak base is ready. You can even add desicated coconut and/or poppy seeds at this stage.
Next grease the modak mould with some ghee and fill it with dates mix.
De-mould carefully and repeat the above step till you are done. Easy dates modak is ready to offer.

Notes

You can use nuts of your choice. I have taken almond, pistachio and cashews.
There is no hard and fast rule for the quantity of nuts and dates. You can add according to your preferance.
As there is no artificial sweetener, it is a healthy modak which can relished as snack too.
https://udupi-recipes.com/2017/08/dates-modak-recipe-karjoorada-modaka.html
All the content in this website are © Copyrighted to – Udupi-Recipes