Just like that Ragi (Finger millet) is back. Last time it was a sweet condiment in the form of ball Ragi Laddu, this time it's a healthy breakfast crepe Ragi dosa which goes well with any side dish chutney, sambar or chutney powder. It's fairly an ugly colored breakfast to start your day which requires to be compensated with it's health benefits.
Finger millet is better known for it's high calcium, iron, fibre, and low glycemic index. The first semi-solid food that is introduced to babies in the early age starts with this awesome tiny cereal finger millet. But unfortunately as the child grows and develops taste, gravitation towards visually appealing food also increases. It happens so that the wonderful cereal finger millet gets under-rated and disappears from meals.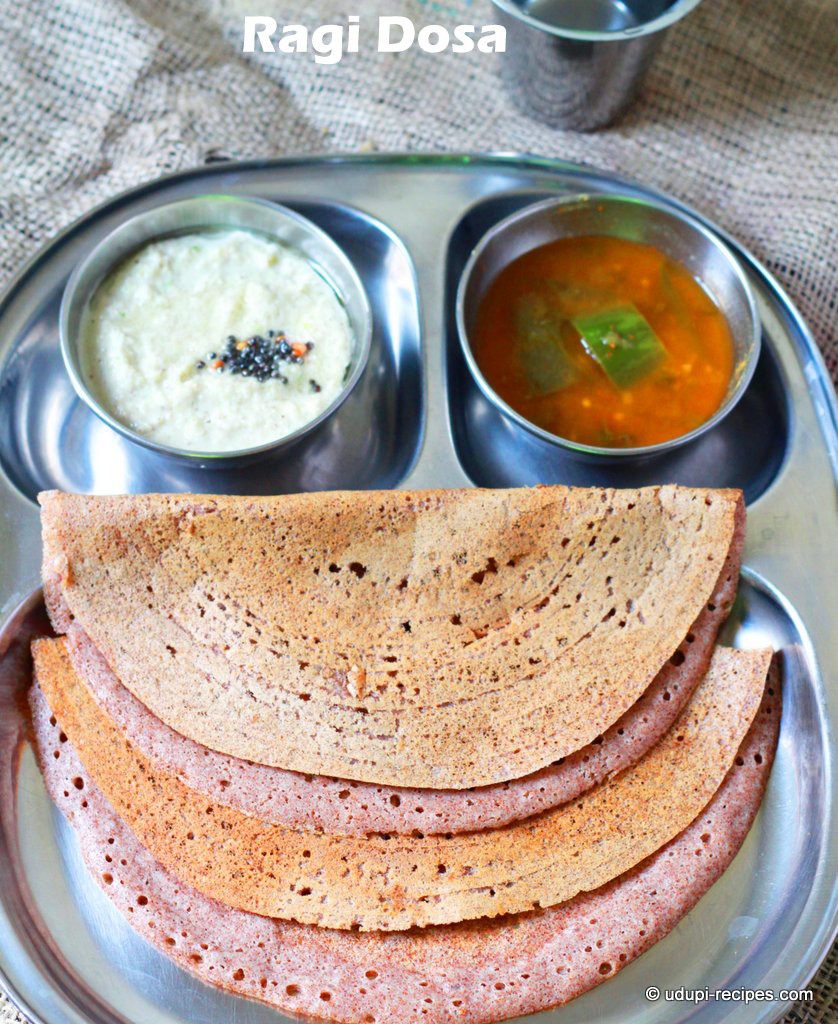 Off-late I have determined to re-introduce ragi in some form to my kids, hence this breakfast ragi dosa took birth. Some times I have to insist them to eat, some other times I bribe with their favorite side dish ( like this apple jam may be).
Stand alone ragi turned to dosa may tend to be hard to chew,  then split black gram lentils come to my rescue. A batter made with soaked black gram lentils happen to be fluffy, light and soft. Combining it with finger millet flour and resting for almost 8 hours to ferment transforms the ragi dosa to be porous, soft and easily chewable.  Enjoying these nutrient packed crepes when they are still hot is really necessary to start adoring them.
Fermented Ragi Dosa Recipe | Easy Breakfast
Ingredients
Split black gram lentil (urad dal) - 1 cup
Finger millet (Ragi) - 2 cups
Salt- 2 tsp
Instructions
Preparation

Soak split black gram lentil in enough for at least 2 hours.

Method

Drain water from lentils and add the same in to mixer grinder. Adding approximately 1 cup of water little by little, grind the lentils till they become fluffy, light and fine.
Trnasfer the ground batter in to wide bowl. Now include finger millet flour to this batter and combine both of them together. At this stage add some water to get the batter to the right consistency. It should be thick and easily pourable. Let this batter ferment for at least 7 to 8 hours or overnight.
In the morning add salt to the batter. Mix well. Meanwhile heat a iron skillet and smear oil on it. Pour a ladle ful of batter on it. Spread it in circular dosa form with the back of ladle. Drizzle some oil and cover it with lid for few seconds. As it gets cooked, using flat spatula loosen the edge and remove the ragi dosa from skillet.
Continue making dosa with rest of the batter. Healthy and nutrients rich ragi dosa is ready to serve with coconut chutney.

Notes

If you use wet grinder to grind black gram lentils, then batter fluffs more and almost doubles in volume. If you don't have one, you can still use mixer.
You can use store bought finger millet flour that is of any variety.
When you combine finger millet flour with lentil batter, ensure the batter is of right consistency to make dosa. If it's not add some water.
It is not necessary to cook the other side of Dosa, if you prefer you can do too.
https://udupi-recipes.com/2015/04/fermented-ragi-dosa-recipe-easy-breakfast.html
All the content in this website are © Copyrighted to – Udupi-Recipes