This 30-minute Apple Jam is too good to wait any longer, so I am popping out on Saturday night that too at dinner time.  This home made Apple Jam is thick and velvety, sort of like store bought fruit jam but without refined sugar.  I totally love the fact that Jam is SUGAR-FREE. It's sweetened with natural, organic sweetener that is DATES. Soo awesome right??
If you are like me, you can anticipate two-fold benefits out of this close to glossy looking apple jam.#1 If you stock a jar full of apple jam ready in the refrigerator, it can last for several days. It can be spread over dosa or chapati, roll and pack in to tiffin box. That's a WIN. #2 No hassle of making a separate side dish like coconut chutney while you are busy in morning house hold chores.  It's a double WIN 🙂 .
My little son who always finds spicy-ness eating regular chutney with dosa, has become a solid fan of this Jam now. He some times ends up eating JAM as snack in between meals.  I feel so much guilt free, proud to give the jam at any time of the day as it is purely home made without loads of sugar.
Only apples, dates plus cinnamon powder makes an awesome, flavorful and thick jam.  Peeled, pitted apples are shredded finely and then pressure cooked for 3 whistles. Alternatively you can cook directly on stove top which may take bit more time though. Then you need to combine the shredded, cooked apple with dates paste and continue cooking so that the apple absorbs all sweetness. And then? Everything gets together and get sprinkled with cinnamon powder. Apple jam with the wonderful aroma of a spice cinnamon can make your kids breakfast (yours too) as ultimate one.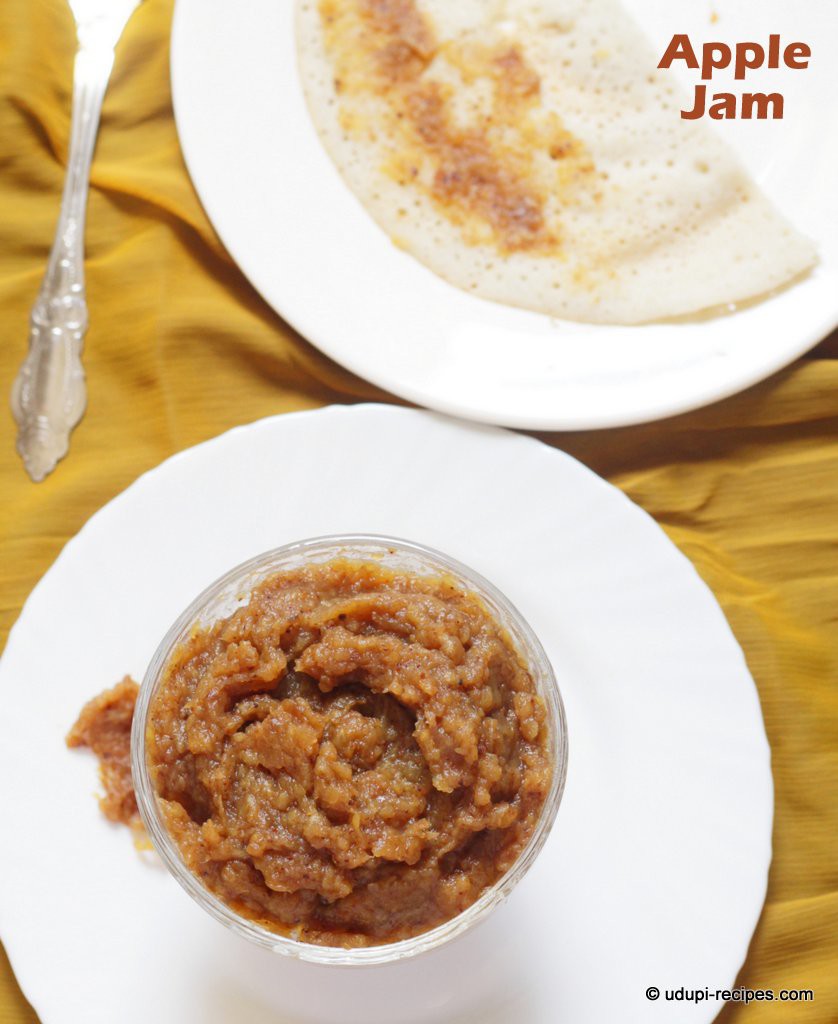 Apple Jam Recipe | Side dish with Dosa, Chapati
Ingredients
Apple - 3 nos.
Pitted dates- 10 nos.
Cinnamon powder- 1 tsp
Instructions
Method

Peel off the apples using vegetable peeler and cut them in to quarters. Remove the seeds and shred them using fine grater.
Pressure cook the shredded apples for about 3 whistles and switch off.
Meanwhile add the pitted dates in to blender and grind it to fine paste.
Once the pressure subsides, open the pressure cooker lid and transfer the cooked apple in to wide wok/cooking pan. Include dates' paste too. Under medium heat cook this mixture for about 10 minutes or till it thickens.
Finally mix in cinnamon powder and combine well. Continue cooking for about 3 minutes and switch off.
Kids favourite dish apple jam is ready. You can store it for 15 days in refrigerator and use it as side dish with dosa, chapati or spread on bread like other jam.

Notes

You can use any variety of apples except the green ones which are usually sour.
You can reduce the amount of dates if the apples are too sweet.
In case, you don't have the dates then you use sugar too. I recommend dates as it is natural sweetener.
Cinnamon powder adds unique flavor to the jam, don't skip it.
https://udupi-recipes.com/2015/04/apple-jam-recipe-side-dish-with-dosa-chapati.html
All the content in this website are © Copyrighted to – Udupi-Recipes