On this sunny Monday, a dessert with  weird combination green gram lentil plus cucumber as part of Yugadi lunch is here. You heard it right. Cucumber a green coolant vegetable makes the plain moong dal payasam little more wonderful.  Also the dessert looks ultra pretty with vibrant green color popping out of soothing yellow kheer.
Puzzled out my mention of Yugadi in the beginning? It's a festival that occurs twice, as per lunar calender it falls somewhere in March month and next once again in April according to Solar calender. This year the festival is re-appearing on April 15th mid of this week.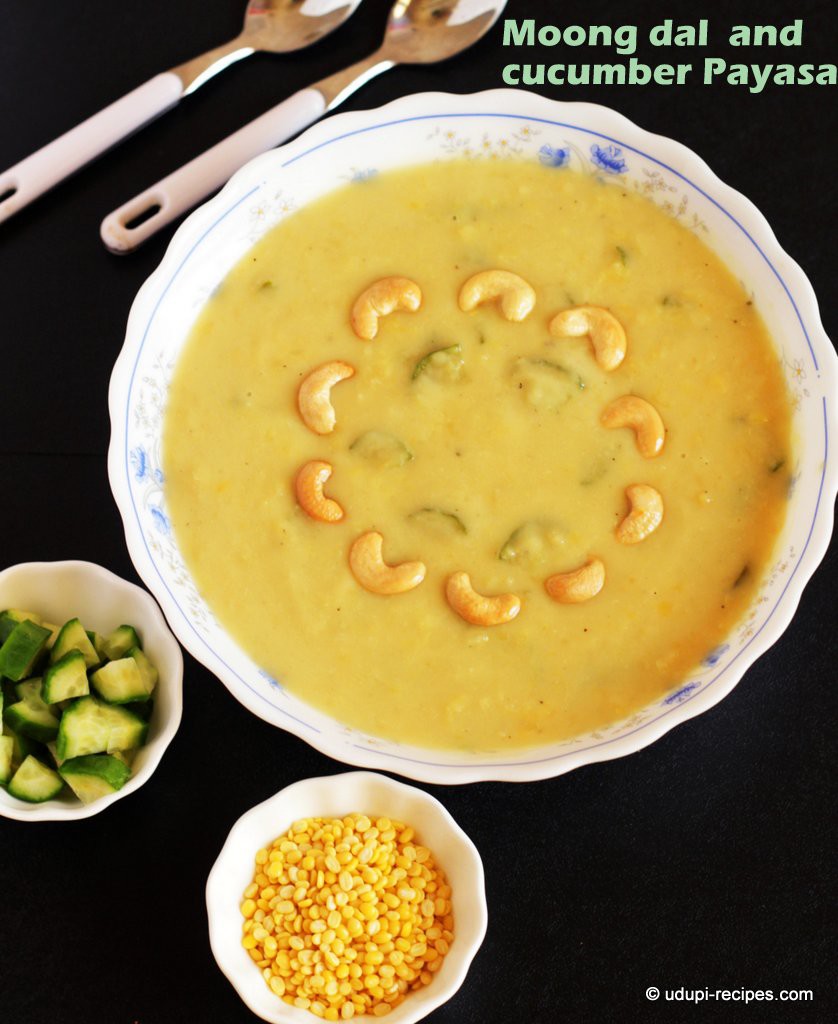 Like most of the authentic Udupi Payasam recipes, this moong with cucumber payasa has coconut milk in it. The sweetness from fresh home made coconut milk plays an awesome role in the deliciousness actually. But if you are running short of time then can surely make use of store bought coconut milk.
Haven't I mentioned yet about cashews? The original recipe especially prepared on Yugadi has tender cashews in it. In this Sand-world I did not find tender cashews, so I substituted with regular dry cashews. Biting these cashews, cucumber pieces when devouring this moong with cucumber payasa is just unbeatable. I look forward to this festival Ugadi (Vishu) every year just to fulfill the craving for the same.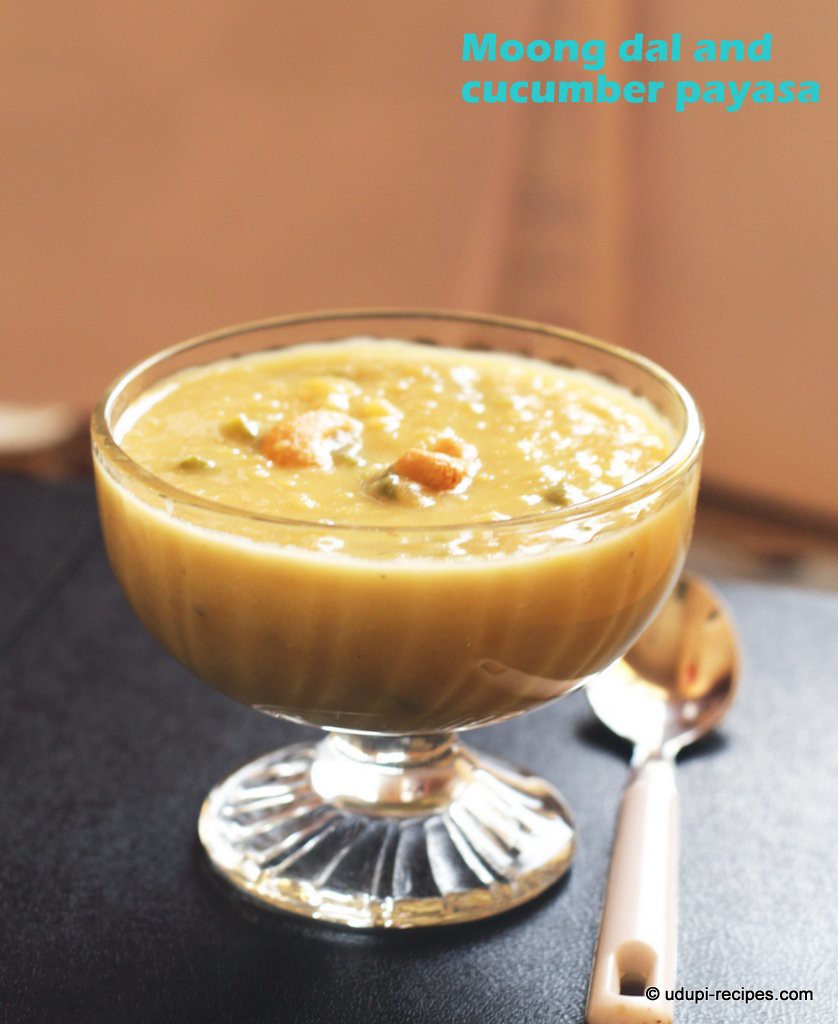 Moong with Cucumber Payasa Recipe
Ingredients
Split green gram (moong dal)- 1 cup
Coconut- Half of a big sized
Tender cucumber- 3 nos. or 1 cup chopped pieces
Jaggery powder- 1 cup
Cashews- Handful
Cardamoms- 3 nos.
Ghee- 1 tsp for roasting cashews.
Instructions
Preparation

Wash and chop the cucumber in to small pieces. You can discard the seeds if the cucumber is not tender.
De-seed the cardamoms and powder them finely. Keep aside till use.
Roast the cashews in a tea spoon of ghee and keep it ready.

Method

Rinse split green gram lentils (moong dal) in enough water and add the same in to a cooking pan along with 2.5 cups of water. Let it cook in medium heat.
Now proceed to coconut milk preparation. Grate the coconut and add it in to mixer along with a cup of water. Grind the coconut to fine paste. Transfer the same on to a strainer and squeeze to obtain the coconut milk( This is first extracted milk).
Put back the squeezed coconut in to mixer, add a cup of water and grind again for about few minutes. This time you end up with little thinner coconut milk after straining. It is coconut milk second extract. I obtained 3 cups of coconut milk together.
When the moong dal has cooked half way, include second extract coconut milk and chopped cucumber. Combine well and let it cook till very soft and almost mushy.
At this stage you have to add jaggery powder, as jaggery dissolves completely, the payasa becomes thin. Finally include first extract coconut milk. Bring it to boil and switch off the flame. Sprinkle cardamom powder and garnish with roasted cashews.
Yugadi (ugadi) special moong dal and cucumber payasa, a healthy dessert is ready.

Notes

Do not chop the cucumber too finely, as it gets cooked easily and becomes mushy.
When you prepare coconut milk, keep both first and second extract milk separately.
Do not put cucumber and moong dal together for cooking. When moong dal has cooked halfway, then only include cucumber.
If you prefer, you can discard cucumber seeds and skin. I like the chunks of it in payasa, so retained them.
If you find the payasa thicker at any stage of cooking, add additional water. Otherwise it may stick to the bottom and burn.
https://udupi-recipes.com/2015/04/moong-with-cucumber-payasa-recipe.html
All the content in this website are © Copyrighted to – Udupi-Recipes