I have had this idea of "gond ke laddo (antina unde)" written up in my nice little scrap book for at least 3 weeks now. The name "antina unde" sat there happily right next to all my other potential Diwali sweets and snack recipes, most of which have already erased off or replaced by something new. Because I actually made them and posted them. For whatever reason this little, cute healthy thing lingered. Another week would have passed with no sign of laddo magic, but I didn't want to erase it off. Because I have some reluctance towards healthy, super food and not likely miss a chance to post them.
Gond is a Hindi term referring to a kind of gum that is edible and health friendly.  You can buy gond in any grocery store that typically looks like translucent golden yellow bulb. In raw form, it is rock hard and doesn't seem to be edible. But roasting the gond in little ghee makes it to puff up and double up in size. It gives nice crunch to the food whichever it's been part of. And in this gond ke laddo recipe, it adds incredible taste and crunch which your mouth would linger for longer.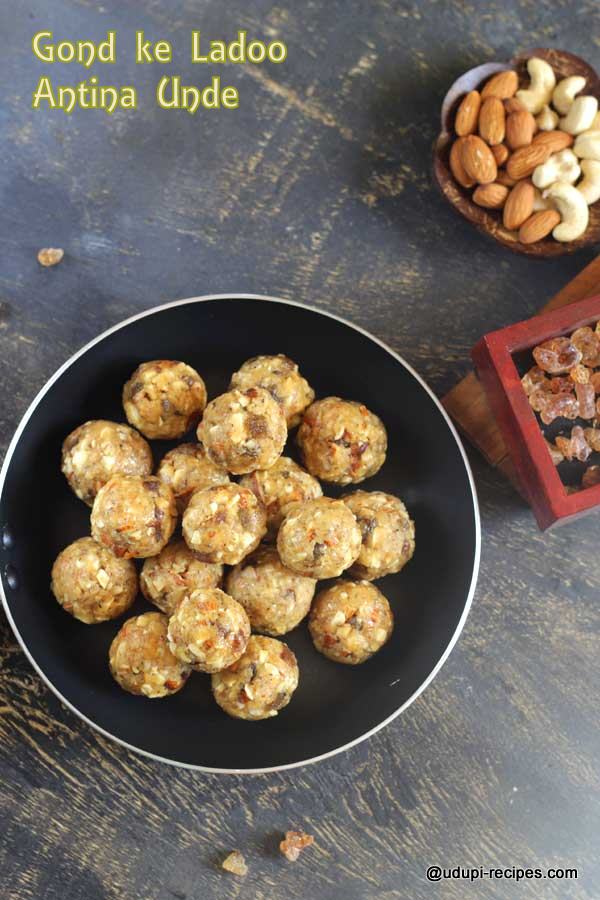 The authentic recipe of gond ke laddo calls for "DRY DATES" which I have replaced here by normal "DATES". Because you know, being an UAE resident, dates are more near to my heart than their dried counter parts. But you can choose your favorite. And nuts options are endless here, like you can add cashews, almonds, raisins, walnuts and pistachio. As you are making a super energetic sweet, it is nuts rich and seems bit expensive. But believe me it's WORTH it. Gond ke laddo can be given as nourishing food from kids to adults to lactating mothers.
Watch video: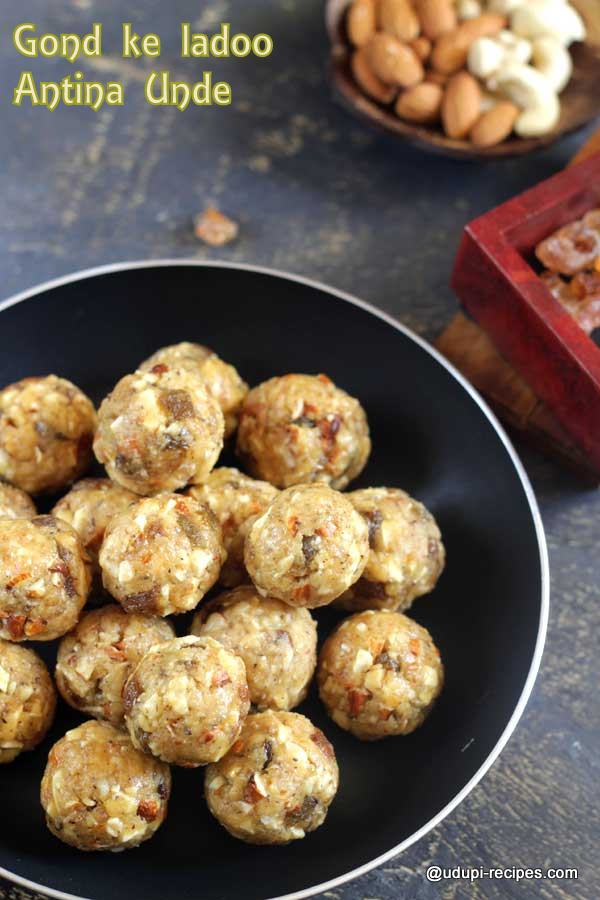 Gond Ke Laddo | Antina Unde Recipe
Ingredients
Gond (Edible gum)- 1/4 cup
Ghee- 1 tbsp
Jaggery- 1 cup
Water- 1/4 cup
Nuts(cashews+almonds+Raisins)- 1/2 cup
Dates- 1 cup
Desiccated coconut(grated)- 2 cups
Instructions
Preparation

De-seed and chop the dates finely. Chop the nuts as well in to very fine cubes and keep aside. Using a fine grater, grate the desiccated coconut and keep it ready.

Method

Heat a pan adding grated desiccated coconut and roast it for few minutes but let it not change color. Transfer it to a plate and heat ghee in the same pan. Throw in the edible gum(gond).
As you roast the gond, it will puff up. Switch off and let it cool down. Next grind it to coarse powder using mixer.
When all the stuff is ready, heat jaggery in the pan along with 1/4 cup of water. As cook it in medium flame, jaggery dissolves and starts bubbling.
Check the consistency of jaggery syrup by spooning few drops of it in to a bowl of water. If the syrup is thick in water and you can gather it using your fingers, then switch off. Otherwise continue cooking for few mor minutes. Next add roasted coconut, nuts, dates and powdered gond.
Mix well everything together. When this mixture is still warm take handful of it and shape like laddo. Repeat the process till the mixture gets over.
Delicious and healthy gond ke laddo (antina unde) is ready to relish.

Notes

I have used nuts like cashews, almonds and raisins. You can include pista and walnuts too.
You can use dry-dates where as I preferred regular dates itself.
You can use nuts and dates in varying quantities as per your choice. But ensure desiccated coconut is more than nuts.
The jaggery syrup consistency should be of soft ball. In case it turns hard, add some more water bring the consistency to soft.
https://udupi-recipes.com/2017/10/gond-ke-laddo-antina-unde-recipe.html
All the content in this website are © Copyrighted to – Udupi-Recipes