This is simply amazing. A dessert, a sweet thing that has no GHEE but it can beautifully come out from the tray as crisp burfi. It has no maida or gram flour, but you can taste the deliciousness of a perfect burfi in your mouth. The day, when planning for this "coconut milk burfi", I was skeptical about the end result. Wondering if it turns out like burfi or a peda or takes it's place in disaster recipes of the year. But surprisingly I could get a perfect square shape in my first attempt itself.  Let me pat my back for a second :). This dessert is beautifully called as "Amruta phala" and I have brought the recipe from a corner of Karnataka.
Well, the recipe is so simple that it can be wrapped in two sentences. It's basically milk and coconut milk based sweet that has zero ghee in it. This factor fascinates most of the people who have zero tolerance to ghee based desserts. There are people who always have to count on calories before eating anything. So for all of you this no-ghee dessert is kind of boon.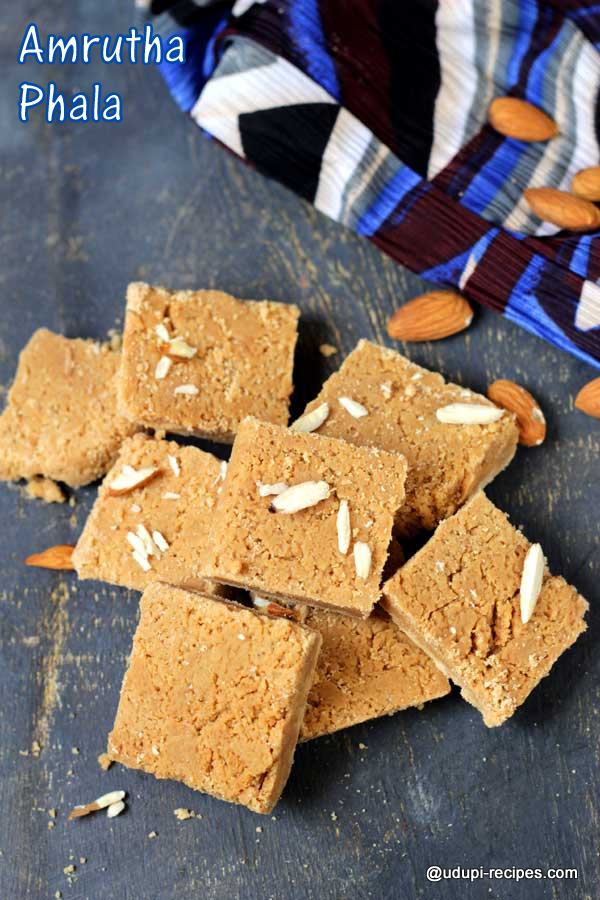 Before you make your mind to prepare this stuff, let me warn you about the time. Amruta phala does require more time to cook and condense, so plan to be in kitchen for few extended minutes. You will right? Because the magic of  coconut milk burfi is happening. Right?
Let me give you another option, if you love to eat "amruta phala"  like a soft peda instead like a real square piece, then you can discontinue cooking when the milk condenses to porridge like consistency. And transfer that milk turned porridge over a tray, shape like peda when cools down.  I loved both soft version and hard burfi version of amurta phala. Let me know what you like?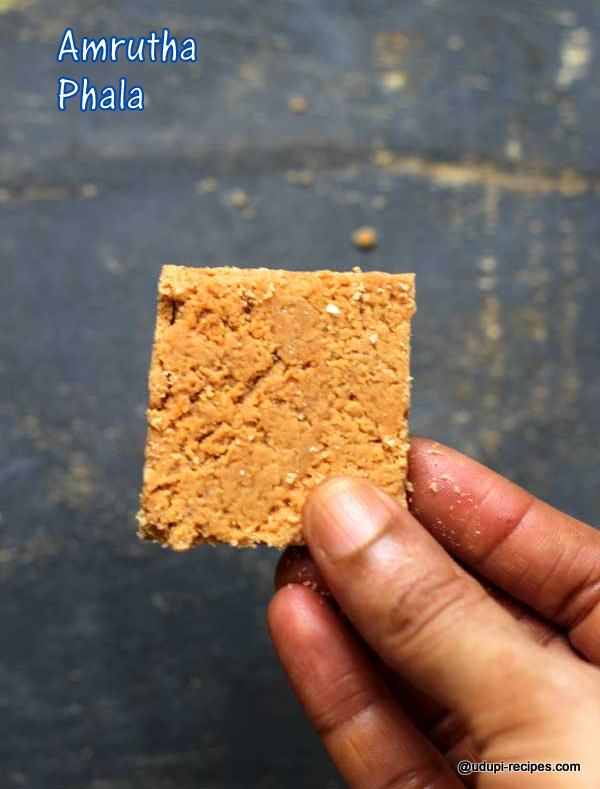 Amruta Phala | Coconut Milk Burfi
Ingredients
Fresh coconut - 1 Cup pressed
Milk- 1 Cup
Sugar- 1/2 cup
Cardamom powder- 1/2 tsp
Ghee- To grease the plate
Instructions
Preparation

Take fresh coconut in a mixer grinder and grind it to fine puree adding 1/4 cup of water.
Pour this puree over a fine strainer to extract thick coconut milk. You can squeeze to extract the milk completely.
Measure one cup of coconut milk and add it to the pan.
Add normal milk also to the same pan and let it boil. When it is boiling, include sugar.
The milk thickens and reduces over time. Add cardamom powder and Keep stirring every now and then.
After 30 to 40 minutes of cooking over constant heat, the milk condenses and changes color to slightly darker shade.
Keep stirring at this stage, when you see porous texture, transfer it to ghee greased tray. And mark the pieces. Let it cool down to room temperature to separate the pieces.
Very easy dessert amruta phala or coconut milk burfi is ready to relish.

Notes

I used 3/4 cup of sugar which was too sweet for me. So in the ingredients list I have reduced it to 1/2 cup.
If you want to relish the sweet as soft peda, you can switch off little early i.e when the milk cooks to porridge like cocnsistency.
When you notice the mixture turning towards porous texture, immediately transfer it to tray, otherwise it turns hard.
I prepared the coconut milk fresh at home but you can even use store bought one.
https://udupi-recipes.com/2018/06/amruta-phala-coconut-milk-burfi.html
All the content in this website are © Copyrighted to – Udupi-Recipes