Friends, readers, good rasam loving people of the world, let me introduce you to quick tamarind rasam. When you have just returned home from a long vacation almost at lunch time, what cooking options you would have? Since you were out of home for many days, your priority work would be to set kitchen for real time cooking. Meaning clean, tidy and dust free. After these cleaning chores, do you actually get time for actual cooking? Nope. But if you were like me, you would still find a option like easy rice-rasam combo for lunch.
There are certainly some delicious recipes that make  quick lunch prep, possible when you are running out of time. After a long vacation, I suppose there would be no veggies in refrigerator. So the recipe that I am talking about have no veggies, not even tomato. It's plain tamarind rasam with few of the basic spices that are still there in the container of your pantry.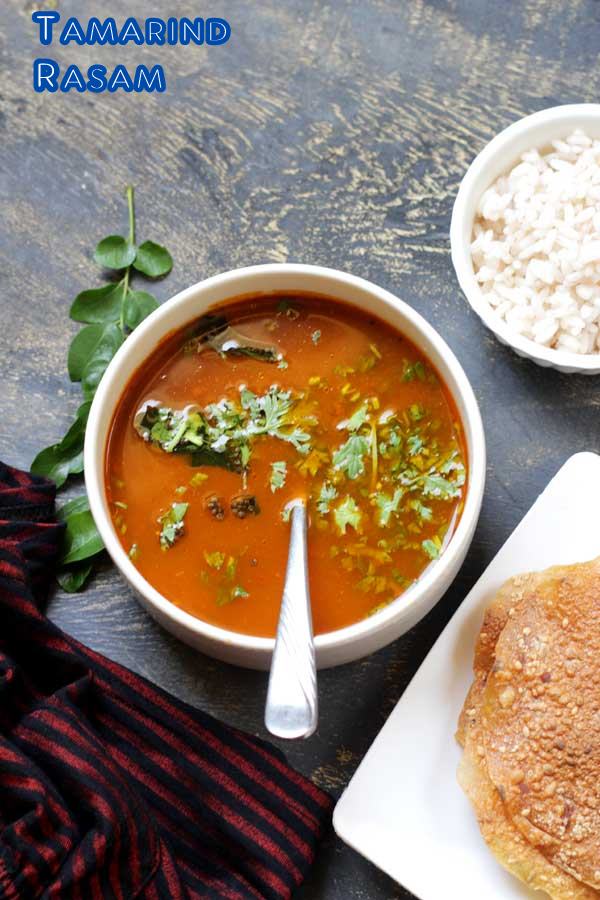 So let's start. Since name has tamarind, the recipe begins soaking tamarind in a cup of water.  After 15 minutes of soaking, the tamarind turns mushy and soft such that squeezing itself  gives a big cup of tamarind water. And this constitutes primary portion of rasam.
The major taste boosting stuff is masala paste which is prepared after roasting and grinding little of this and that. Little fresh coconut is also part of this masala and that gives good consistency to rasam. Each morsel of rice-rasam made my mouth to be grateful for the wonderful food of soul. Post lunch, so much appreciative and thankful my mind is. Look at me!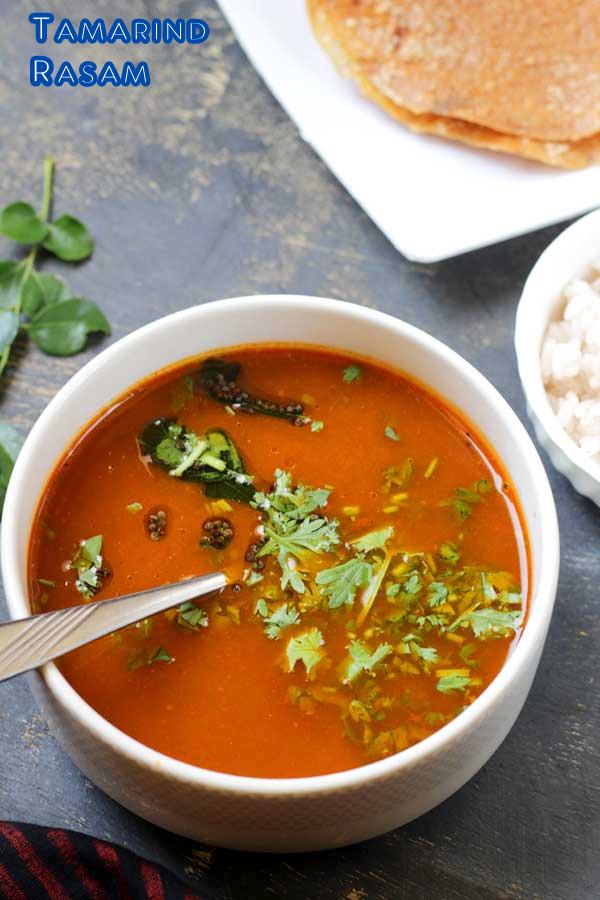 Tamarind Rasam | Hunase Huli Saaru
Ingredients
Tamarind- Gooseberry sized
Jaggery powder- 1 tsp
Salt- 1.5 tsp
Asafoetida- Little
Coriander leaves- Handful

To roast and grind

Pigeon pea lentils- 1 tsp
Coriander seeds- 2 tsp
Cumin seeds- 1/4 tsp
Fenugreek seeds- 1/4 tsp
Mustard seeds- A pinch
Black pepper- 4 to 5 nos.
Red chillies- 2 nos.
Curry leaves- Few
Fresh grated coconut- 1 tbsp
Turmeric powder- A pinch

To temper

Cooking oil- 2 tsp
Mustard seeds- 1/2 tsp
Curry leaves- Few
Instructions
Preparation

Heat a pan adding pigeon pea lentils, coriander seeds, cumin seeds, fenugreek seeds, mustard seeds, pepper, red chillies and curry leaves. Fry them in medium flame till the spices turn slightly brown. Switch off and include grated coconut too. Saute for a while and let it cool down.
Next soak tamarind in a cup of water for about 15 minutes and extract it's juice. Discard it's residue. Heat a pan adding all the ingredients under "To temper list". When mustard seeds sizzle carefully pour tamarind water.
Add jaggery and salt to the pan. Let the tamarind water boil.
When it's boiling, take all roasted ingredients and turmeric powder in a mixer and grind to fine puree. Add water as needed. Pour this puree to boiling tamarind water in the pan.
Add one and a half cup of water. Bring it to boil, adjust salt. Finely add asafoetida and chopped coriander leaves.
Easy tamarind rasam is ready to serve with hot rice.

Notes

Do not let the spices to burn because that ruins the taste of rasam.
Cumin and pepper give unique taste to rasam.
https://udupi-recipes.com/2018/06/tamarind-rasam-hunase-huli-saaru.html
All the content in this website are © Copyrighted to – Udupi-Recipes