Unlike the traditional way of eating dosa with chutney and sambar, this pudi dosa is little fancy. Kids love to have toppings on dosa and eat it as a roll. So it's a kind of kids friendly way of serving dosa. The same old fashioned dosa, if served with a fancy twist, kids become fan of it. So once in 1-2 weeks I try to bring little variation in dosa itself.
Pudi dosa has toppings of  butter and chutney powder basically. It's the butter that makes the dosa to be cooked crisp but I love the aroma that butter wafts out. When chutney pudi is spread over, it nicely forms layer over dosa.  And here you can play around to use your favorite toppings like onion, coriander leaves, coconut or cheese or paneer or whatever you wish to.  They all give nice crunch while eating making you fall in love with food.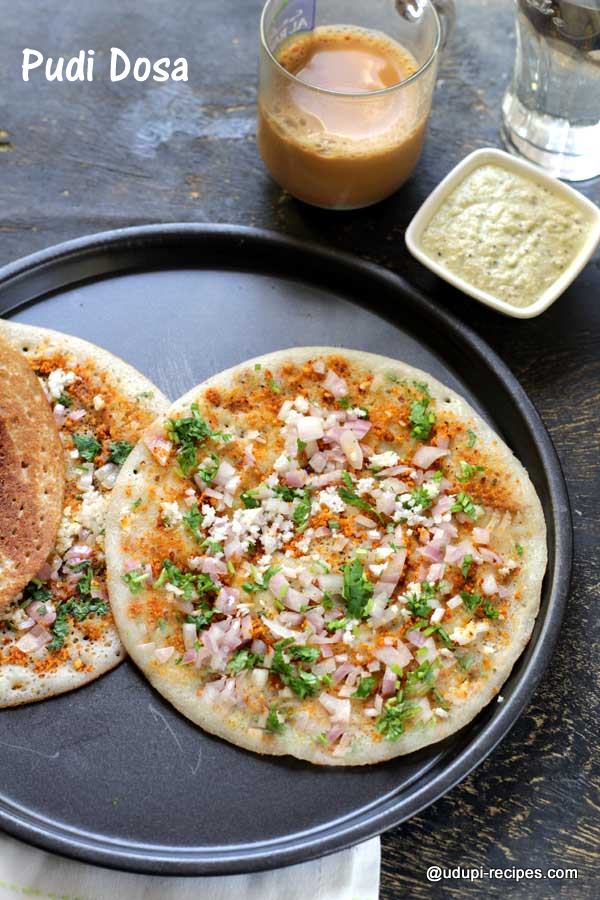 Though pudi dosa doesn't require any side dish like chutney, you can choose to have them.  So how about having this dosa together?
Pudi Dosa | Chutney Powder Dosa
Ingredients
Dosa batter - 2 cups
Butter- 3 tbsp
Chutney powder- 1/8 cup
Onion- 1 no.
Coriander leaves- 1/4 cup
Fresh grated coconut- 1/8 cup
Instructions
Preparation

Peel off the onion and chop it in to very fine pieces. Chop coriander leaves also very finely. Assemble dosa batter, butter and chutney powder.

Method

Heat a dosa griddle and smear some oil over it. Pour a ladle full of batter over it and spread it in circular fashion like dosa. Smear a tablespoon of butter on the dosa.
Next top it generously with chutney powder followed by chopped onion, coconut and coriander leaves. Cover with lid and cook for few seconds.
Carefully loosen the edges and remove dosa using a spatula. Serve this pudi dosa with coconut chutney and sambar.

Notes

You can use the chutney powder which you like the most.
You can even serve pudi dosa with potato masala.
Toppings can be varied like cheese, paneer and veggies too.
https://udupi-recipes.com/2018/06/pudi-dosa-chutney-powder-dosa.html
All the content in this website are © Copyrighted to – Udupi-Recipes