Cabbage, the leafy, layered vegetable  disguised in the form of pakoda, a deep fried snack !!   It's this veggie which happen to appear quite a less number of times at my home. I would say cabbage is some how sidelined. I am clueless why it is so!! May be the kids aren't big fan of this veggie or may be me even. The simple cabbage  potato curry and stirfry is what I regularly make  with this veggie, has lost interest now. Meaning the taste buds of my family have raised over the staple dish and look for something new and fancy out of it. I do try to accommodate all kind of veggies in my cooking so that goodness of all, gets in. But it's really a challenge to turn a vegetable to new dish each time.  Little love and passion towards food and cooking would definitely favor the process. Hence this cabbage pakoda, happened early evening today.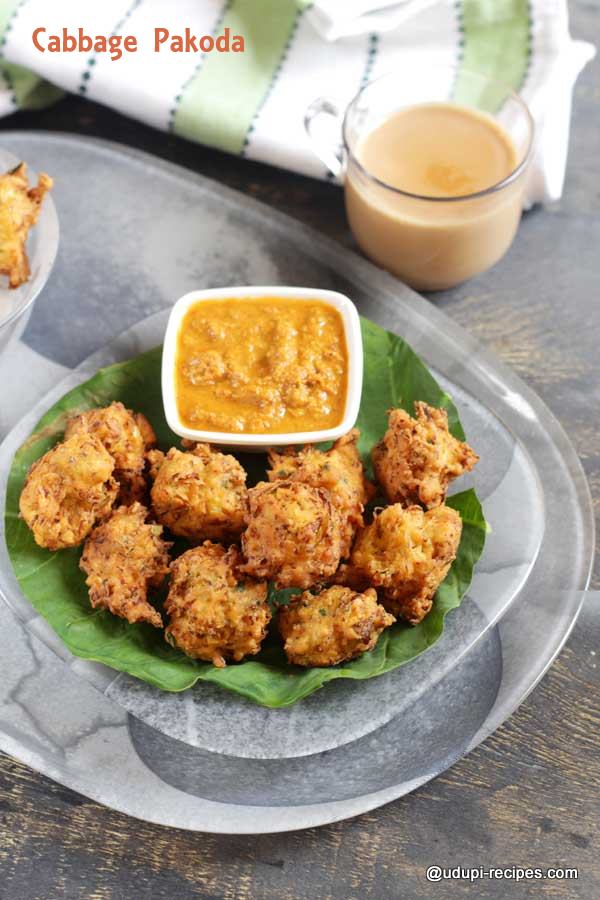 If you are a snack lover or in specific a pakoda lover , then you must try this cabbage pakoda at least once. Because the cabbage shreds along with few carefully chosen spices, it is a perfect snack for the evening. With a cup of tea/coffee, it tastes way too awesome.  The quantity of cabbage shreds have to be little more than gram flour. The veggie has some moisture too, so I would advice not to rush in adding water. Normally I mix up the gram flour, rice flour, all spices and veggie together to anticipate the water quantity required. By sprinkling water little by little, I finally end up with perfect non sticky, stiff dough.
So, if you have a piece of cabbage lying in the refrigerator right now, head towards kitchen to whip this  cabbage pakoda as tea time snack. I will catch you up right there!!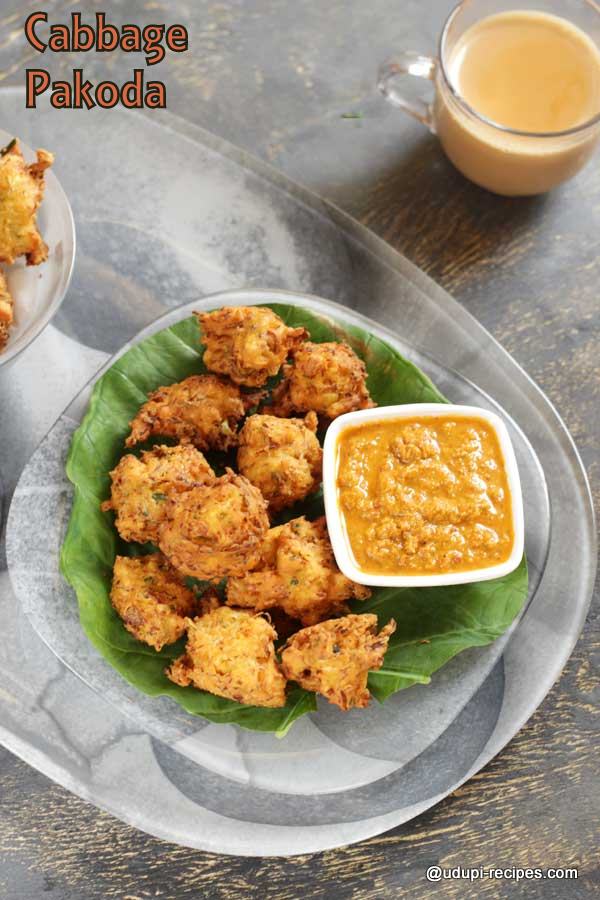 Cabbage Pakoda | Cabbage Pakora Recipe
Ingredients
Cabbage (small sized) - half
Gram flour- 3/4 cup
Rice flour- 2 tbsp
Salt- 1 tsp
Green chillies- 2 nos.
Curry leaves- Handful
Baking soda- 1/8 tsp (optional)
Red chilly powder- 1 tsp
Turmeric powder- 1 tsp
Cumin seeds- 1 tsp
Asafoetida- A pinch
Cooking oil- Enough to deep fry
Instructions
Preparation

Finely chop green chillies and curry leaves. Keep them aside.

Method

Grate the cabbage in to thin shreds or else you can even grate in to fine bites. Measure 1.5 cups of cabbage shreds and keep aside.
In a wide bowl add gram flour, rice flour, salt, turmeric powder, red chilly powder, green chillies, curry leaves, asafoetida and baking soda. Give a mix. Next include shreded cabbage and combine everything together. Next add very little water and make non sticky dough.
Heat a wok with enough oil to deep fry. When the oil heats up, drop small sized dough in to oil. No need to shape the dough in any form, just drop as is. Deep fry them in meddium flame till they turn golden color.
When the sh...sounds seizes and pakoda turns to golden brown, remove from oil and drain excess oil.
Spicy cabbage pakoda is ready to serve as snack along with tea/coffee.

Notes

Cabbage should be either shreded thin or grated in to tiny bites. So that it binds well with gram flour.
You can increase or decrease green chillies and red chilly powder as per your spice levels.
Do not add too much water to make the dough because cabbage too has some water content.
When you drop a pinch of dough in to hot oil, if it raises to surface immediately then the oil is perfect to deep fry.
https://udupi-recipes.com/2018/02/cabbage-pakoda-cabbage-pakora-recipe.html
All the content in this website are © Copyrighted to – Udupi-Recipes