Garlic chutney powder, a healthy, spicy accompaniment for you!!
Some fairly awesome things are happening in my kitchen right now. Many long lasting condiments like fryums, papad and pickle are under way. Because these are few such food stuff that need time,  patience and of course SUN. Though you need to wait for 15 days to whip up a jar of pickle, you find the worth of effort when it enriches most of your meals. Same is the case with papad and fryums. Displacing these condiments outdoors and indoors for drying purpose would seem quite tedious. But the advantage lies in relishing them for many months. Which is why every year I find time to whip up such food stuff. So stay tuned for papad, fryum recipes that appear here soon!!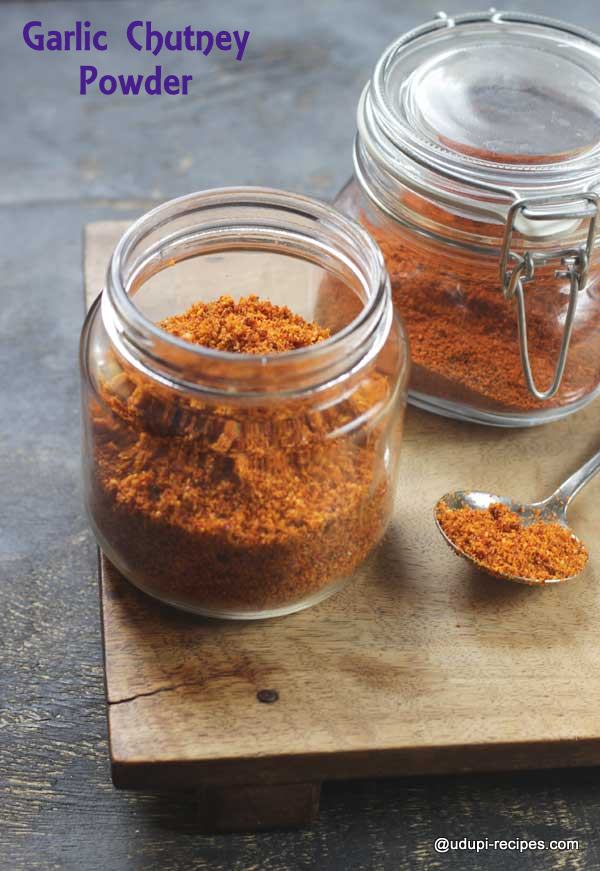 Garlic, intensely flavored, pungent thing doesn't fall in my every day cooking. It doesn't mean that I am a garlic hater. I do use it in certain food where it's flavors give the perfect, authentic taste (like pulao). Considering the health benefits of garlic, it makes sense to use them more often. The article which I read yesterday explained how garlic can be a boon to our body. So as I woke up this morning, the influence of article was still revolving around in my mind.
So today it's super flavorful garlic chutney powder that can possibly accompany my breakfast (dosa!!) and meal (jolada rotti) as well.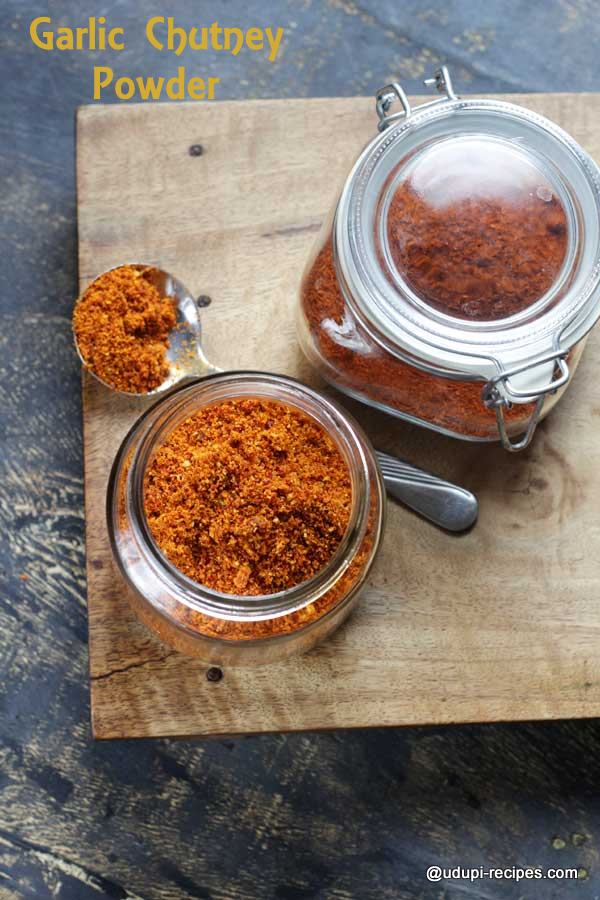 Garlic Chutney Powder | Bellulli Chutney Pudi
Ingredients
Garlic cloves- 1/4 cup
Desiccated coconut (copra)- 1/4 cup
Sesame seeds- 1 tbsp
Red chillies- 10-15
Coriander seeds- 1 tsp
Cumin seeds- 1 tsp
Split blackgram lentils- 1 tsp
Tamarind- Small marble sized
Jaggery powder- 1/2 tsp
Salt- 2 tsp or to taste
Roasted gram- 1 tbsp
Cooking oil- 1 tsp
Instructions
Method

Initially, assemble all the ingredients, then take a pan and roast the garlic cloves nicely till you find some dark spots on them. Followed by garlic, roast sesame seeds.
Next roast desiccated coconut till it turns crisp. Transfer it to a plate. Then roast lentils, coriander and cumin seeds together. Finally add oil and red chillies for roasting. When chillies puff up, switch off the flame
Take all the above roasted ingredients in a plate and let it cool down. Now add tamarind, jaggery powder, salt and roasted gram to the same. Powder them together to little coarse.
Store the chutney powder in a jar. Garlic chutney powder is ready to serve with dosa, rotti.

Notes

Garlic should be roasted well so that it's moisture content is reduced.
If you skip roasted gram, the chutney powder becomes sticky and moist. So do use it.
You can use both byadagi and guntur variety red chillies so that color and spicy-ness is balanced.
This chutney powder tastes too good with jolada rotti.
https://udupi-recipes.com/2018/02/garlic-chutney-powder-bellulli-chutney-pudi.html
All the content in this website are © Copyrighted to – Udupi-Recipes