Today right now Udupi must be celebrating Gokualshtami with all pomp and gaiety to mark the birth of Lord Krishna and his childhood activities. All the good people of Udupi, you are blessed to be part of it. Me, several thousand miles away from the place,  sitting in front of my laptop to post my routine recipe, watching the telecast of celebration over TV simultaneously to make myself present over there.
In post-festival relaxed mood I always look something simple, quick, easy and mild things to cook. So today when I looked in to my refrigerator, these jackfruit seeds caught me up. Yeah, let me tell you the truth. I have many such unique and genuine things safely stored in the fridge that are brought from India when I was back. By genuine I mean things that are not easily available in UAE.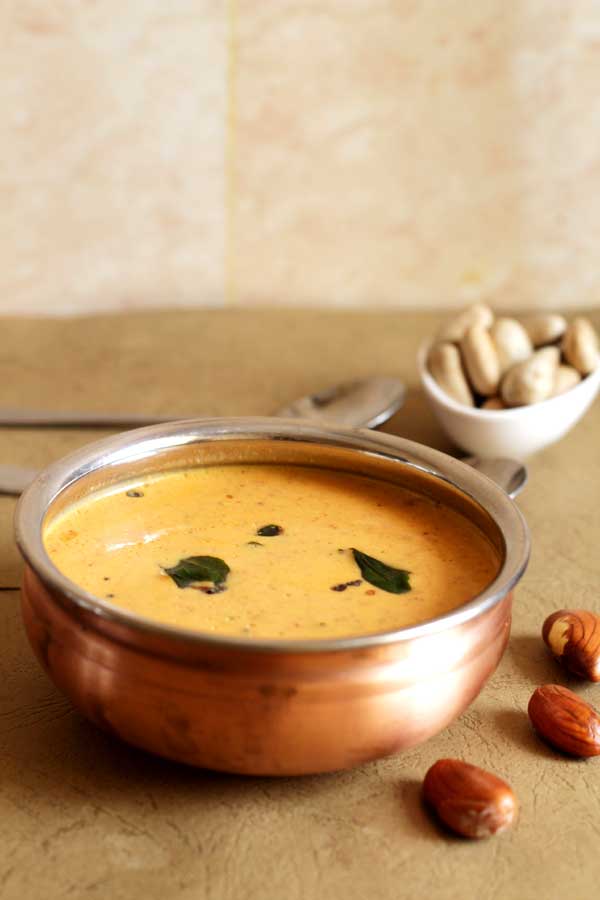 So a series of recipes to be materialized before the ingredients are no more usable. I have to act in double speed guys!!!
Well, these cute jackfruit seeds can be turned in to many snacks, sweets and rice side dish. I have started with jackfruit seeds tambli which is simple and quick one. These seeds have to be cooked till butter-soft either in pressure cooker or on stove top. Then it is the grinding part with all spices which then gets combined with buttermilk. Jackfruit seeds tambli is so very healthy, mild and apt on any lazy day.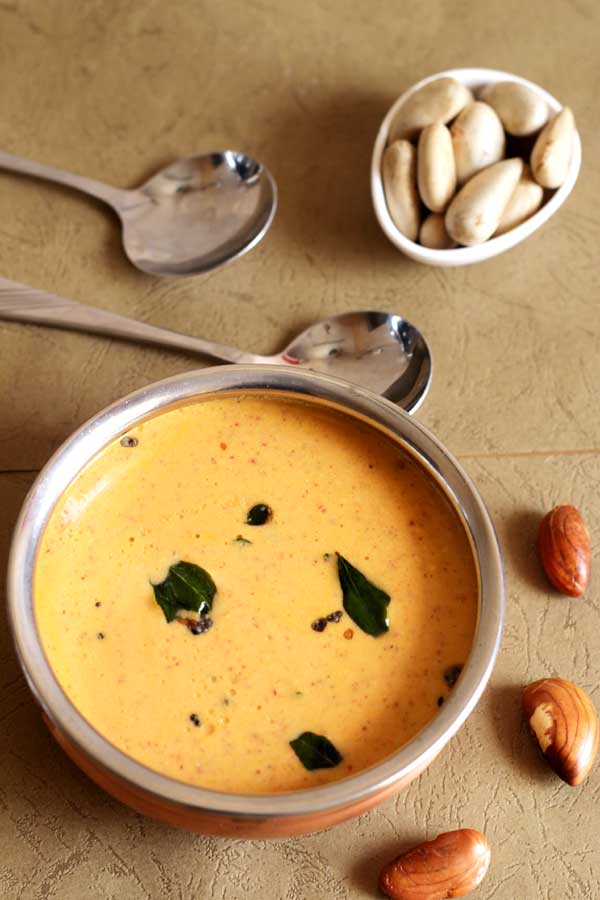 Jackfruit Seeds Tambli | Kotte Tambuli
Ingredients
Jackfruit seeds- 5 to 6
Cumin seeds- 1/2 tsp
Red chillies- 1 or 2 no.
Grated coconut- 3 tsp
Salt- 3/4 tsp
Buttermilk- 3/4 cup

Seasoning ingredients

Cooking oil- 1 tsp
Mustard seeds- 1/2 tsp
Split black gram lentils- 1/2 tsp
Curry leaves- Few
Instructions
Method

Peel off the jackfruit seeds and cook them till soft with some water.
Take the cooked jackfruit seeds in a mixer jar, add cumin seeds, salt, grated coconut and red chillies. Grind all of them together to fine paste with required water.
Pour this puree in to a bowl, mix with enough buttermilk. Let the consistency of tambli to be like rasam.
Heat a seasoning pan and include all the seasoning ingredients in the order mentioned, as the mustard seeds crackle transfer it to the tambli.

Notes

The jackfruit seeds should be cooked to very soft or mushy. You can use pressure cooker too to cook them.
This tambli is very mild not spicy. You can increase the chillies to make it bit spicier.
Red chillies can be substituted by green chillies or black pepper.
Use fresh buttermilk instead of sour one.
https://udupi-recipes.com/2015/09/jackfruit-seeds-tambli-kotte-tambuli.html
All the content in this website are © Copyrighted to – Udupi-Recipes