My love for these curry leaves is not hidden from you guys, but I can never hold myself back from declaring it again right now here as today's recipe's prime ingredient itself is this beautiful, tiny curry leaf. I had hand picked quite a large no. of curry leaf strands from the big, well grown curry leaves plant of my parents house, packing them carefully in a polythene bag I have brought it all the way from Udupi to UAE.  It is still so fresh and flavorful in the fridge even after 15 days.
I had plans of this aromatic affair of curry leaves chutney powder in mind, so the next day itself I set forth in making it. It's the journey of aroma, flavor, taste and health you know.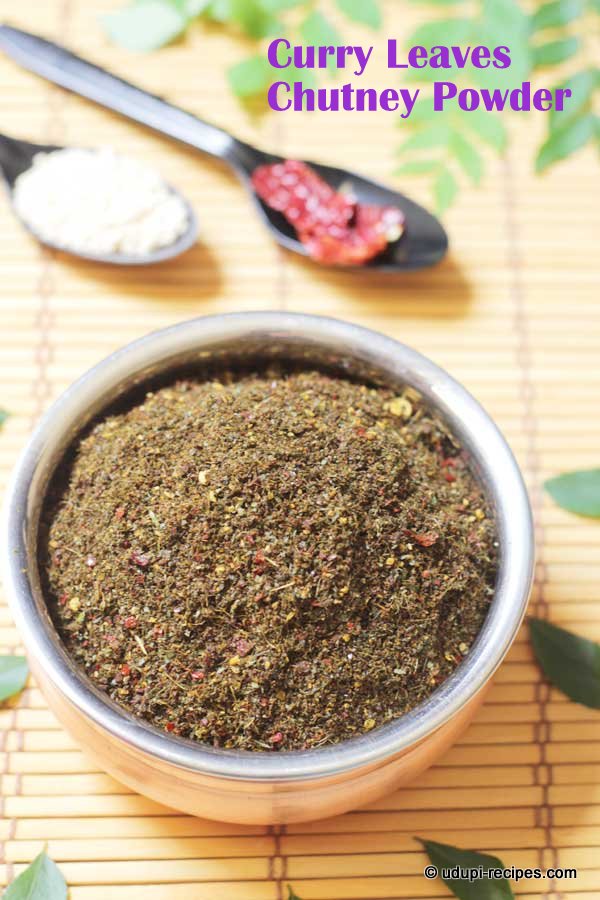 I have kept it minimum, I mean only few basic ingredients make up curry leaves chutney powder. But you can always add things like copra, sesame seeds and black pepper and it's going to be great. Whatever you plan to add, make sure to dry roast them well before powdering.
As I got up in the morning with curry leaves chutney powder still in the back of my mind, I rinsed well the curry leaves strands under running water and let them over kitchen towel to dry.  When I actually started the preparation in the afternoon, the leaves were dry and moist-free. So it just took 15 minutes to whip this over.  Here you go=>=>=>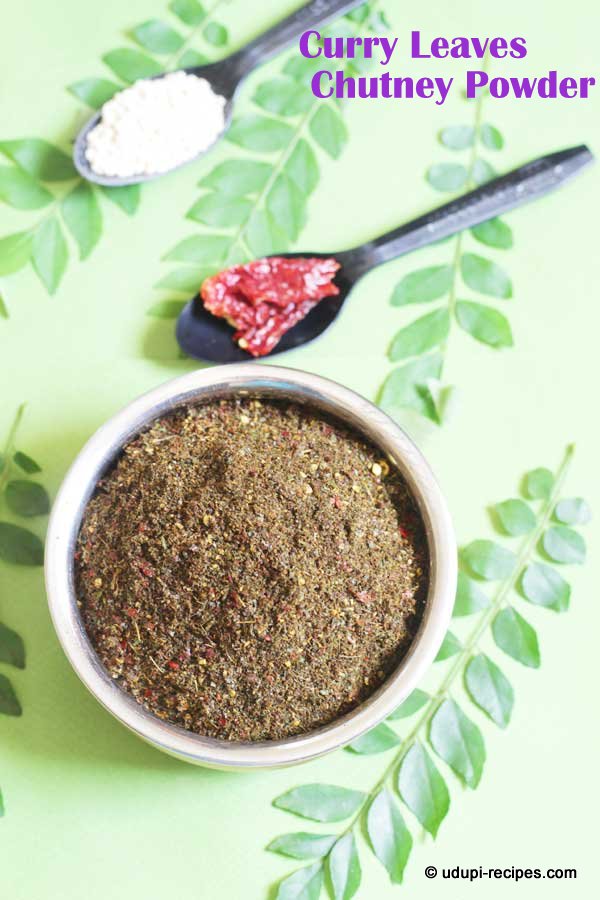 Curry leaves chutney powder recipe
Ingredients
Curry leaves- 1 cup pressed
Split black gram lentils- 3 tsp
Tamarind- Marble sized
Powdered jaggery- 1 tsp
Salt- 1 tsp
Cooking oil- 1 tsp
Instructions
Preparation

Wash the curry leaves thoroughly and let them dry under shade till they are completely moisture free.

Method

Heat a wide wok and put the moisture free curry leaves. In medium flame roast them till the leaves turn dry. The curry leaves would break easily with your fingers after roasting. Transfer them to a plate.
Heat the same wok with oil, split black gram lentils, tamarind and red chillies. Roast the lentils in medium flame till they turn little brown.
Add all these roasted ingredients to the mixer, also include powdered jaggery, salt and roasted curry leaves. Powder all of them together finely.
Aromatic and healthy curry leaves chutney powder is ready. As it cools down, store it in airtight container. You can serve it with steamed rice topping ghee or as a side dish with idli or dosa too.

Notes

Make sure the curry leaves have dried well without any moisture before roasting.
You can include grated copra, cumin for rich and enhanced taste.
The curry leaves chutney powder lasts for a month if stored in air tight container. After that it may loose the flavor.
https://udupi-recipes.com/2015/09/curry-leaves-chutney-powder-recipe.html
All the content in this website are © Copyrighted to – Udupi-Recipes