Diwali without sweets and snacks is just boring right!!!! I have added both Diwali sweets and snacks recipes this time to make it more delightful. Diwali takes me back to my childhood days when we used to get long awaited new dress. Unlike now those were the days to buy clothes only once or twice a year. Laxmi pooja arrangements, flower decoration, drawing up rangoli, inviting ladies for haldi-kumkum …ooh these were some of the tasks that we kids lend our hands to parents. Getting ready with new dress and make up was so much thrilling and exciting then….Really miss those days.
Today I will share spicy maida biscuits/diamond cuts recipe with you. In Udupi it is known as Tukdi/Tukadi. Shankarapoli is also one of the alternative name for this snack. Let us learn it.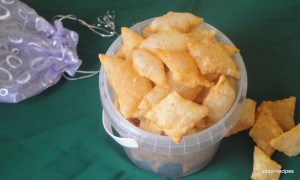 Maida Biscuits | Diamond Cuts | Tukdi Recipe -Diwali Snacks
Ingredients
Maida/All purpose flour- 1 cup
Medium rava/sooji- 1/2 cup
Salt- 1 tea spoon
Red chilly powder- 1 tea spoon
Baking powder/Baking soda- 1/8 tea spoon
Cumin seeds- 1/2 tea spoon
Cooking oil for deep frying- 1.5 cups or as needed
Instructions
Preparation

Sieve maida flour and medium rava separately. Crush the cumin seeds coarsely using mortar and pestle. Keep them aside.

Method

In a large mixing bowl add sieved maida/all purpose flour, medium rava, salt, chilly powder, baking soda and crushed cumin seeds. Mix well using your hands. This is just to make sure even blending of spices with flour.
Now add water little by little to the bowl, mixing all the ingredients till you get pliable dough. The consistency of the dough should be same as chapati dough or thicker than that. Do not make it thinner which results in oil oozing out biscuits. Knead well and keep it aside for about 15 mins.
Make 3 equal sized balls out of the maida biscuit dough. Roll one of the balls just like chapati neither too thin nor thick.
Using biscuit roller/cutter or pizza cutter or knife cut the rolled chapati horizontally first, then vertically to make diamond shaped maida biscuits. Remove them on a plate.
Heat oil in a pan or kadai, just check the oil is heated enough, by dropping a pinch of dough in to it, if it raises up to the surface, then it is right temperature for deep frying. Lower the flame.
Drop the diamond cuts in to oil in batches and fry them both sides till they are slightly brown. Remove from oil using perforated ladle and drain them on tissue.
Repeat the process with rest of the dough.
Spicy diamond cuts/maida biscuits/tukadi is ready to be served with evening tea. Enjoy this diwali with these crunchy biscuits.

Note:

I have added medium rava to give crunchiness to the biscuits. You can prepare with maida alone.
Hot oil can also be added to the dough which I have not done. End product is same in both the cases.
Keep them in airtight container to retain crispiness. They remain crispier for about 3 to 4 days in normal temperature.

Check other Diwali sweets and snacks here.
https://udupi-recipes.com/2013/10/maida-biscuits-diamond-cuts-tukdi-recipe-diwali-snacks.html
All the content in this website are © Copyrighted to – Udupi-Recipes
Meet you all with one more interesting Udupi recipe. Till then bye.