Masala peanuts are my all time favorite. Its so easy to prepare that you can get it ready just talking to your guests. Munching these peanuts in a rainy evening is one thing I always look for. The fresh and big sized  peanuts are good for this snack. I have added minimum spices and made it simple. If you desire you can make more spicy adding amachur powder, garam masala powder etc. Let us learn how to make these savory coated groundnuts.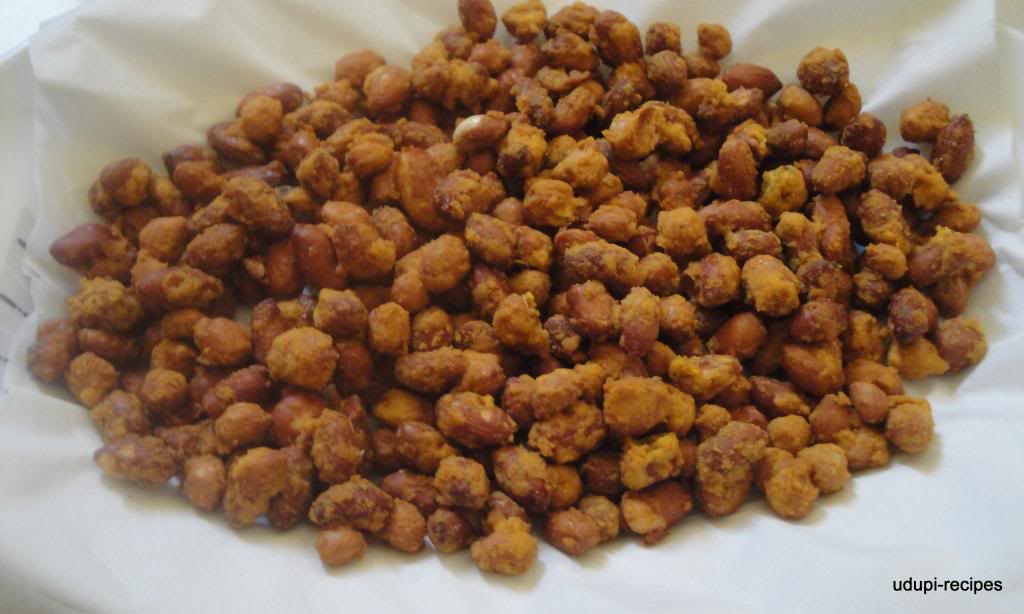 Masala Peanuts/Savory Coated Groundnuts Recipe
Ingredients
Peanuts/Groundnuts- 1 cup
Gram flour/chickpea flour- 1/8 cup
Red chilly powder- 1 tsp
Salt- 3/4 tsp
Turmeric powder-1/4 tsp
Oil- For deep fry
Instructions
Method

Add salt, turmeric powder, red chilly powder and 4 tbsp of water in to a bowl. Mix well. Now add peanuts to this and toss well so that each peanut gets coated with spices.
Now add gram flour and again toss well. Gram flour gets coated evenly on peanuts and they are ready for frying.
Heat a frying pan/kadai adding cooking oil, when it gets heated pour part of these peanuts in to oil and slightly stir to prevent peanuts from sticking together.
When the peanuts are slightly brown then drain them on a tissue paper and after cooling store it in airtight container.
Masala peanuts are ready to serve. Savory groundnuts are best tea time snack. Do try and enjoy...

Note:

Do not add excess water, the gram flour mixture will not get coated evenly on peanuts.
The peanuts get fried soon, so be careful while frying them. Ensure they do not get burnt.
https://udupi-recipes.com/2013/05/masala-peanutssavory-coated-groundnuts-recipe.html
All the content in this website are © Copyrighted to – Udupi-Recipes
Meet you all with one more interesting Udupi recipe. Till then bye.