I wonder why I did not attempt this easy Diwali sweet recipe till  now. When I tried this coconut burfi recently referring one of my old cookbook, end result was really amazing. Everyone enjoyed these juicy square cut coconut burfis at home so much that tray emptied within no time. So I planned the same sweet recipe to post as Diwali sweet recipe. Here I go with tenginakayi burfi along with beautifully caught stepwise pictures. You need just 30 minutes to make this sweet. Let me explain.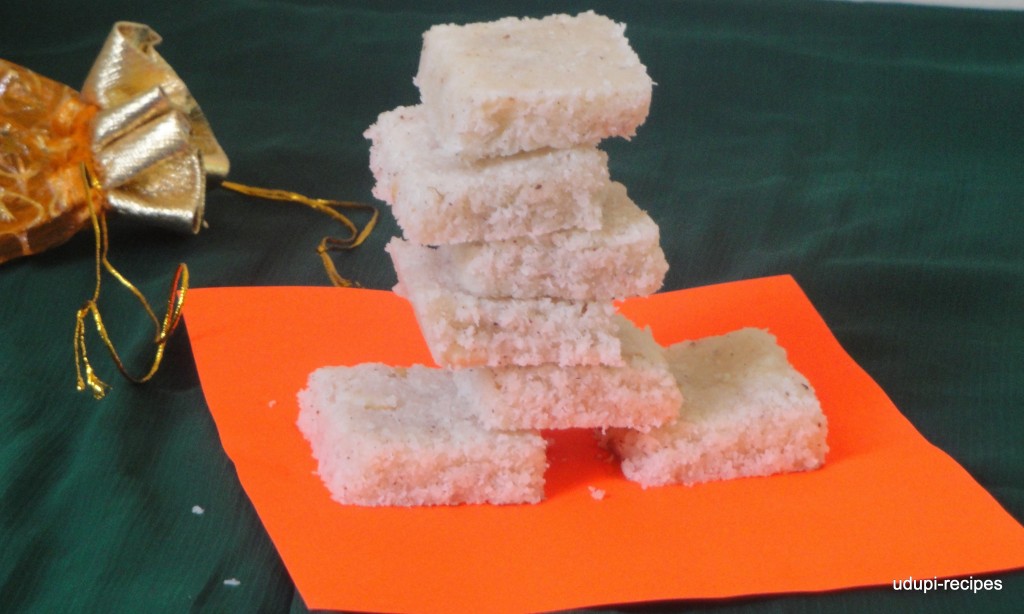 Coconut Burfi |Nariyal Burfi |Tenginakayi Burfi Recipe-Diwali Sweets
Ingredients
Grated coconut- 2 cups
Sugar-3/4 to 1 cup
Cardamom- 4 pods
Cashews- Few
Ghee- 2 to 4 tea spoon
Instructions
Preparation

Break cashews in to small pieces and shallow fry them in ghee. De-seed cardamoms and powder them finely. Keep them aside.
Grease a tray with ghee and keep it ready.

Method

Grind grated coconut coarsely in mixer without adding any water. You can use coconut without grinding too. But you will not get smooth surface/texture on burfis. That's the reason I have ground the grated coconut.
Now heat a non stick pan/heavy bottom wide kadai adding sugar and 1/2 cup of water. Bring to boil stirring continuously till sugar dissolves and starts bubbling.
Continue stirring sugar syrup till you get the single thread consistency, i.e swipe ladle in syrup every now and then to take a drop of syrup between thumb and index finger. If it forms single thread then it is the right consistency. Now add ground coconut and mix well.
Continue cooking coconut in sugar syrup stirring continuously, till it leaves the pan and forms a mass. That is when you need to add ghee, cardamom powder and broken cashews.Mix well and switch off the flame.
Transfer the coconut burfi mixture on to greased tray. Spread it evenly on the tray and mark in to pieces using knife or pizza cutter when it is still warm.
Let it cool completely and remove the coconut burfi/nariyal burfi pieces from the tray. Store in airtight container.
Yummy coconut burfis are ready to distribute with friends and relatives on this Diwali. Wow great Diwali sweet this one!!!!

Note:

Grinding coconut is optional, you will get evenly finished edges on burfis if you do.
Do not add too many cashews and breaking cashews in to small pieces is must. Otherwise making burfi pieces would be difficult.
Do not scrap brown part of coconut to get clear white colored burfis.
If you like more sweet taste then add 1 cup of sugar that is 2:1 ratio of coconut and sugar. I like mild sweetness so I added little less i.e 3/4 cup.
https://udupi-recipes.com/2013/10/coconut-burfi-nariyal-burfi-tenginakayi-burfi-recipe-diwali-sweets.html
All the content in this website are © Copyrighted to – Udupi-Recipes
Meet you all with one more interesting Udupi recipe. Till then bye..