Broken wheat bisi bele bath…Wow..what a colorful and healthy way to kick start your day!!!
I have been using this awesome cooking ingredient called broken wheat in most of the recipes lately, but let me tell you the truth that it's too healthy and it can even replace my traditional breakfast too.  The one and only recipe that I had been doing since several years using broken wheat was payasa which is creamy, rich and has all the goodness of coconut milk. Let me recall when I made it last?? No…not in the past 5 months. Oh my food blog life <= You have introduced me to innovative food era that wouldn't have been otherwise.
Be it rice, rice flakes or broken wheat for that matter, I love this bisi bele bath so much that I can live eating the same for a month. Call me a food crazy but it is true. Broken wheat bisi bele bath is exceptionally tasty that integrates well with spices and vegetables plus topped with ghee it takes us to the next level.
The carrots, beans and peas cooked to soft, pulpy texture in tamarind plus jaggery which is then simmered to cook with lentils and broken wheat must be the easiest way to whip up any lunch.
Officially broken wheat bisi bele bath is paired with either potato chips or kara boondi but I even relish it with cucumber raita. Those of you who enjoy spice kicks can devour this rice with boondi or chips, others who like sort of comforting can get along well with cucumber raita.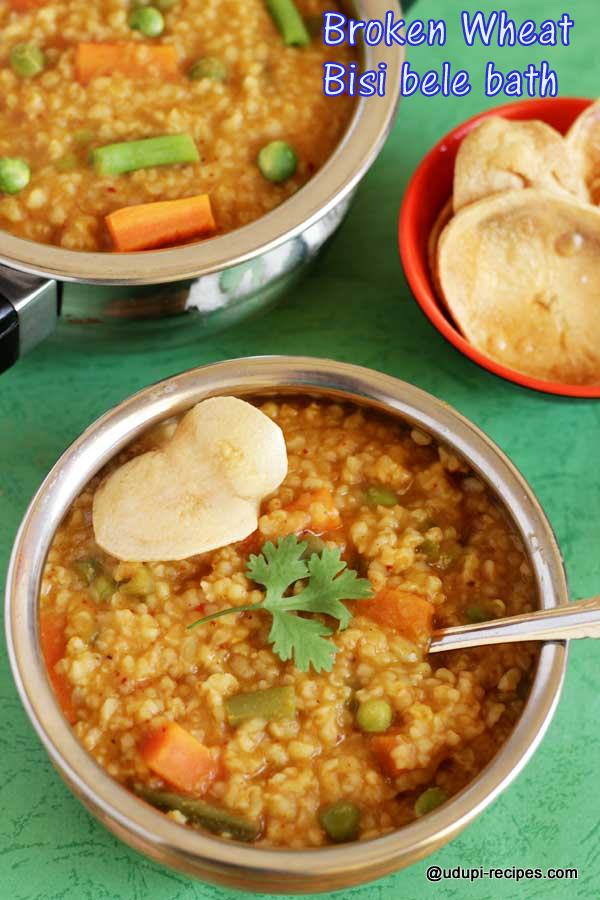 Broken Wheat Bisi Bele Bath Recipe
Ingredients
Broken wheat- 1 cup
Pigeon pea lentil(toor dal)- 1/2 cup
Tamarind- Small lemon sized
Jaggery- Small lemon sized or 2 tsp
Chopped veggies (carrot+beans+green peas)- 1/2 cup
Turmeric powder- 1/2 tsp
Salt- 2 tsp or to taste
Bisi bele bath powder- 5 tsp

Seasoning ingredients

Ghee- 4 tsp
Mustard seeds- 1 tsp
Split black gram lentils- 1 tsp
Curry leaves- Few
Cashews- Handful
Instructions
Preparation

Soak tamarind in 1/4 cup of water for 15 minutes and then squeeze it to extract tamarind juice, discard the residue.
Take broken wheat and pigeon pea lentils in separate vessels and add cup of water to each. Pressure cook both of them till soft. I have pressure cooked for 3 whistles and in simmer for 5 minutes.

Method

Heat a wide cooking vessel with tamarind juice and jaggery. Bring it to boil for about 5 minutes. Next add 3 cups of water and continue cooking.
Add chopped vegetables, turmeric powder and salt to this tamarind juice. Let the veggies cook till soft and pulpy. When the vegetables are done, include bisi bele bath powder and combine well.
Next add cooked pigeon pea lentils and broken wheat. Let broken wheat absorb all the spices and the mixture turn little thick. Then switch it off.
Finally heat a seasoning pan and add mustard seeds, split black gram lentils and curry leaves. As the mustard seeds sizzle, include cashews and saute for while. Transfer the seasoning to bisi bele bath.
Serve this hot broken wheat bisi bele bath along with potato chips or kara boondi.

Notes

You can also include other vegetables like turnip and double beans.
The bisi bele bath turns thick when it cools down to room temperature. So initially when you prepare it, keep it to running consistency.
Seasoning this rice with ghee enhances the taste and flavor. So do not skip it.
Potato chips and kara boondi pairs well with bisi bele bath. But you can even try cucumber raita.
https://udupi-recipes.com/2015/12/broken-wheat-bisi-bele-bath-recipe.html
All the content in this website are © Copyrighted to – Udupi-Recipes