I am always in a need of easy, manageable but still fancy recipes that are awesome or make the lunch / dinner special. Such a quest landed me towards roasted sweet potato which makes the lunch menu complete and extremely delicious.
Well, we are in mid of December and I can really notice the local vegetable markets that have winter specific veggies piled up every nook and corner of the shop. So my trip to vegetable shop is actually a bliss now where I am puzzled to decide what to buy and what not to. In fact I end up buying everything that seems so very fresh, crisp and firm. Last week big and purple sweet potatoes have joined my pantry in a similar way.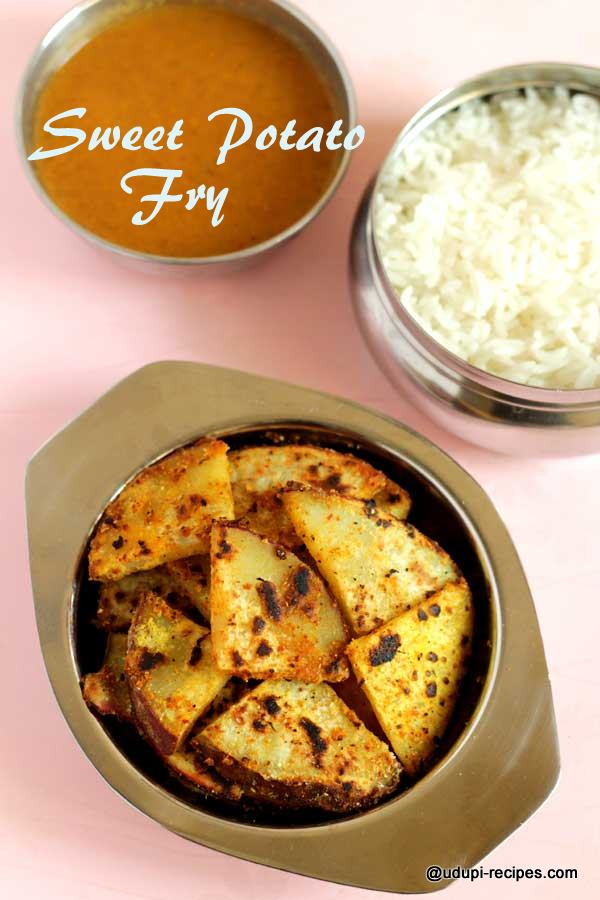 Roasted sweet potato can join you in snacking or with lunch when you want something crispy and spicy to bite along with rice-rasam. Though roasted sweet potato is packed with all deserving spices enough to snack on, you can even dip them in tomato ketchup or chutney to double up the taste.
So much good happens when you roast these little sweet potato pieces which get perfectly browned by both sides over the griddle. I just let your mouth imagine the beauty and taste.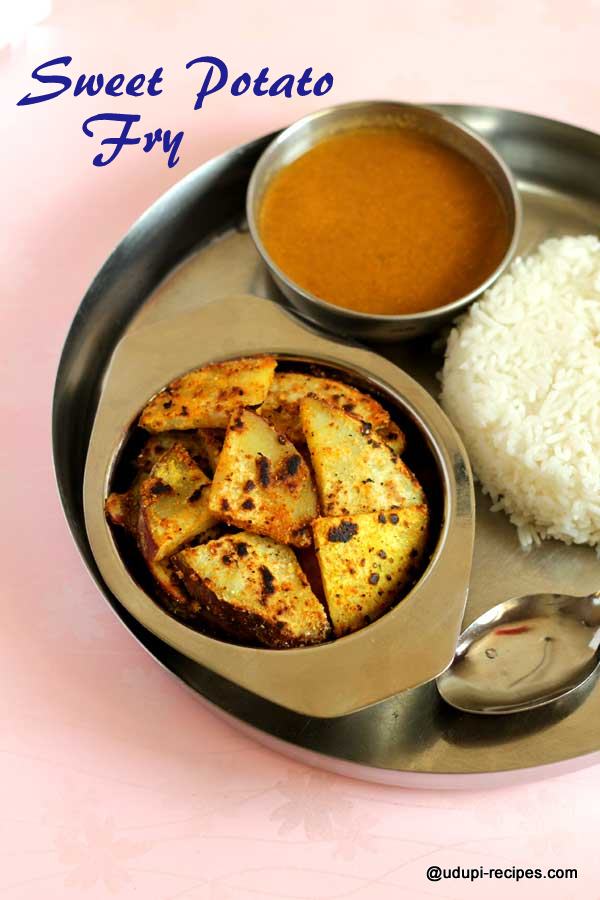 Easy Roasted Sweet Potato Recipe
Ingredients
Sweet potato (big sized)- 1 no.
Gram flour- 4 tsp
Red chilly powder- 1 tsp
Sambar powder- 1 tsp
Salt- 1.5 tsp
Turmeric powder- 1/2 tsp
Coriander powder- 1/2 tsp
Cooking oil- 8 tsp
Instructions
Method

Rinse the sweet potato under running water scraping any mud that is sticking on it. Slice the veggie in to circular discs or triangular pieces as you prefer. Let the pieces be of 0.5 cm in thickness. Bring 2 cups of water with salt to rolling boil and include sweet potato slices.
Let the slices cook half way in water, then switch off the flame and drain the water. Put all the slices in wide bowl and add gram flour, red chilly powder, sambar powder, turmeric, coriander powder and little salt. Toss the slices so that spices coat evenly over them.
Next heat a dosa griddle and pour some oil on it. Roast the sweet potato slices both sides till you find some dark spots on them.
Soft and spicy roasted sweet potato is ready to accompany rice-rasam combo.

Notes

It is not advisable to make very thin slices of sweet potato as it will easily break when you toss with spices.
When you cook sweet potato in water, make sure it is cooked halfway not till soft. Because it has one more round of roasting over griddle.
You can mix all the spices with gram flour first before tossing it with slices to ensure even coating.
https://udupi-recipes.com/2015/12/easy-roasted-sweet-potato-recipe.html
All the content in this website are © Copyrighted to – Udupi-Recipes