Tomato pulao is one of those recipe names where you read it and say mmm! yummm! sounds so good.  Trust me it tastes deliciously good too. I had a great affection towards this rice recipe when I initially learned it from my sister-in-law, 4 years back in Bangalore. There were days when tomato pulao happened to be part of lunch at least once in a fortnight. But some how it has been disappeared totally from my food life recently.
The beauty of this rice is, you will not notice the tomato pieces in it as it gets mashed up leaving the pleasant red color behind. But the onion slices do add some crunch to the tomato pulao and I usually accompany it with cucumber raita for extra crunchiness. The rice gets much deep flavor and tender loveliness when cooked with loads of deep red tomatoes and zing of fantastic spices.
When you hardly have any vegetables in stock but you are looking for ways to cook an awesome one pot meal rice recipes, then tomato pulao can easily be whipped up. This pulao is all about deep, red colored tomatoes, onion and some warm spices like fennel seeds, black pepper and garlic. I would rather mention specially about fennel seeds which enhance the aroma and black pepper that kicks up the heat.
As you open the lid of pressure cooked tomato pulao, you would feel like heaping it on a plate and having it taste like food magic in your mouth.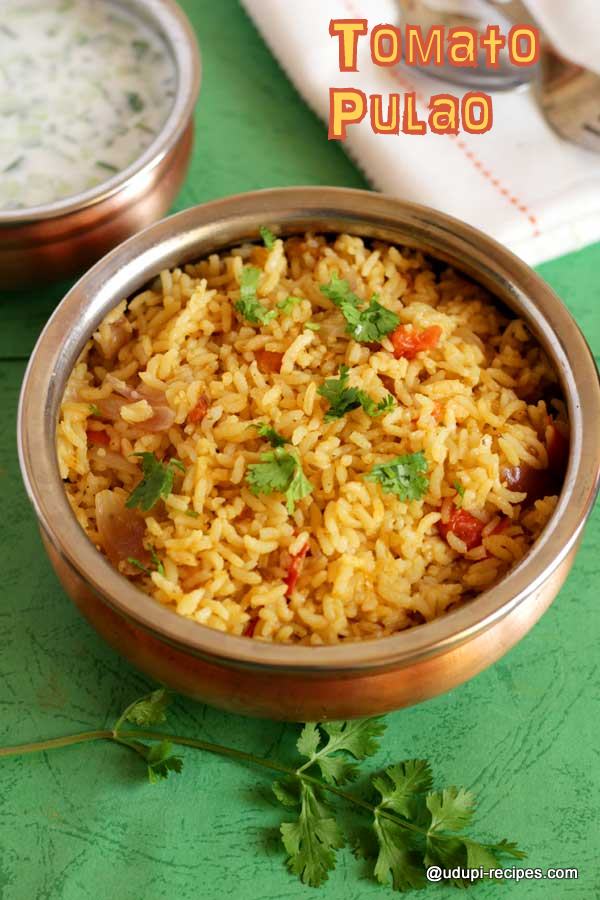 Ingredients
Ripe and deep red tomatoes- 3 to 4 nos.
Rice- 1 cup
Onion(big)- 1 no.
Salt- 1.5 tsp
Red chilly powder- 1 tsp

To grind

Chopped ginger- 1 tsp
Black pepper- 1/2 tsp
Fennel seeds- 1 tsp
Turmeric powder- 1/2 tsp
Garlic cloves- 5 no.
Bay leaf- 2 no.

To temper

Cooking oil- 5 tsp
Cloves- 4 nos.
Cinnamon stick- 2" length
Cardamoms- 2 nos.
Instructions
Preparation

Rinse the rice well with enough water, drain it and keep aside.

Method

Rinse the tomatoes well in enough water and chop them in to big chunks. Similarly peel off the skin from onion and chop it too in to slices.
Put all the ingredients of 'To grind' list in to mixer and grind them together. Heat pressure cooker with oil, cloves, cinnamon and cardamoms. Saute for a while.
Next include onion slices and stir till the onions turn translucent. Add the ground spices from above step and saute. As the raw smell subsides include tomato chunks, red chilly powder and turmeric powder. Mix well.
Add the drained rice, saute for a minute and add 2 cups of water and salt. Covering the cooker with lid, let it cook in medium flame for 3 whistles. Switch off the flame once done.
When the pressure subsides, remove the lid and fluff the rice. Tasty and appealing tomato pulao is ready to serve with any raita.

Notes

For pleasant colored tomato pulao, choose well ripened and deep red colored tomatoes.
Do not skip fennel seeds which adds up flavor and unique taste.
You can use either basmati or sona massori rice variety for the fluffy pulao.
https://udupi-recipes.com/2015/12/tomato-pulao-recipe.html
All the content in this website are © Copyrighted to – Udupi-Recipes