When you get your hands on making pretty, golden and flawless boondi in your kitchen and you haven't even made this kara boondi mixture then it's an offense I must say. Because you are depriving yourself from the deliciousness of this mixture which is pretty much simple with plain peanuts, cashew topped seasoning.
A plateful of kara boondi mixture with a mug of warm tea is what I look for on any evening because you know these deep fried snacks are so lovable.  And I feel the joy of winter evening while biting spice coated cashews and peanuts along with boondi.
Boondi making process remains same for both boondi laddu and mixture with a slight variation in the list of ingredients. Kara boondi mixture has the addition of rice flour which is the key to turn round, little boondi towards crispiness. If you have the boondis ready before hand then preparing  kara boondi mixture is just a breeze. So don't even let the chance of making home made mixture which boosts up the joy of Diwali.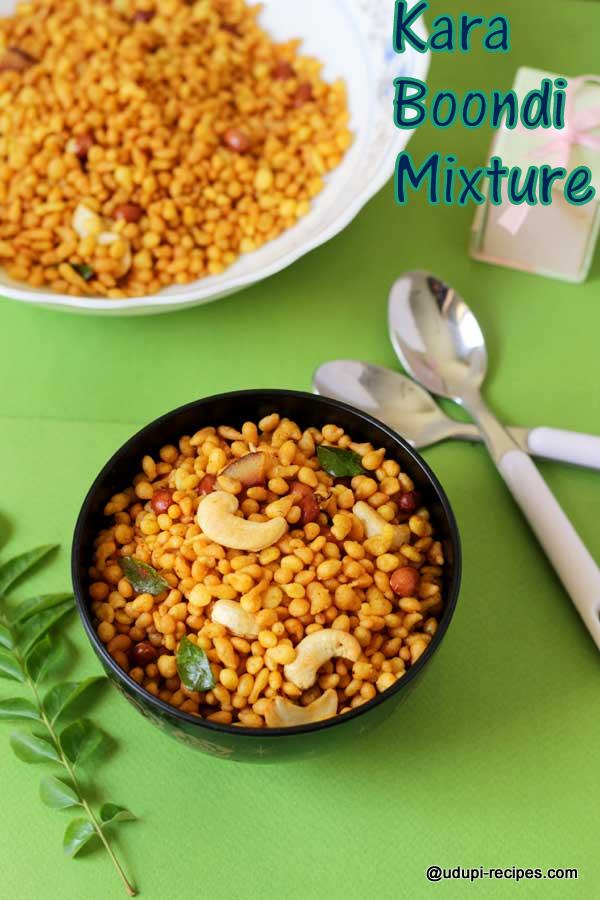 Kara Boondi Mixture | Diwali Recipes 2015
Ingredients
Gram flour (besan)- 1 cup
Rice flour- 1/4 cup
Red chilly powder- 1 tsp
Turmeric powder- 1/2 tsp
Salt- 1 tsp
Cooking oil - Enough to fry
Peanuts- 1/4 cup
Cashews- Handful
Desiccated coconut- Few small pieces(optional)
Curry leaves- Few
Instructions
Preparation

Sieve both gram flour and rice flour and put it in to a wide bowl. Add half of the red chilly powder, turmeric powder and little salt. Give a quick stir. Adding water little by little make thick paste.

Method

Heat oil in a wide wok. Meanwhile make gram flour paste thinner by adding some more water in steps. Using a spoon drop little batter in to oil, if it forms boondi with tail, then batter has to be thinner. On the other hand if flat boondi is formed instead of round, then the batter has to be thicker. So adjust accordingly by adding either extra water or gram flour.
Holding slotted ladle over the hot oil, pour ladle full of gram flour batter and carefully tap to the edge of wok so that round boondi drops in to hot oil. Wipe off the slotted ladle with a tissue paper before the next batch.
As the boondi gets cooked towards crisp and brown, remove it from oil using another slotted ladle and drain them over a kitchen tissue. Continue the process of making boondi till the gram flour batter gets over.
Next proceed towards the mixture seasoning. Heat 5 tsp of oil in a cooking pan and add peanuts. Saute till peanuts are roasted well. Followed by peanuts add cashews, desiccated coconut pieces and curry leaves. Saute well and pour it over boondi.
Also add salt and rest of the red chilly powder. Combine everything well.
Addictive kara boondi mixture is ready to relish as Diwali snack.

Notes

The gram flour batter consistency is very important to obtain round, juicy boondi.
While checking the consistency of batter if it has to be thicker then you need to add some more flour. If it has to be thinner, then include some tea spoons of water. So always keep some gram flour handy.
While tapping the slotted ladle, ensure you are not holding it too high over the oil. In that case boondi loses its shape.
You have to wipe both back and front side of slotted ladle before starting next batch of boondi making.
You need to use enough oil while making boondi otherwise as you tap the ladle, the boondi batter settles down in the oil and will not form any shape.
Ensure the boondi is cooked till crisp and brown before removing from oil.
https://udupi-recipes.com/2015/11/kara-boondi-mixture-diwali-recipes-2015.html
All the content in this website are © Copyrighted to – Udupi-Recipes