Classy Sweet Shankarpali…
These lightly sweet, deep fried, cute squares were all with me during my schooling.  This was one of the goodies that my father would prepare in his Hotel on each Sunday evening which was the only holiday he had. He used to make such snacks and sweets a week ahead so that it wouldn't overwhelm his day to day schedule of cooking. Also these were the only condiments that could last for a week and available for customers at any instant of time.
I just have to close my eyes for a brief moment to take me back in time. I can clearly see my father working in that dark kitchen till late evening to prepare stuff like masala peanuts, dink (edible gum) laddo, besan laddo, sweet shankarpali, aval mixture, thin rice flakes mixture and plain sev which were then plated on a very large circular dish and arranged in a transparent glass shelf. It would take anywhere from 3 to 4 hours for him to whip these up. Though all the staff members were relaxing the only holiday Sunday, my father who was the backbone of that hotel would be spending half of his leave in such preparations. I wonder if he ever dreamed of those family movie, relaxation, enjoyment or stuff like that. All I had seen him is working…working and more working. I salute you FATHER…
Today with all those childhood memories in the mind that can easily gush tears in my eyes turned towards making these lovely squares sweet shankarpali. These are basically made from all purpose flour, sugar and ghee where the soft, pliable dough is prepared mixing flour with sugar water. Which is then rolled and shaped in to either square or diamond. My father used to make square shape which I replicated here, you can prioritize on that.
Sweet shankarpali is simple, easy and classy recipe that even beginners can try. They are little thick not crispy with light brown shade indulging mild sweetness of sugar and ghee in them. You can extend the list of Diwali sweet to make space for these cuties too.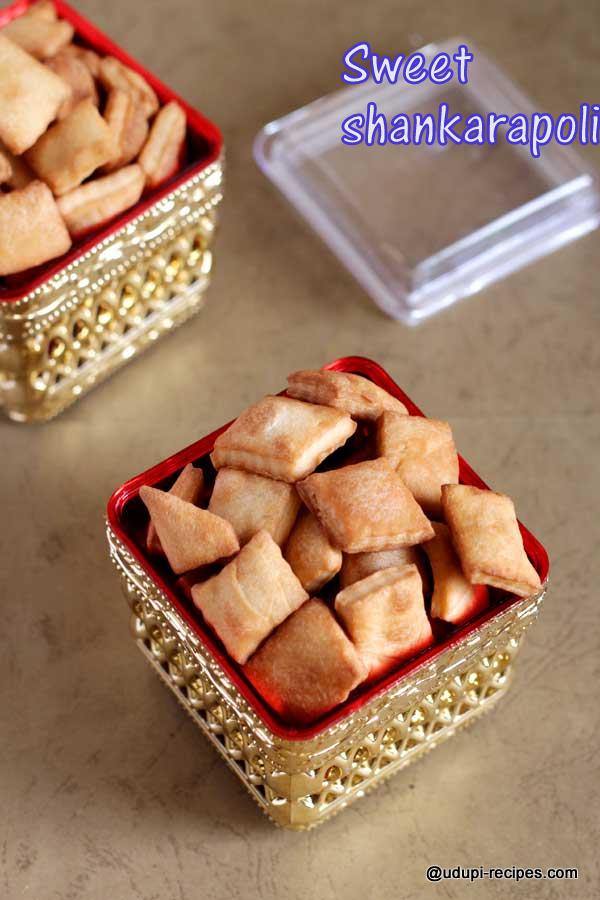 Sweet Shankarpali | Shakkar pare Recipe
Ingredients
All purpose flour (Maida)- 1 cup
Sugar- 1/4 cup
Ghee- 5 tsp
Water- 1/4 cup
Salt- A pinch
Instructions
Preparation

Sieve the flour using a fine sieve and keep it ready.

Method

Mix in sugar, ghee and water in a cooking pan and cook it in medium flame. Let the sugar dissolve completely in water. Switch off right then. Let this cool down to room temperature.
Add the cooled down sugar water to the flour along with salt. Combine everything well in to soft and pliable dough. Divide the dough in to 2 or 3 equal portions and let them rest for 15 minutes with a damp cloth covered.
Roll each portion of the dough to a large circle of medium thickness. And using a pizza cutter mark either square or diamond shape. Separate them and collect over a plate. Continue rolling and marking with rest of the dough.
Heat oil in a wide wok and as it heats up slide some of the sweet shankarpali in to oil and deep fry them till they turn slightly brown. Once done, remove them from oil using slotted ladle and drain over kitchen tissue.
Easy Diwali sweet shankarpali is ready.

Notes

These shankarpali were mild in sweet, so if you like more sweetness then you must add 1/2 cup sugar.
The dough shouldn't be sticky when you knead. If it is then you must add some more ghee.
While rolling I haven't used any flour for dusting. I could roll it without the need of dusting.
Don't roll the dough too thin as you do for savory shankarpali. It should be thick.
You can check if the oil is rightly heated or not by dropping a pinch of dough in to oil. If it raises slowly to the top indicates that the oil temperature is correct for deep frying.
Deep frying should be carried out in medium flame itself otherwise it will turn brown from outside and remain uncooked from inside.
https://udupi-recipes.com/2015/11/sweet-shankarpali-shakkar-pare-recipe-diwali-recipes-2015.html
All the content in this website are © Copyrighted to – Udupi-Recipes