We are just two days away from the festival of lights, happiness, prosperity and joy. This post is dedicated to all the wonderful women of the world who work at office all seven days of week and hardly find time to make Diwali treats. Don't worry my dear friends. There are few amazingly awesome easy sweets that can be made in a jiffy like this rava laddu.
In honor of my dear professional friends, I decided not to make rava laddu using sugar syrup because some times the consistency checking can be tricky and naive cooks would find it troublesome. Few years back even I used to drop the recipes that involved making sugar syrup and checking it's density. That's the time when I myself was not confident in that tricky thing. Well, thanks to food blogging which has improved my food life plus real life.
These ivory white, melt in mouth textured rava laddus are made using sugar powder in less than half an hour. It's a foolproof recipe and you can never go wrong, on the other hand you will end up with amazingly delicious treat for this Diwali. Rava laddu can be a worth sweet to try in the last minute.
You can also check all laddu recipes.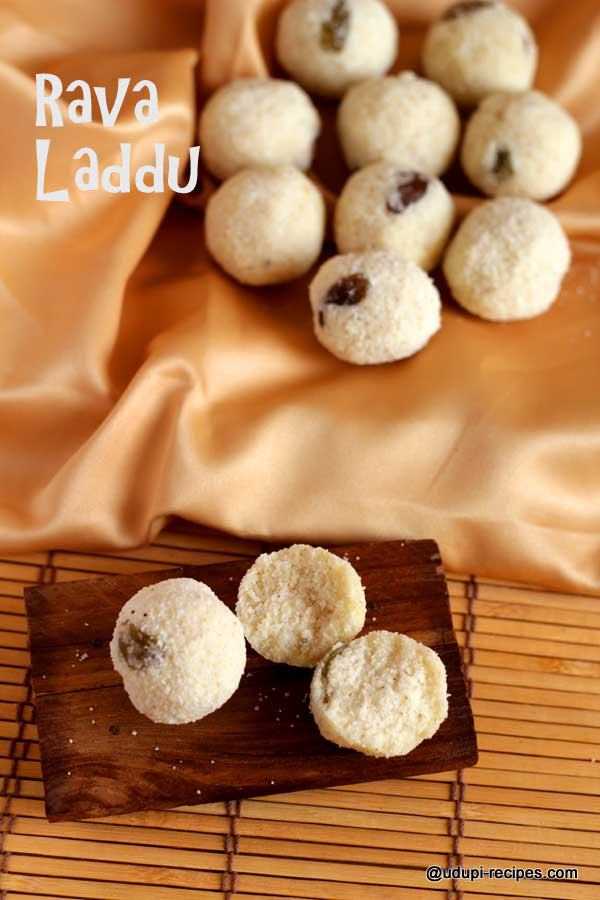 Rava Laddu Recipe | Easy Diwali Sweets 2015
Ingredients
Medium rava / Chiroti rava- 2 cups
Sugar- 1 cup
Ghee- 1/4 cup
Boiled milk- 1/4 cup
Raisins- Handful
Cashews- Few
Cardamoms- 4 nos.
Instructions
Preparation

Peel off the cardamoms and powder them finely using mortar and pestle.

Method

In a heavy bottom cooking pan add half the amount of ghee and rava. Saute and roast the rava for about 4 minutes till the rava absorbs all ghee and turns little brown. Switch off the flame.
Next take sugar in a mixer and grind it to fine powder. I got one and a quarter cups of powdered sugar which was sufficient for the laddu. If you are using sugar powder directly then you can use 1 and 1/4 cup of it. Also roast broken cashews in little ghee and set aside.
Take a wide bowl and mix in roasted rava, sugar powder, roasted cashews, raisins, cardamom powder and remaining ghee. Give a quick stir so that sugar powder is combined evenly with rava. Next add milk little by little so that the laddu mix comes together and you can shape it like a ball. Take a handful of it and shape in round laddu form.
Easy and quick Diwali sweet rava laddu is ready to relish.

Notes

Be careful while roasting rava and do not leave unattended which may change color of rava and we don't require discoloration.
If you are using sugar powder then use one and quarter cup instead of one.
Milk needs to be added in intervals and you need to keep checking when you can easily shape it in to balls. If you add entire milk at once the laddu mix may turn gooey more than needed.
My laddu mix required 1/4 cup of milk to shape in round form.
https://udupi-recipes.com/2015/11/rava-laddu-recipe-no-sugar-syrup-easy-diwali-sweets-2015.html
All the content in this website are © Copyrighted to – Udupi-Recipes