I have made this Aval mixture from memory, my memory of watching my father making large batch of them to sell everyday in the Hotel. Yes, my one cup of thick poha plus little over a cup of plain sev feels like tiny mouse in front of large mammoth of mixture made by my father. Our hotel was not modernized with gas stove and other accessories,  in those days wooden burner was common.  Wiping his sweated face with left hand in front of large wooden burner how my father would fry these poha and combine with all spices is very well pictured in my mind. I can vividly remember all the steps though ingredients and their quantity was beyond my knowledge at that age.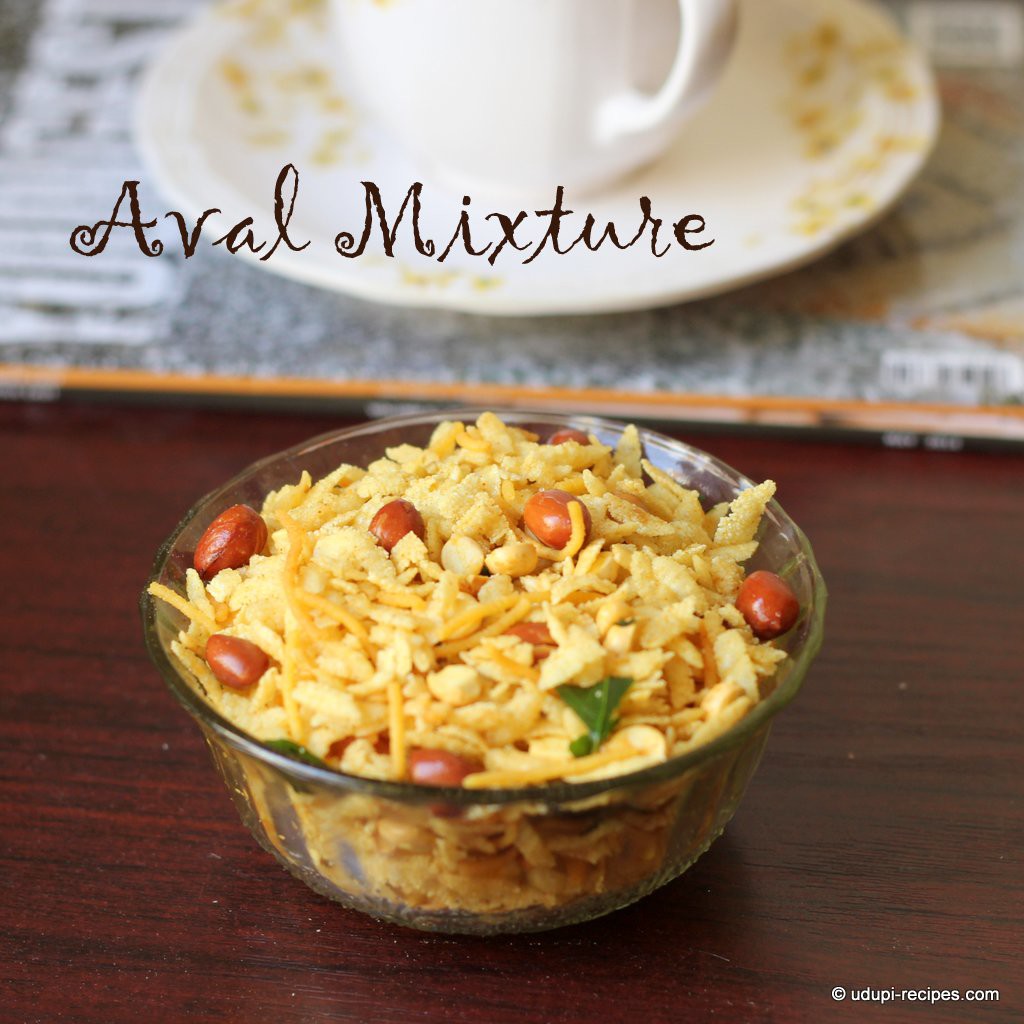 When I was planning for Diwali snacks this year to post here,  aval mixture was the first one to come in my mind. Poha chivada without plain sev is  something I could not imagine, so I made a batch of sev first and then tried my hands on this savory. I love to accompany  this crunchy poha mixture with rice-rasam as side dish but my hubby loves to pick all the groundnuts and cashews from the mixture and eat them as snack while watching TV.  The leftover aval mixture in the snack box would have no groundnuts and cashews in them 🙂 🙂 .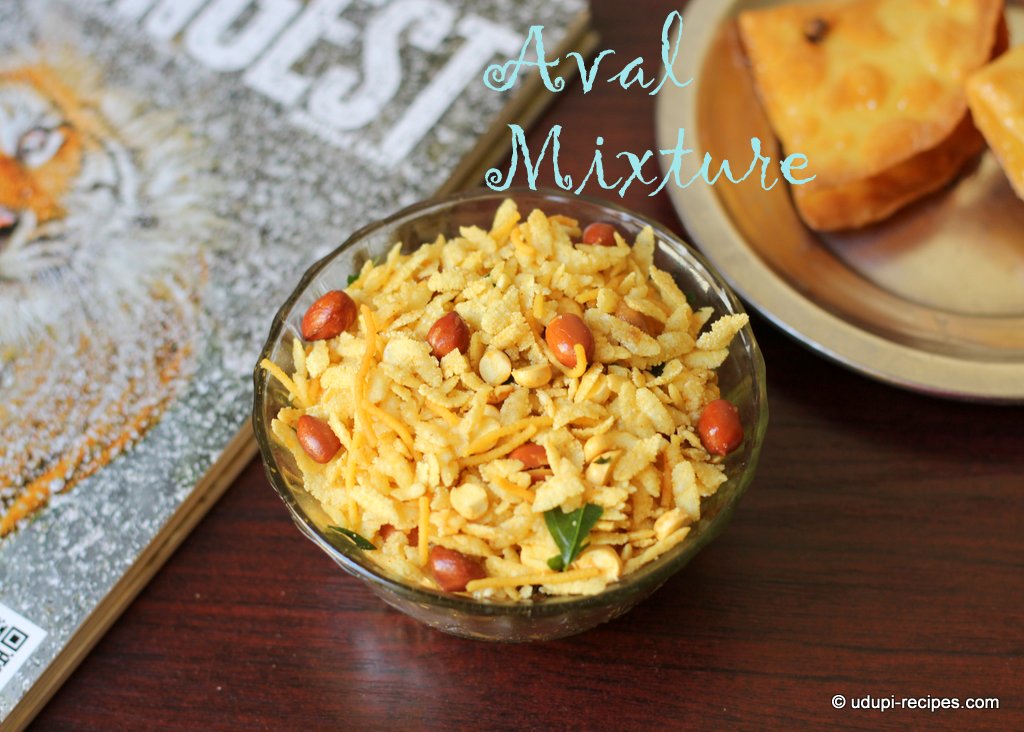 Aval Mixture | Poha Chivda | Poha Mixture Recipe
Ingredients
Thick rice flakes(poha)- 1 cup
Plain sev- 1/2 to 1 cup
Groundnuts- Handful
Roasted gram- Handful
Cashews- Handful(optional)
Red chilli powder- 3/4 tsp
Turmeric powder- 1/4 tsp
Salt- 1 tsp
Curry leaves- Few
Cooking oil- Enough for deep frying
Instructions
Method

Heat a wok adding cooking oil, as oil gets heated up add thick rice flakes. Poha starts sizzling, as the shhh sound ceases remove poha from oil using slotted ladle. Transfer them on tissue, so that extra oil is drained off.
Now add groundnuts to the hot oil, fry them till the nuts turn slightly brown. Remove them using slotted ladle and drain on tissue paper.
Next fry roasted gram for few seconds. Do not let them change color. Subsequently fry cashews till they turn slightly brown. Then fry curry leaves till they turn crisp.
In large bowl first add deep fried thick flakes,ground nut, roasted gram, cashews, plain sev and curry leaves. Include turmeric powder, red chilli powder and salt too. With your hands combine all the ingredients together so that spices get coated on to poha.
I had spread thus prepared aval mixture on a paper for few minutes and drained excess oil.
Aval mixture is ready. Prepare this Diwali snack and enjoy with tea.

Note

Before frying aval, make sure it is clean without any husk.
You can add ground nuts, roasted gram etc as per your preferences.
Store the mixture in air tight container. It can stay fresh for more than a week.
https://udupi-recipes.com/2014/10/aval-mixture-poha-chivda-poha-mixture-recipe.html
All the content in this website are © Copyrighted to – Udupi-Recipes
Meet you all with one more interesting recipe. Till then bye.