Plain sev, crisp string kind of addictive snack that all foodies love as topping on chats.  I feel this one as something simple and foolproof recipe.  I have grown up watching my father making these tiny, crisp plain sev in a semi dark kitchen of a small Udupi hotel.  I would just grab a handful of them to munch in between our endless playtime.  Masala peanuts, plain sev, aval mixture, sweet shankarapoli were the mid play time snacks in those days.  In such quick visits to hotel I would see my father making dough for sev or pressing it directly in to oil or deep frying large concentric circles of sev in  a wide wok. But I still remember those procedures pictorially like how it is being done.
That is the reason I mentioned above that Plain sev is a fool-proof recipe for me.  All that the recipe demands is chickpea flour and few basic spices. One additional flavor included is of carom seeds or ajwain. I have added rice flour for extra crunchiness and the sticky dough is formed as we mix with water. Lump of this dough in filled in to idiyappam press and pressed directly in to hot oil. Within 2 to 3 minutes the flawless deep fried plain sev would be ready. You top them on upama, aval mixture, poha and without them chats are lifeless. So prepare them for this Diwali and store  in airtight container for such toppings.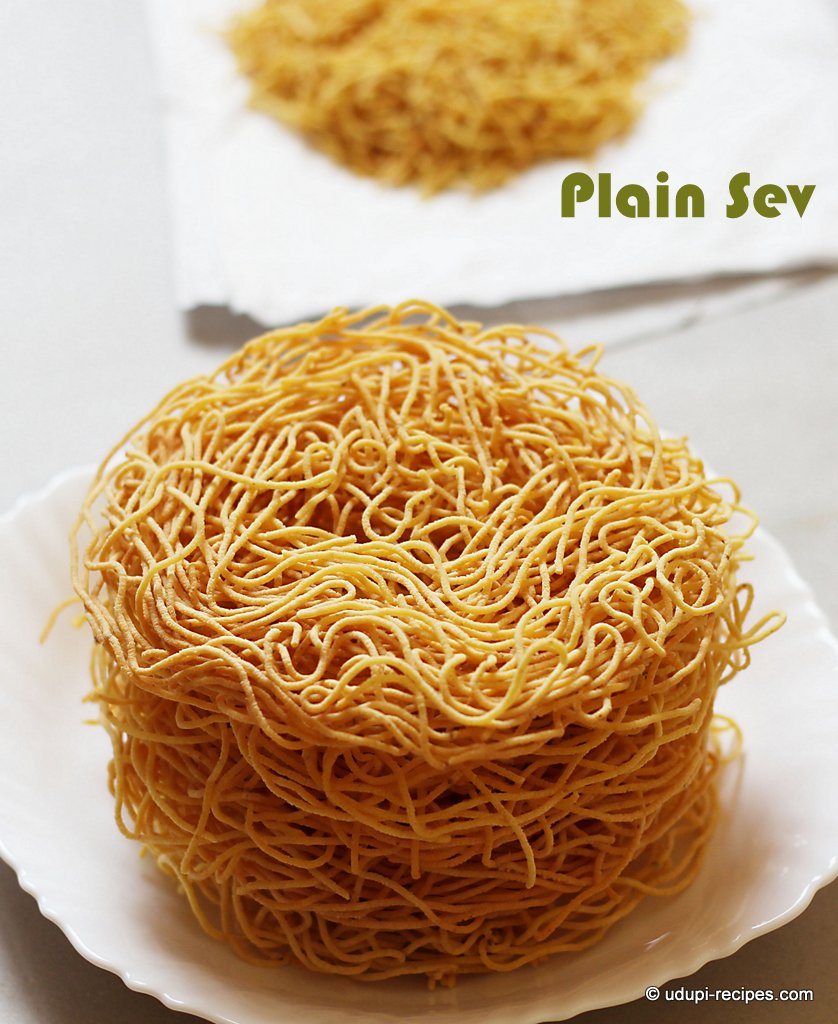 Plain Sev Recipe | Omapodi Recipe | Diwali Snacks
Ingredients
Chickpea flour(besan)- 1 cup
Rice flour- 1/2 cup
Salt- 1 tsp
Turmeric powder- 1/4 tsp
Carom seeds(ajwain)- 1/2 tsp
Red chilli powder- 1/2 tsp
Asafoetida(hing)- chickpea sized or 1/2 tsp
Cooking oil- Enough for deep frying + 3tsp
Instructions
Preparation

Finely powder carom seeds using mortar and pestle. Dissolve asafoetida in a teaspoon of water and Keep them aside.

Method

Sieve the chickpea flour and rice flour. Add them in a large bowl along with turmeric powder, salt, red chilli powder, asafoetida and carom seeds powder. Give a quick mix.
Heat 3 tsp of oil in a pan and add it to the flour mix. Now adding water little by little, mix the flour with all spices to make soft sticky dough.
Now take a lump of dough and fill it in to idiyappam press. Heat a heavy bottom wok adding cooking oil to deep fry the plain sev.
When the oil is heated enough (you can check it by dropping a pinch of plain sev dough, if it raises to the surface immediately then the oil is ready) press the plain sev directly in to oil in circular manner. You can press as concentric circles, if your wok is wide enough.
When the sizzling sound ceases, turn the sev to the other side and remove it from oil after few seconds.
Drain them on kitchen tissue. Repeat the process with rest of the dough. Let them cool down to room temperature, break them and store in airtight container.
Diwali snack Plain sev is ready, you can top it on upama, mixture, boondi and enjoy.

Note

Be careful while adding water to flour to make the dough. If the dough is too thin, sev tend to drink lots of oil. If the dough is too thick, it will hard to press.
If you are making plain in large quantity, keep the dough covered with damp cloth. Otherwise the the dough becomes dry. You can sprinkle some water if the dough gets too dry.
While deep frying, do not let the plain sev to turn brown.
The plain sev, being very thin tend to brown soon. So as soon as the sizzling sound stops, you have to remove it from oil.
https://udupi-recipes.com/2014/10/plain-sev-recipe-omapodi-recipe-diwali-snacks.html
All the content in this website are © Copyrighted to – Udupi-Recipes
Meet you all with one more interesting recipe. Till then bye.