A wedding is a great event in everyone's life.  In India it is done with great deal of ceremony.  If you look at Indian history many battles have been fought for the sake of marriage. People have always spent lot of money and effort on these. The amount of money spent sometimes constitutes the entire life's  savings of a person.
Last night I was reading a book in which one  article was about Russian marriage, same influenced me to start today's post about marriage.  The significance of Russian marriage is, the couple should visit important war monuments near by after signing the register at the marriage office. Every boy in Russia has to serve in the military for a couple of years at least. Regardless of his position, he must wear his service uniform for the wedding. Do you know why this custom is followed there?
Russia has fought many wars and many people have lost their lives for the country. As a mark of gratitude, the newly married couple needs to remember they are living in peaceful, independent Russia because of their ancestor's sacrifices. The couple must seek blessings from their forefathers. What a noble tradition, Isn't it? I was very much touched, so thought of sharing it with you all.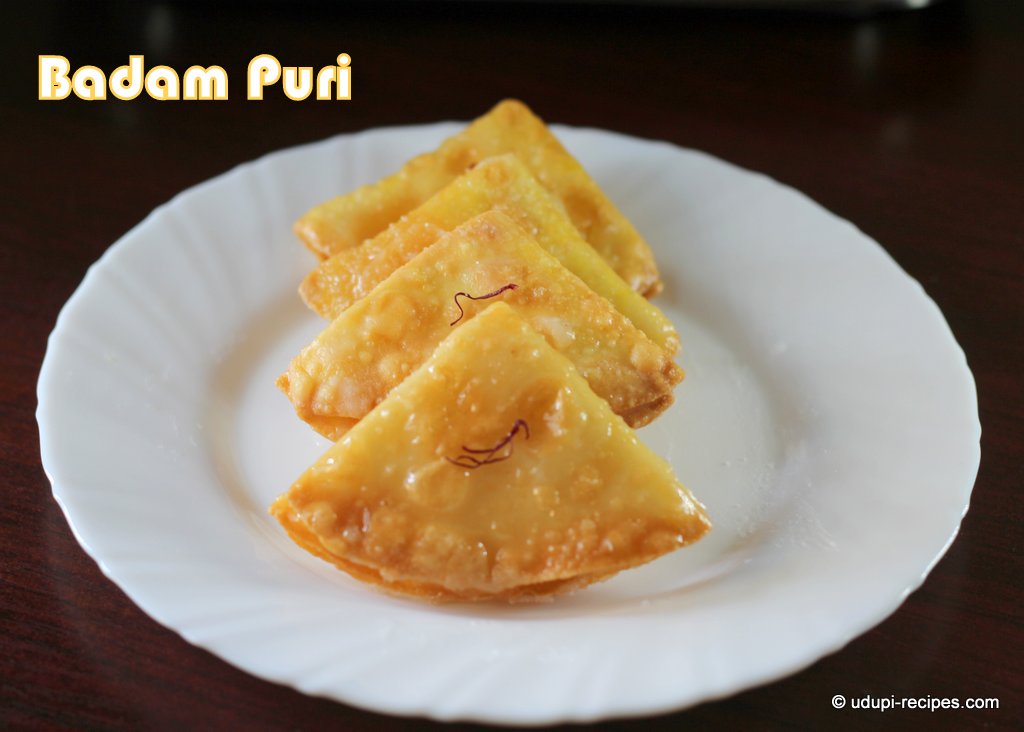 Back to the track, in this  Diwali season it's pleasure to post  Badam puri recipe. These crispy puris drenched in sugar syrup are beautifully textured, wonderfully flavored sweet delicacies.  Badam stands for Almond, which is soaked and ground to make paste, then combined well with all purpose flour to obtain the dough. Using the same dough, very thin puris are rolled and folded in triangular shape. Deep frying folded puris and immersing in sugar  syrup result in pleasant colored badam puris. Alternatively you can make badam puri with Maida alone skipping almond and rice flour,  fair enough taste is assured.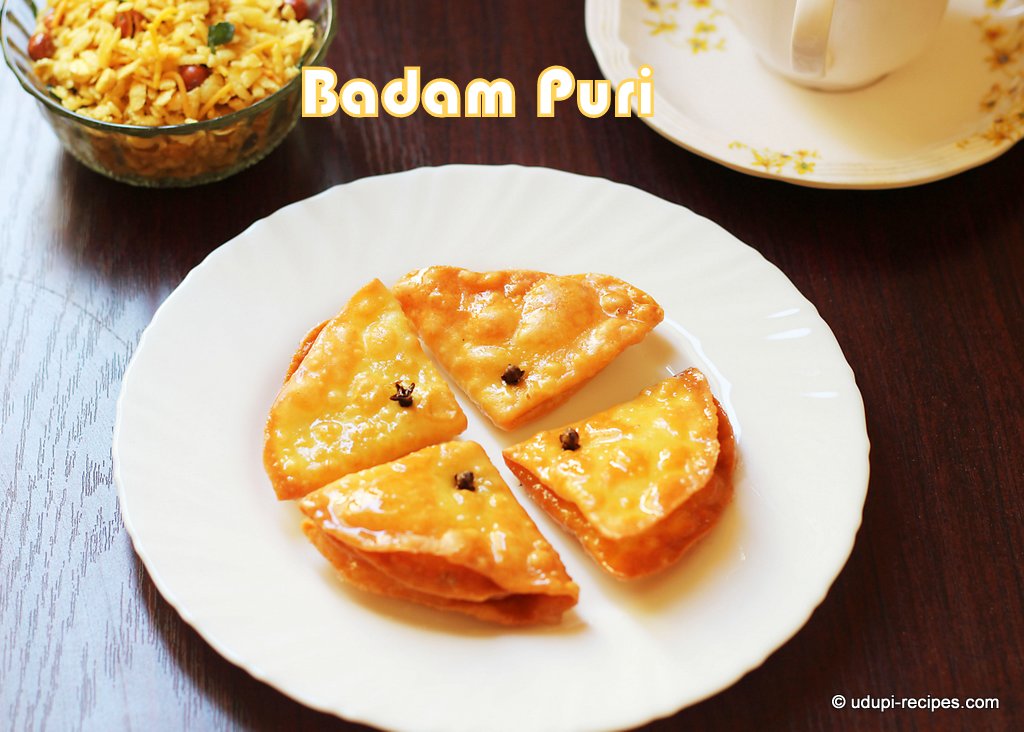 Badam Puri | Badam Puri Recipe | Diwali Sweet
Ingredients
All purpose flour(Maida)- 1 cup
Rice flour- 1/2 cup
Almond- 20 no.
Milk- 1/2 cup
Ghee- 3 tsp
cooking Oil- Enough for deep frying
Sugar- 1 cup
Cardamom- 4 no. or cardamom powder- 1/2 tsp
Cloves- Few
Instructions
Preparation

Soak almond for about an hour. Peel them off and grind to fine paste using a mixer grinder.

Method

In a large bowl combine maida, rice flour and almond paste together and mix well. Add milk little by little and knead the dough to thick consistency. Cover the dough with a damp cloth and let it rest for 20 minutes.
Now make small lemon sized balls out of dough, roll one of them in to very thin puri. Smear little ghee on the rolled puri and fold it in to half. Again smear little ghee and fold it to get triangle shape. Insert a clove to keep the layers together while frying.
Heat oil in a large wok, once it is heated up drop each triangle shaped badam puri in to oil. Deep fry them in medium flame till they turn slightly brown. Make sure even the inner layers too are fried. Drain them on a tissue paper.
Now heat a cooking pan adding sugar and water to the level of sugar(1/4 cup). Once the sugar dissolves and becomes little thick switch off the flame. Sugar syrup need not have to reach one thread consistency. Add cardamom powder for fragrance and mix.
Immerse deep fried badam puri in sugar syrup for about 3 minutes, then remove and arrange them on large plate.
Crunchy badam puri is ready to munch as Diwali sweet.

Note

You can make this sweet using all purpose flour alone skipping rice flour and almond paste, procedure being the same.
While making dough you can add little food color for the puris to get pleasant yellow color. I do not like artificial color in my food, so I added little turmeric powder.
Discard the cloves while serving the puris.
You have to roll the puris really thin, otherwise inner layers remain uncooked.
You can immerse puris for longer, if you like more sweetness.
https://udupi-recipes.com/2014/10/badam-puri-badam-puri-recipe-diwali-sweet.html
All the content in this website are © Copyrighted to – Udupi-Recipes
Meet you all with one more interesting recipe. Till then bye.