Palak chapati or Palak paratha, whatever you name it, is the healthiest wonderfulness of lunch which is packed with the most important nutrient that is Iron and equally good to taste.
It's a real gift to be able to feed the kids with these iron-rich greens in a delicious way that they never even deny eating it. I can read my kids mind, their mood when it comes to food. Whenever I lovingly cook a rice side dish using spinach(palak) leaves, it would be straight away rejected saying it's not of their kind.  Me, like all the wonderful mothers of the world couldn't just drop the idea of feeding greens which potentially can nurture a kid towards healthy personality. So it was a real challenge for me.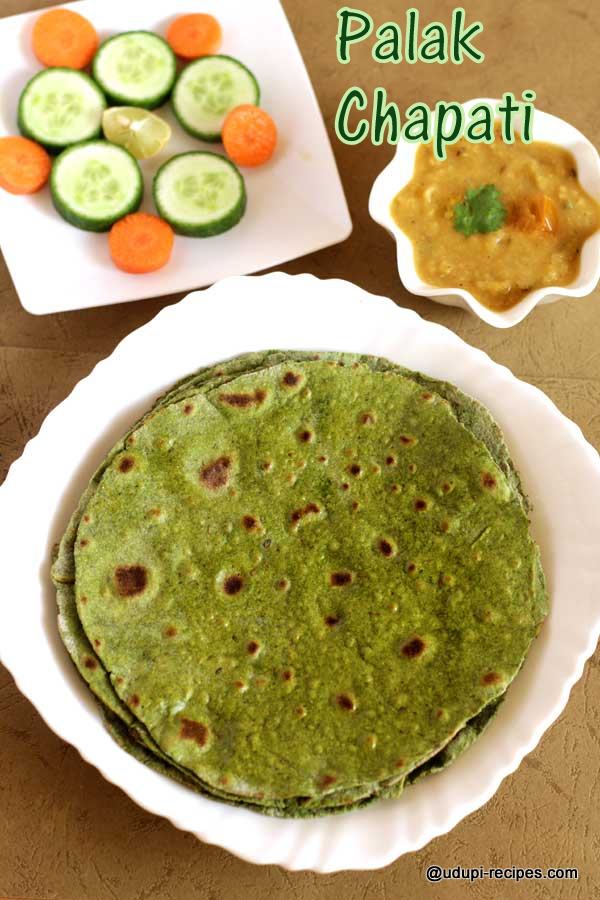 The first victory in this regard is palak soup which is devoured by kids with no complaints and next comes this palak paratha that is awesomely appealing in color and way too healthy. The best part is it doesn't even require a side dish like dhaal to eat, you can straight away gulp it over as is because spices are already integrated in chapati. You can even play around and add the spices of your choice like green chilly or mango powder to make the palak chapati even more tasty.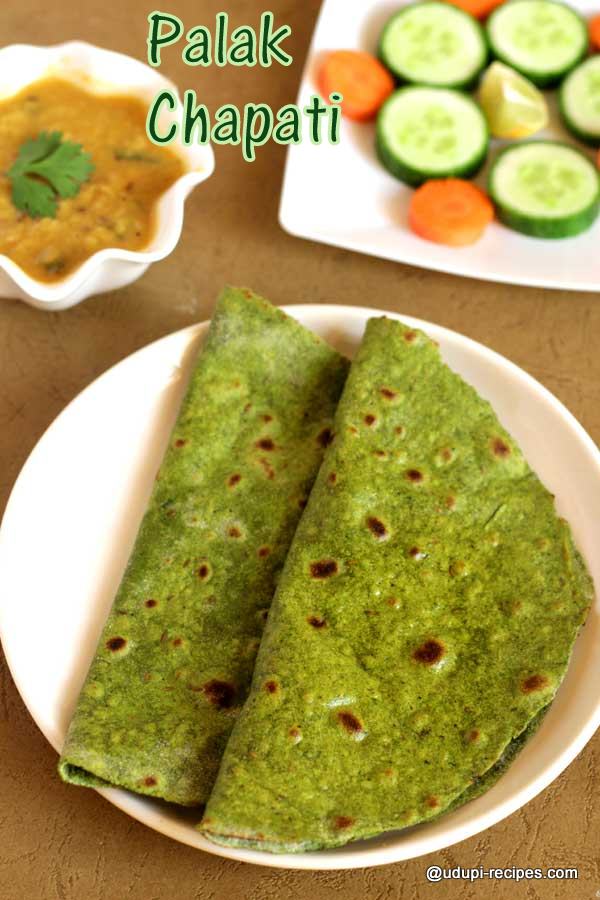 Palak Chapati | Palak Paratha Recipe
Ingredients
Wheat flour - 1 cup + 1/4 cup for dusting
Palak (spinach) leaves- 10 to 15
Cumin seeds- 1/2 tsp
Salt- 1/2 tsp
Garam masala- 3/4 tsp
Cooking oil- 1 tsp
Instructions
Preparation

Sieve the wheat flour in a wide bowl and keep it aside.

Method

Rinse and wash the palak leaves with enough water and chop them roughly. Heat a cooking pan with oil and cumin seeds. As the cumin seeds sizzle, add chopped palak and saute.
Palak leaves wilt and the raw smell subsides in few minutes, switch off the flame and let it cool down to room temperature. Next add this sauteed palak in to a mixer grinder and puree it with very little water.
Next add pureed palak, salt and garam masala to wheat flour in the bowl and give a quick mix. Next adding water little by little knead the flour to pliable dough and keep it covered for about 2o minutes. Divide the dough equally in to 6 portions and shape it in round ball form.
Take a dough ball and flatten it using your palm, next dusting enough flour roll it in to thin circular disc over the surface using rolling pin. Then heat a griddle and transfer the rolled chapati on it. As you see small bubbles puffing over the chapati, flip it to other side and cook till brown spots appear on it. Smear some ghee and remove from the griddle.
Repeat the process with rest of the dough. Healthy and filling palak chapati is ready to serve with dhaal, raita or any such side dish.

Notes

Palak (spinach) leaves themselves have some moisture in it. So while kneading the dough, add water carefully little by little.
The dough should not have cracks on it instead should be soft and pliable.
I have rolled the chapati to very thin disc but you can roll as per your preferences.
To make it spicy, you can even add few green chillies while grinding palak.
I liked the addition of garam masala which gave unique flavor and taste to chapati.
https://udupi-recipes.com/2015/12/palak-chapati-palak-paratha-recipe.html
All the content in this website are © Copyrighted to – Udupi-Recipes