It's the pleasant winter day with clouds covering the Sun, blocking the rays and light from reaching out which obviously means darkness at 11 o'clock in the morning. This weather is something I look forward to all year long because it's the ultimate climate to cook and eat some deep fried goodies like this one ridge gourd bajji. I had no prior plans as to cook some blog food today, but you know climate triggered my taste buds towards some oily, junk food and I had to surrender.
I went through the list of potential snacks that can be whipped up in less than half an hour and doesn't need any fancy ingredients for which I have to make a trip to grocery, and it was the bajji or pakora that flashed my mind. I had few vegetables in stock that could easily be turned in to bajji like this tender, skinny, green ridge gourd and I love this simple veggie in any form. So here you are on ridge gourd bajji post with decent pictures taken in low lighting though.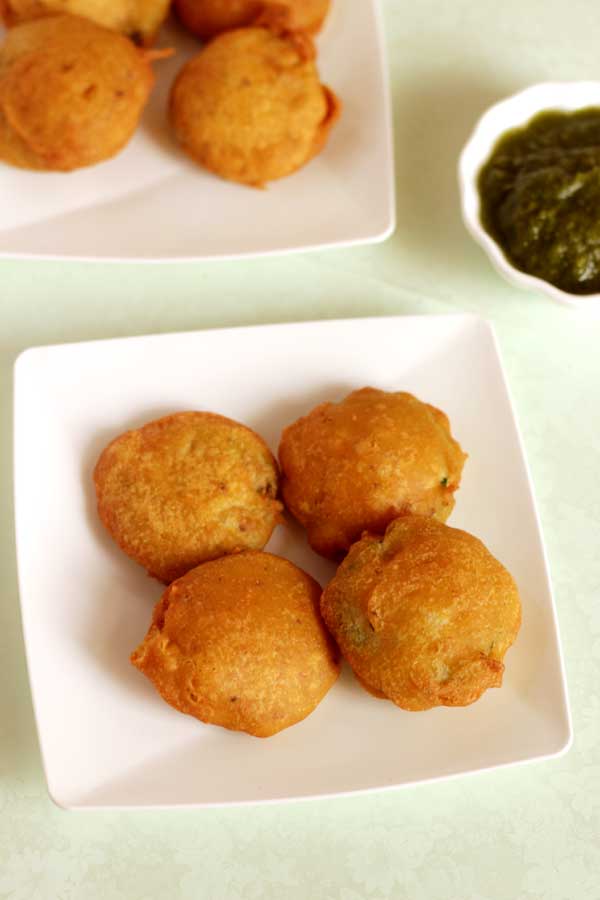 Ridge gourd by itself has lot of water content and some times the tender ones turn to be bitter in which case you would end up eating bitter-y bajjis.  So it's always a better idea to taste the veggie as you chop and ensure it is luscious and pulpy without any hint of bitterness in it.
In my list of favorite bajjis I would put sweet potato bajji on top which is then followed by this ridge gourd bajji that is perfect to munch on any winter day with a cup of tea of-course.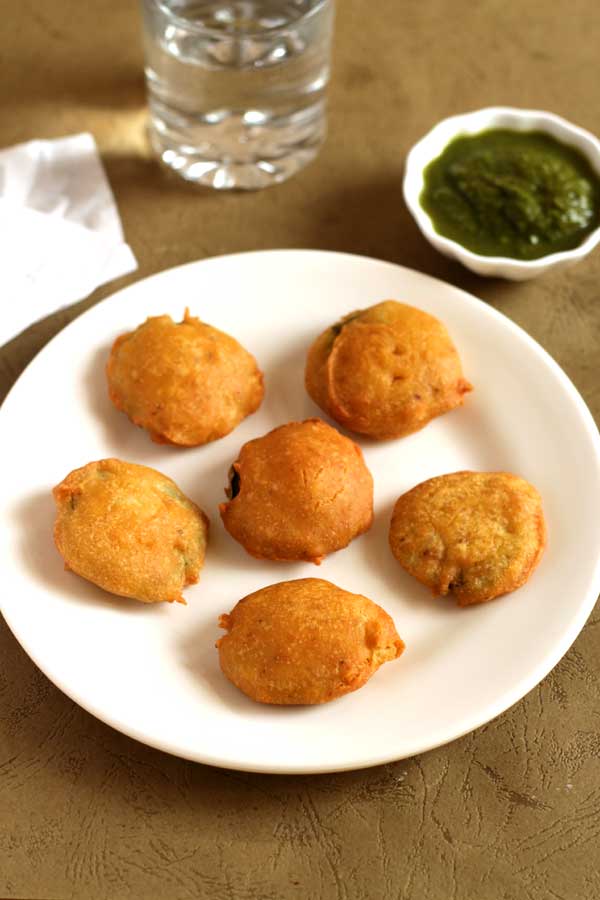 Ridge Gourd Bajji | Heerekayi Bajji Recipe
Ingredients
Ridge gourd(medium sized)- 2 nos.
Gram flour (besan)- 1 cup
Rice flour- 1/4 cup
Salt- 1 tsp
Red chilly powder- 1.5 tsp
Turmeric powder- 1/4 tsp
Carom seeds- 1/4 tsp
Cooking soda- A pinch(optional)
Cooking oil- Enough to deep fry
Instructions
Preparation

Wash the ridge gourd under running water and peel the hard ridges off. It's not required to peel the skin completely. Slice the gourd in to medium thick circular discs.

Method

In a wide bowl sieve the gram flour and rice flour together. Throw in red chilly powder, turmeric powder, salt, cooking soda and crushed carom seeds. Give a quick mix. Slowly adding water in steps, make batter that is neither too thick nor too thin. It should be of dosa batter consistency.
Heat oil in a heavy bottom wok on a medium flame. As it gets heated, dip the ridge gourd slice in the gram flour batter so that it gets coated well on both sides, then carefully drop it in to hot oil.
Fry the bajji till they turn golden brown on both sides. Using slotted ladle remove them from oil and drain the excess oil over kitchen tissue paper. Repeat the process with rest of the slices.
Crispy and hot ridge gourd bajji is ready to devour with a cup of coffee / tea.

Notes

Do not peel off the complete skin of ridge gourd instead peel only the hard ridges.
Ridge gourd slices have to be of medium thickness. If they are too thin, will not hold the batter and on the other hand if they are thick will not cook well from inside.
Carom seeds help in digestion, so do not skip adding it.
While making batter, add water carefully as the batter can turn too thin and may not coat well on ridge gourd slices.
You can taste the batter and adjust red chilly powder as per your preferences.
To check the oil, drop a pinch of batter and if it raises to the top gradually then it is the right temperature to deep fry the bajji.
While chopping the ridge gourd I would recommend tasting it to ensure it is not bitter.
https://udupi-recipes.com/2015/12/ridge-gourd-bajji-heerekayi-bajji-recipe.html
All the content in this website are © Copyrighted to – Udupi-Recipes