Sweet Potato – Recently you hear a lot about this tuber veggie in this space right friends???  Sort of potato with natural inherited sweetness, this vegetable has all goodness that REAL good food demands. Some how this humble tuber gets included in my routine vegetable market trip as every-week I plan some new recipe using this. Remember sweet potato puran poli? which followed an awesome dessert, the yummy ever sweet potato kheer.  Those two rocking foods no doubt, have reappeared couple of times at udupi recipes kitchen to fulfill the sweet-dessert cravings.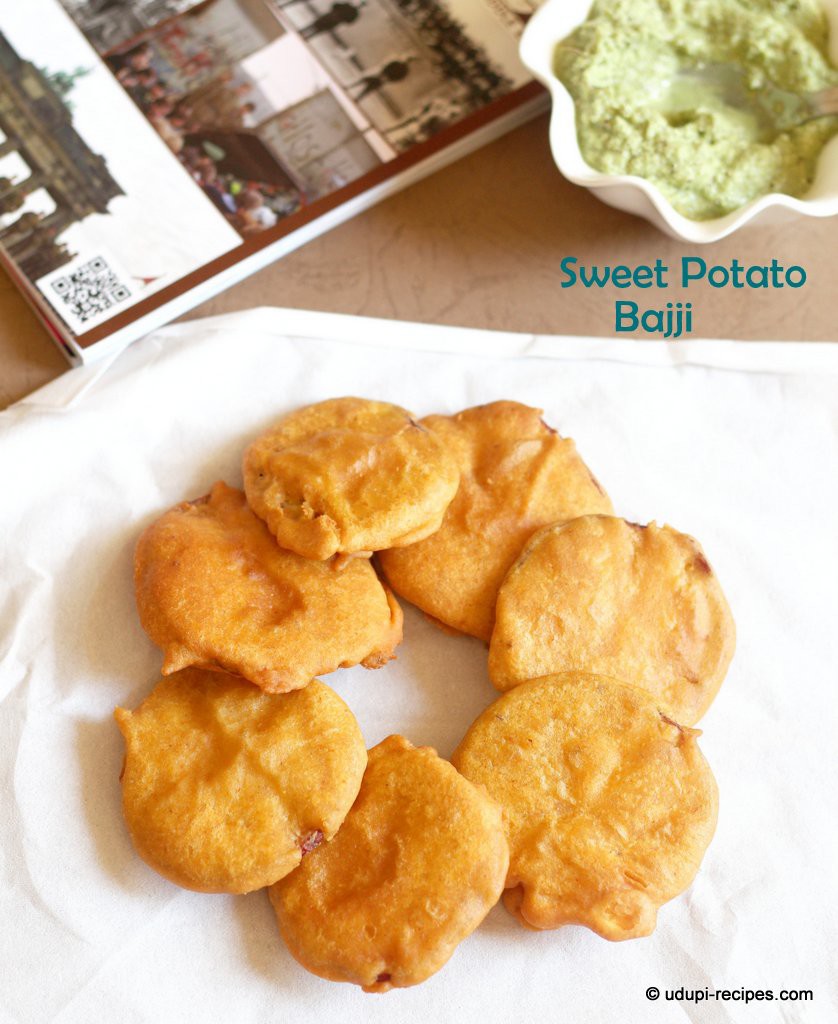 After dessert and sweet food, it's snack time.  30-minute easy tea time snack sweet potato bajji can no longer wait sitting in drafts folder, so it's right here. It can probably seem exaggeration when I make a statement like "Sweet potato bajji is one of the best out of all other vegetable based fritters that I have tasted till now". But it's TRUE. Seriously.
The bajji batter preparation remains more or less the same. Besan flour, rice flour plus the basic spices combined with water to make smooth, coat-able consistency batter. Ensure it is neither too runny nor too thick. Dip each circular slice of sweet potato in to the batter, let it coat on both sides of slice and carefully drop in to hot cooking oil. Watch the sweet potato bajji turning golden brown in oil, remove and drain the excess oil.  These deep fried goodies insist me to devour more than I intend.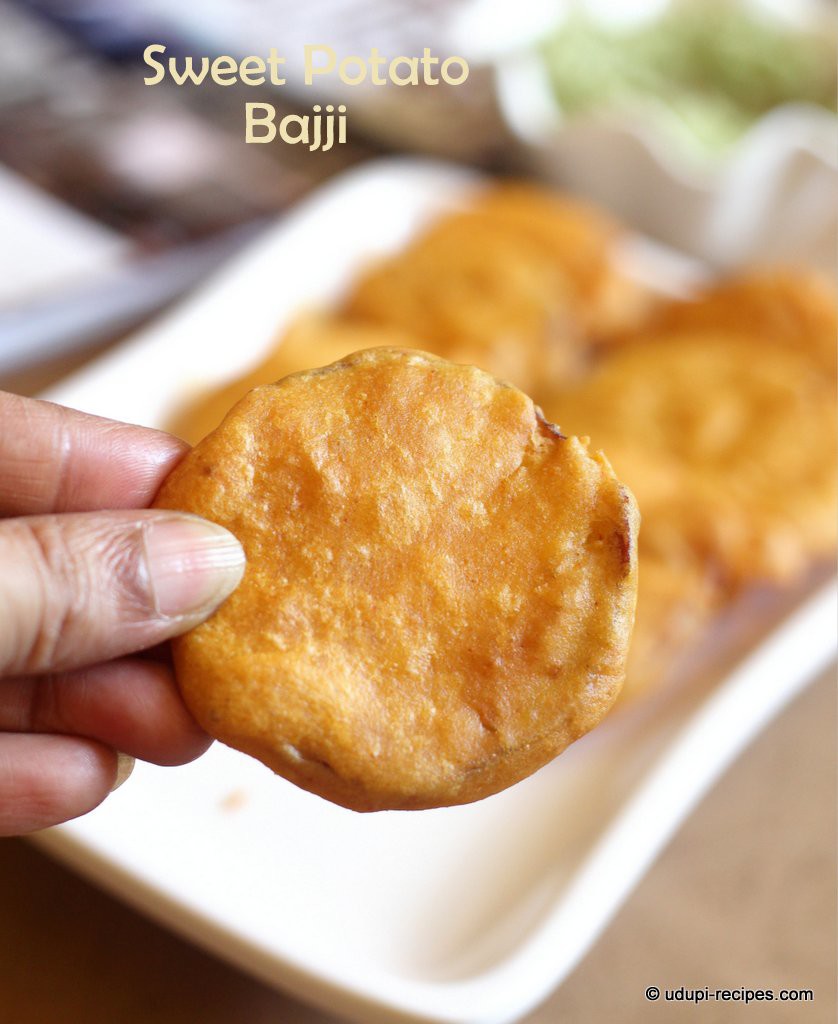 Sweet Potato Bajji | Sweet Potato Fritters Recips
Ingredients
Sweet potatoes (Medium sized) - 2 to 3 nos.
Chickpea flour (Besan flour)- 1 cup
Rice flour- 1/2 cup
Salt- 1.5 tsp
Red chilly powder- 1 tsp
Turmeric powder- 1/2 tsp
Carom seeds- 1/4 tsp
Cooking oil- Enough to deep fry
Instructions
Preparation

Rinse and wash the sweet potatoes with enough water and also scrape any mud that is sticking on it. Then chop the sweet potatoes in to thin circular shaped slices using sharp knife. Keep all the slices immersed in water.

Method

In a wide bowl add besan flour, rice flour, salt, turmeric powder, chilly powder and carom seeds. Combine well using your fingers. Include water incrementally in to bowl to make medium thick batter. You can taste and adjust the spices too at this stage.
Heat cooking oil in a wide wok in medium flame. Drop a pinch of besan batter in to the oil, if it raises to the top then oil is rightly heated to deep fry the bajjis.
Dip a sweet potato slice in to the ready besan batter and make sure the batter has coated well on sweet potato. Then carefully drop it in to hot oil. Continue this with a batch of 4 to 5 slices based on how wide the wok is.
Deep fry the bajjis till they turn golden brown, flip to fry the other side too. Remove the bajjis from oil using slotted ladle and drain them on kitchen tissue. Sweet potato bajjis are ready to devour with tea.

Notes

Do not chop the sweet potatoes too thick or too thin. Thin slices cause the bajjis to break as you dip it in to besan flour batter. Thick slices may not cook well from inside.
You can use slicer too to chop the sweet potatoes.
The besan batter consistency is also very important. Thin batter will not coat the sweet potato well and thicker batter may over-coat the slice.
https://udupi-recipes.com/2015/04/sweet-potato-bajji-sweet-potato-fritters-recipe.html
All the content in this website are © Copyrighted to – Udupi-Recipes