This weekend it's a big festival day. A day of new beginning,  a day to mark the end of WINTER season and a day to initiate fresh, pleasant SPRING with sun being more brighter day by day.  Like a realistic woman ever, you must have begun the UGADI ground work and I too have done some preliminaries in order to post an innovative recipe with the classic, traditional touch.
Festivals, celebrations are part of Indian culture and that itself isolates we Indians from rest of the world.  Anticipating awesome desserts, goodies and all drool-worthy edibles, a  food lover is the one who integrally enjoys any festival. Oh my gosh… look at this sweet potato poli, an authentic UGADI sweet with classic texture, real flavor but innovative stuffing.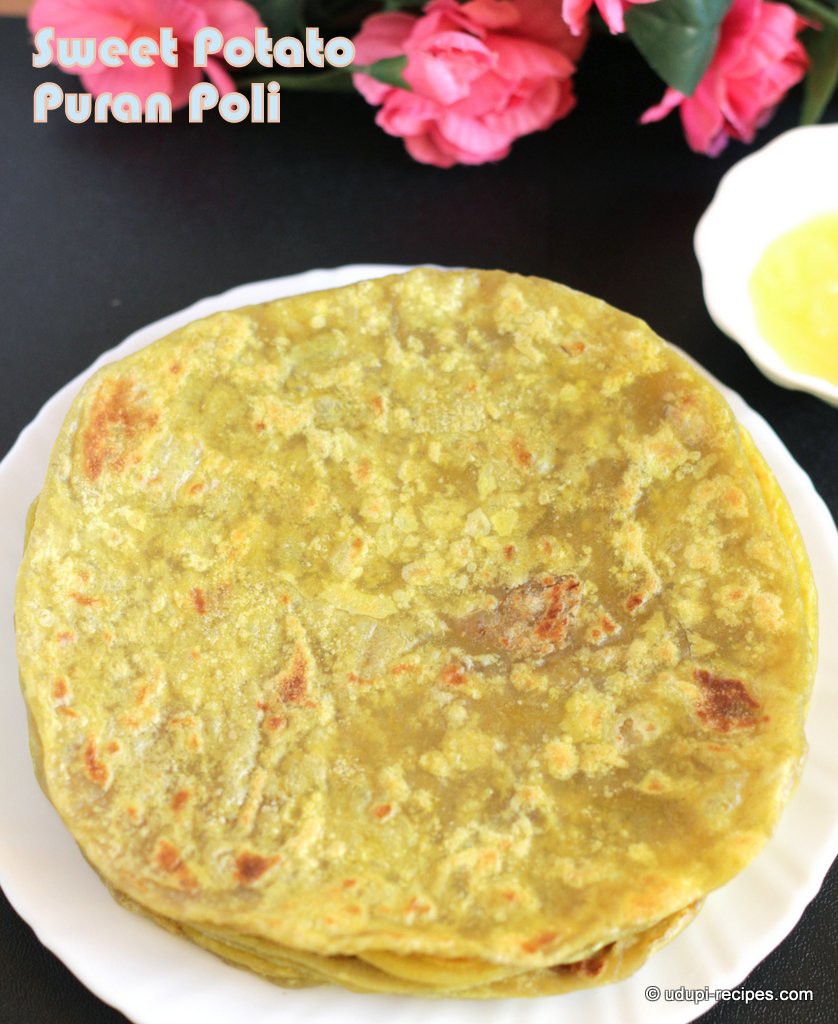 Sweet potato puran poli,  a sweet flat bread needs only few regular home ingredients plus the key constituent SWEET POTATO of-course.  Unlike traditional poli which uses lentils as the key ingredient, I am replacing it by a tuber that is sweet potato.  Smart substitution to lentil poli like the one I have in my archives Kadle bele holige.
Sweet potato poli preparation has basically two steps.  Preparing dough and puran is the first one, second being stuffing puran in to dough and rolling out. Dough making is more or less remains same in all varieties of poli but stuffing varies significantly and so does the taste.
Pressure cooking the sweet potatoes, peeling the skin and mashing them in to really smooth base without any chunks detectable is the key procedure. When mashed sweet potato is combined with jaggery and shredded copra, it tends to loosen like you cannot form any ball out of it.  In that case you need heat the mixture up for some time till it becomes little solid, thick and ball form-able consistency.
Stuffing this mixture in to dough is a technique that one has to learn with practice. I have incorporated a video at the bottom of the post to make it simple for the beginners. Carefully rolling these stuffed balls like chapati and cooking on skillet till they turn brown,  seems worth the effort because the smooth texture, the pleasant authentic look and the deliciously flavoring stuffing are so inviting.  It's rock-your-world YUMMY sweet potato poli. I bet.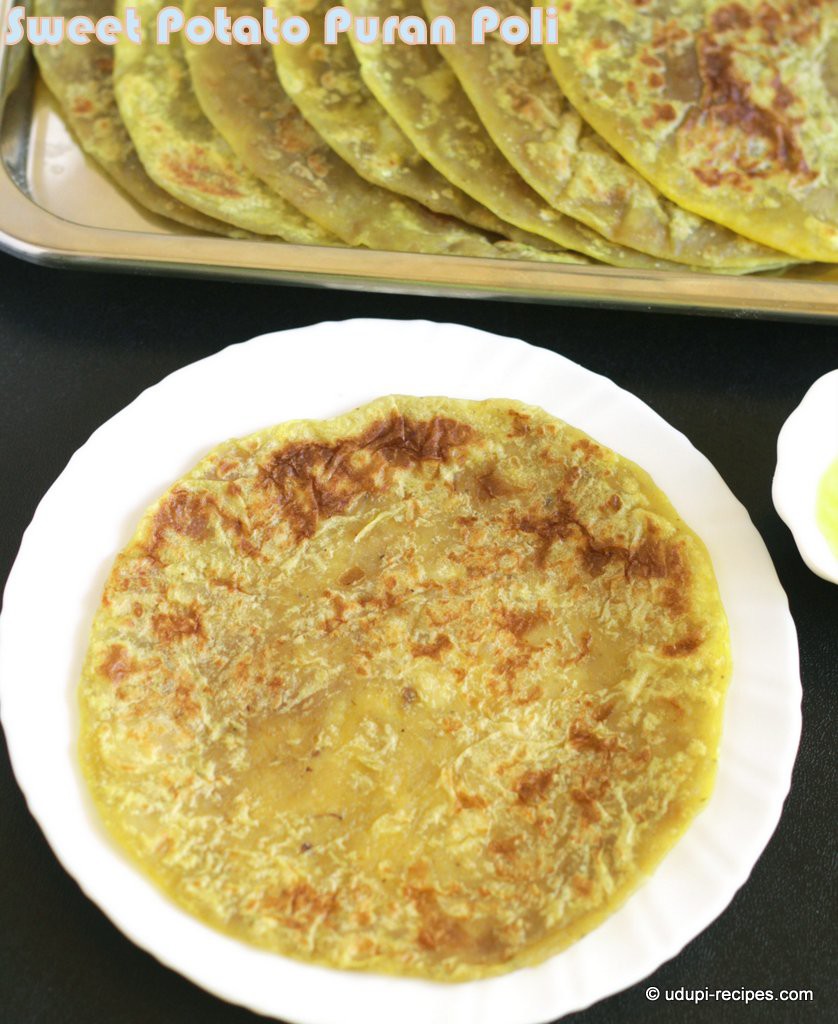 Sweet Potato Puran Poli Recipe | Sihi Genasina Holige with Video
Ingredients
For dough

All purpose flour- 1 cup
Turmeric powder- 1/2 tsp
Salt- 3/4 tsp
Cooking oil- 3 tsp

For stuffing(puran)

Sweet potatoes- 2 big no.
Jaggery- 3/4 cup
Grated copra- 1/2 cup
Cardamom powder- 1/2 tsp
Instructions
Preparation

Pressure cook the sweet potatoes till they are soft and easily mashable. I cooked for 3 whistles and in simmer for 10 minutes.

Method

Puran poli starts with making the dough needed for outer cover. Add maida, salt and turmeric powder in to a mixing bowl. Give a quick stir. Adding water in increments, make a soft dough.
It will be very sticky, you have to add oil and knead well. After kneading the dough turns soft, pliable and shiny. Keep it covered with a lid or damp cloth for 15 minutes. After resting the dough, pull big lemon sized dough, make ball and arrange all such dough balls on a plate.
When the dough is resting, you can proceed to prepare the stuffing. Peel off the skin from cooked sweet potatoes and mash them well. Make sure there is no chunk of sweet potato.
Combine mashed potato with powdered jaggery, grated copra and cardamom powder. When you mix everything together the stuffing may become thin. Transfer this to a wok or pan and in low flame stir it so that the stuffing mixture becomes really thick enough to make ball out of it.
With a handful of sweet potato mixture, make oval shaped ball and continue the process with rest of the mixture. Arrange these stuffing balls also on a plate.
Holding a dough ball in your left palm, pick a sweet potato mixture ball in your right hand and start stuffing it in to the dough. With the movement of your left hand fingers you can enlarge the dough in an effort to cover the puran. Bring the dough over the stuffing and cover it fully sealing it on top. Check the video below to learn how to stuff puran in to dough.
Dusting enough maida on this, slowly roll stuffed ball in to medium thin discs. Do not apply much pressure while rolling as it is very delicate.
Meanwhile heat a non-stick griddle or skillet. Carefully lift the rolled out puran poli and transfer it on to heated griddle. When the bubbles start appearing, flip poli to the other side. When dark brown spots appear on both sides, remove it from the skillet. Continue making rest of the puran poli discs following the same procedure.
Soft, delicate and incredibly awesome sweet potato puran poli is ready. Serve it hot with a dollop of ghee.

Notes

The maida dough should be neither too stiff nor too loose. Add water incrementally and ensure it's of chapati dough consistency.
The sweet potatoes should be cooked very well, other wise you will get chunks in between and cannot roll poli properly.
When the jaggery is combined with mashed sweet potato, it naturally makes the sweet potato mixture gooey. So you need to heat this mixture for some time to get the moisture evaporated.
The maida dough must rest at least for 15 minutes, once you make balls out of it, do not let them get dried up. Keep them covered with a lid or damp cloth.
Rolling should be done with much less pressure as puran poli is delicate and it can easily tear up.
https://udupi-recipes.com/2015/03/sweet-potato-poli-recipe-sihi-genasina-holige-with-video.html
All the content in this website are © Copyrighted to – Udupi-Recipes